By Raul de Frutos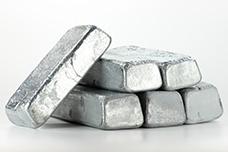 Adobe Stock/ Björn Wylezich
Zinc prices are back above $2,000 per metric ton, their highest level in almost a year. The metal has gained over 25% since the start of the year, defying other metals such as copper, nickel or lead, which have barely moved up this year, amid overcapacity concerns.
We noticed zinc's potential earlier this year and markets gave enough reason for buyers to place forward buys over the past few months at lower prices.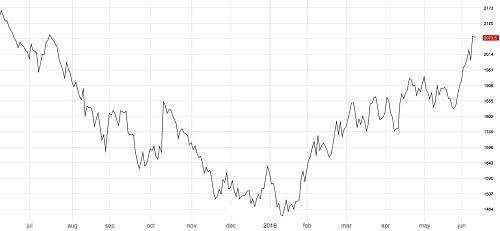 Three-month zinc climbs above $2,000. Source: FastMarkets.com.
Zinc investors have been drawn in by a narrative of mine closures and a resulting tightening of the supply chain. As the zinc prices weakened over the past three years, more than 1.5 million mt of mine capacity was either idled or closed permanently.
These closures were further exacerbated when Glencore announced its plans to suspend 500,000 mt of production last October. Although many people called for a tight market in previous years, in 2016 it really seems to be happening while the development of new mines is being restrained by limited capital to invest in new projects.
Falling LME Stocks
One-year LME Stocks levels. Source: kitcometals.com
Another driver supporting the price action is the ongoing decline in LME stocks. These currently stand below 400,000 mt, the lowest level since 2010 and down by almost 20% since the start of the year.
However, the LME is just a secondary indicator, something to watch but not always reliable especially when the downtrend in stocks has been pretty erratic with occasional sharp off-market metal deliveries into the LME system, particularly at the U.S. port of New Orleans.
US Dollar Weakens in June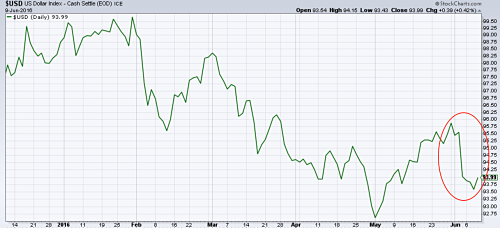 US dollar index falls in June. Source: stockcharts.com
The U.S. dollar has a huge impact on any dollar-denominated commodity. In May, a stronger dollar pushed base metals down while zinc held quite well, which was another bullish sign for the metal. So far in June, the dollar has pulled back, as expectations for rate increases recede. That helped to lift most base metals, so far, this month, giving a boost to zinc prices as well. While zinc's fundamental picture looks bullish, a weaker dollar in the second half would help metal continue to climb.