Between June 6 and June 10, there was only one instance of insider buying that deserves attention: Premier Financial Bancorp Inc. (NASDAQ:PFBI). It is an interesting small community bank that has been written up very well by fellow contributor Theodor Tonca. The stock ran up over the past three months, which makes for a stronger insider buying signal: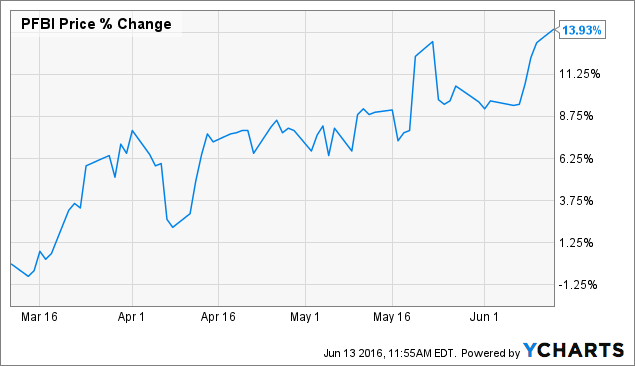 The table below shows the transactions taking place last week (data from TipRanks):
| | | | | | | |
| --- | --- | --- | --- | --- | --- | --- |
| Insider Name | Position | Ranking | Action | Number of Shares | Amount | Date |
| Brien Chase | CFO | | Informative Buy | 2,390 | $21,271 | 3 days ago |
| Scot Kelley | VP Credit Adminstration | | Informative Buy | 1,500 | $19,380 | 3 days ago |
| Katrina Whitt | VP HR | | Informative Buy | 1,320 | $9,163 | 3 days ago |
| Brien Chase | CFO | | Informative Buy | 2,500 | $35,550 | 4 days ago |
| Scot Kelley | VP Credit Adminstration | | Informative Buy | 1,500 | $21,330 | 6 days ago |
Positives include: A number of officers are buying, and the CFO is buying the most stock. The amounts do not appear particularly impressive, but, in fact, the CFO's share purchase equals more than 25% his annual salary. That's not an amount you throw at a stock just to prop up its price. Both CFO buying and female executives buying, discussed in more detail here, are slightly stronger signals than average insider buying.
A community bank trading slightly below book value, with a volatile but positive track record of returns on equity and invested capital, could be an interesting acquisition for a larger bank. With its market cap of $160 million, it is the right size to get taken out easily.
Everything taken together, I believe this is an interesting company to research further if you are interested in small community banks.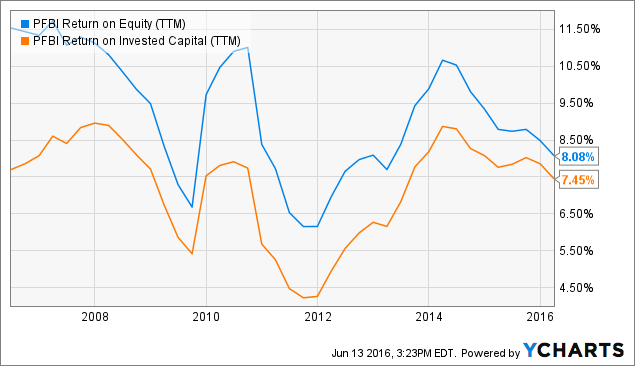 PFBI Return on Equity (NYSE:TTM) data by YCharts
From a pure insider buying perspective, there are many green lights:
Insider buying after the stock has already appreciated over the trailing three months;
Insider buying by a female executive;
Insider buying is significant compared to executive compensation;
One of the insiders buying is the CFO.
Disclosure: I/we have no positions in any stocks mentioned, and no plans to initiate any positions within the next 72 hours.
I wrote this article myself, and it expresses my own opinions. I am not receiving compensation for it (other than from Seeking Alpha). I have no business relationship with any company whose stock is mentioned in this article.