In an article on Chesapeake Energy (NYSE:CHK) last week, I had advised investors as to how the recovery in natural gas prices is driving the company's stock price and how the trend will continue in the long run. But, on Thursday last week, Chesapeake shares fell tremendously after it emerged that RBC has downgraded Chesapeake Energy from Sector Perform to Underperform, with a price target of $5, due to the $2.2 billion in debt maturities that will fall due next year.
Additionally, RBC is also concerned regarding the $1 billion worth of Chesapeake's debt that's maturing in 2019 and 2020 as it believes that the company won't be able to generate enough cash flow. But, in my opinion, Chesapeake Energy will be able to overcome its debt situation. Let's see how.
The obligations
There is no denying the fact that Chesapeake has a lot of debt maturities to contend with in the coming time. This is seen clearly in the company's last filed 10-K, which shows the amount that's falling due in certain time periods. This is shown below:

Click to enlarge
Source: Chesapeake Energy 10-K
As seen above, in 2017 and 2018, Chesapeake has a total of $2.77 billion in principal debt maturities. Additionally, the company also has to pay interest expenses worth $994 million during this time frame. In such a scenario, considering that Chesapeake had cash of just $16 million on its balance sheet at the end of last quarter and has generated just $390 million in operating cash flow over the past year, the concerns about Chesapeake's debt might seem justified.
But, investors should not forget the fact that Chesapeake has been successfully bringing down its debt profile by way of smart asset sales, while its low cost base due to an improving operational profile will lead to cash flow improvements as the price of natural gas improves. Let's see how.
Chesapeake has already brought down its debt obligations
The 10-K given above provides a snapshot of Chesapeake's debt position at the end of last year. But, since the end of September 2015, Chesapeake Energy has been able to achieve aggressive debt reductions. In fact, from September 30, 2015 to May 11, 2016, Chesapeake has managed to bring down its debt maturities for next year by approximately $366 million, excluding the debt that was due in 2037. This is shown below: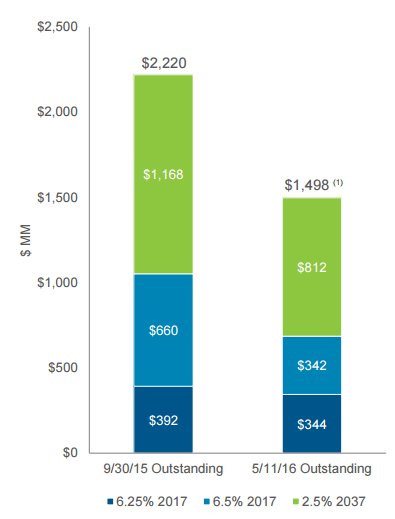 Source: Chesapeake Energy
If we include the debt maturing in 2017, Chesapeake has actually managed to shave $700 million off its debt maturities. Moreover, for 2017 and 2018 combined, Chesapeake has already removed debt worth $870 million from its books, while its overall interest payments have gone down by $67 million. This is shown below: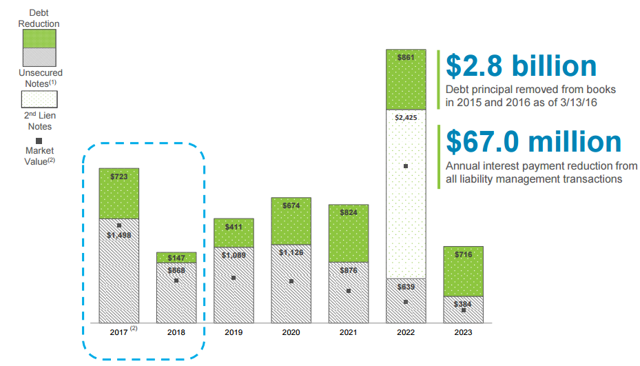 Click to enlarge
Source: Chesapeake Energy
Thus, it is evident that Chesapeake has been able to bring about an impressive reduction in its debt obligations over the past few months, and it is likely that the company will be able to engage in further debt reduction moves going forward. Let's see why.
Chesapeake's debt reduction moves are smart enough
Asset sales have been important to Chesapeake's debt reductions. More importantly, Chesapeake has been quite selective when it comes to putting assets on the market for sale. In fact, the company expects that asset sales worth $1.2 billion that are expected to take place this year will impact its EBITDA by a very small figure of $45 million.
In all, Chesapeake believes that it will be able to record asset sales in the range of $1.2 billion to $1.7 billion this year, and it has already sold assets worth $470 million in the Meramec play in Oklahoma, apart from $385 million worth of assets that were sold to Four Point Energy. Thus, Chesapeake has already raised around $850 million from its asset sales already this year, and plans to enter into purchase and sale agreements for more assets.
More importantly, even after adjusting for these asset sales, Chesapeake believes that its production in 2016 will go down just 5%, which is the higher end of its guidance. What's more, as Seeking Alpha writer Callum Turcan points out, Chesapeake hasn't yet received the full proceeds of its asset divestments. It is expected that Chesapeake will get all the cash by the end of the next quarter, amounting to $1 billion (including last year's divestments), which will allow the company to further lower its debt burden.
Moreover, since Chesapeake forecasts assets sales worth $1.2 billion-$1.7 billion, it means that it can engage in further asset sales worth $350 million to $850 million, excluding the sales of $850 million that it has already recorded.
Conclusion
In my opinion, Chesapeake is already making strong progress as far as its debt reduction moves are concerned. Driven by its asset sales and the recent improvement in natural gas prices, Chesapeake should be able to meet its debt obligations when next year arrives.
Moreover, Chesapeake has also reduced its capital budget for 2016 by over 50%, which will allow it to save another $2 billion in costs, approximately. Hence, in my opinion, the company should be able to free up enough cash in the coming months to meet its debt maturities, along with asset sales. So, investors should not panic as Chesapeake should be able to cover its obligations going forward.
Disclosure: I/we have no positions in any stocks mentioned, and no plans to initiate any positions within the next 72 hours.
I wrote this article myself, and it expresses my own opinions. I am not receiving compensation for it (other than from Seeking Alpha). I have no business relationship with any company whose stock is mentioned in this article.