Recently, an SA member asked why I didn't review a company's financials before I began my investigations at the QuantumOnline site. Although I didn't voice it in my response, I thought of Willie Sutton, the notorious bank robber of the last century. When asked, "Why banks?" he responded with the famous line, "That's where the money is." I begin my research with QuantumOnline because that is where I discover where the preferreds are. I also learn quite a lot about each, and whether or not they meet my investment criteria. Are they cumulative? What was their introductory yield or coupon value? What is the amount of their yearly dividend? When are they callable. Because many companies don't offer preferreds, it would be foolish to wade through time-consuming and mind-numbing financial statements, only to learn that the particular company does not even offer a preferred.
Furthermore, because I am primarily a high yield preferred investor, I understand that few sectors of the market offer the yields I am searching for, and admittedly, these sectors are populated by companies considered to be higher-risk. These sectors are primarily involved in: Shipping - oil exploration, production, transportation, and storage; and REITs - primarily mortgage, because they, as a rule, are the most leveraged and suffer the highest risk. There are other individual companies, such as Peregrine Pharmaceuticals (NASDAQ:PPHM) and General Finance Corp. (NASDAQ:GFN), whose preferreds I invest in, but the above-mentioned primaries are where my search often begins.
From the shipping sector, I have reviewed and/or invested in Costamare, Inc. (NYSE:CMRE), Navios Maritime Holdings (NYSE:NM), Global Ship Lease (NYSE:GBL), Safe Bulkers (NYSE:SB), Seaspan Corp. (NYSE:SSW), Tsakos Energy Navigation (NYSE:TNP), Dynagas LNG Partners (NYSE:DLNG), and International Shipholding (ISHC).
From the oil sector, I have reviewed and/or invested in Gastar (NYSEMKT:GST), Callon Petroleum (NYSE:CPE), Breitburn Energy Partners (OTCPK:BBEPQ), Atlas Resource Partners (NYSE:ARP), Kinder Morgan (NYSE:KMI), Legacy Reserves (NASDAQ:LGCY), and Vanguard Natural Resources (NYSE:VNR).
Of the REITs, I own and have profiled are Apollo Residential Mortgage (NYSE:AMTG), ARMOUR Residential REIT (NYSE:ARR), CYS Investments (NYSE:CYS), Invesco Mortgage Capital (NYSE:IVR), AG Mortgage Investment Trust (NYSE:MITT), Newcastle Investment Corp. (NYSE:NCT), NorthStar Realty Finance (NYSE:NRF), New York Mortgage Trust (NASDAQ:NYMT), Rait Financial Trust (NYSE:RAS), Resource Capital Corp. (NYSE:RSO), and iStar Inc. (NYSE:STAR).
Upon locating an interesting preferred opportunity, I begin to delve into the past five year performance of the company's common stock. Because preferreds are less liquid and thinly traded, I don't feel they are a satisfactory indicator of the company performance. However, common shares, usually traded daily in the hundreds of thousands to million of shares, in my opinion, are certainly more indicative of the company fortunes. Consequently, for a quick, efficient, and painless view of the company, I utilize Yahoo Finance's interactive chart, selecting a five-year time frame. As a bonus, at the bottom of the screen I also get a quick review of its month-by-month or quarterly dividend paying history during that time period. This can all be accomplished in less than a minute - a very valuable minute indeed.
A recent example of this can be seen in my research of Anworth Mortgage Asset Corp. (NYSE:ANH) for an article and potential preferred buy. The company's interactive chart was quite revealing and immediately dampened my ardor.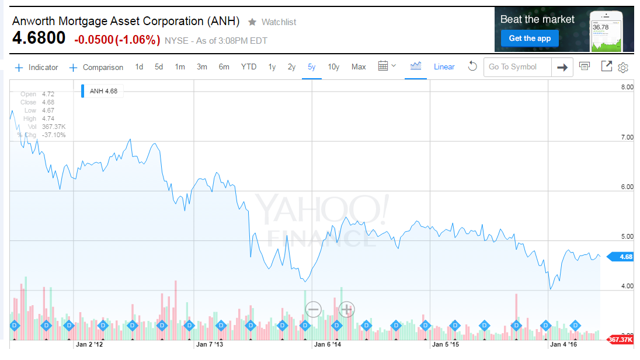 Click to enlarge
I reported the following:
Above is a screenshot of ANH's 5-year chart, which, as far as I'm concerned, is the picture of a company that has trended down during this time, although up of late. Over this period the price of the ANH common shares has dropped nearly in half from $7.28 to its current $4.30. It will be interesting to see how the preferreds fared in comparison, which I will tackle later in this article. Although, the quarterly dividend dropped from its high of close to 0.25 in 2011 to a low of 0.12 in 2013, it has since recovered to its current distribution of 0.15.
My next stop takes me to Finviz, where I gather several bits of useful information about the company: its financial highlights at a glance, what sector of the market it falls under, and its peer group, which I will later utilize to compare how the company in question has performed in relation to others in its peer group. To accomplish this, I try as closely as possible to compare my company with others of approximate market value and business model - which, at times, cannot be as easily accomplished as it seems.
While researching American Capital Mortgage (NASDAQ:MTGE), Finviz provided the information that helped me populate my peer group comparison chart. The screenshot below is one of the three pages I referred to: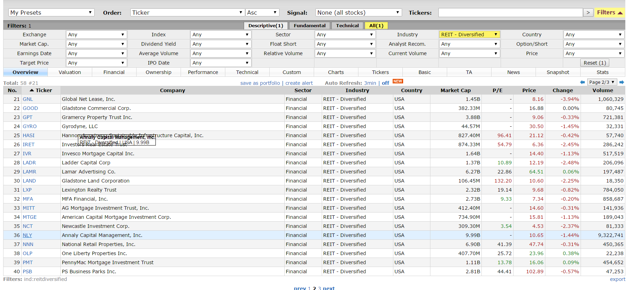 Click to enlarge
Which led to the following chart and the summary of what I discovered:
Click to enlarge

According to the Yahoo chart above, MTGE placed in the middle of its peer group, and underperformed the S&P. In fact, as a sector, these mREITs have underperformed the S&P dramatically. The peer comparisons charted above are: PennyMac Mortgage Investments (NYSE:PMT), Anworth Mortgage Asset Corp., Apollo Commercial Real Estate Finance (NYSE:ARI), MFZ Financial (NYSE:MFA) and AG Mortgage Investment Trust.
This and other studies of the primarily mREIT sector led to the realization that, as I had suspected, the preferred investments in this specific sector wildly outperformed their common counterparts, as illustrated by the following table which was taken from my article "Common Vs. Preferred Investments In REITs. Numbers Don't Lie":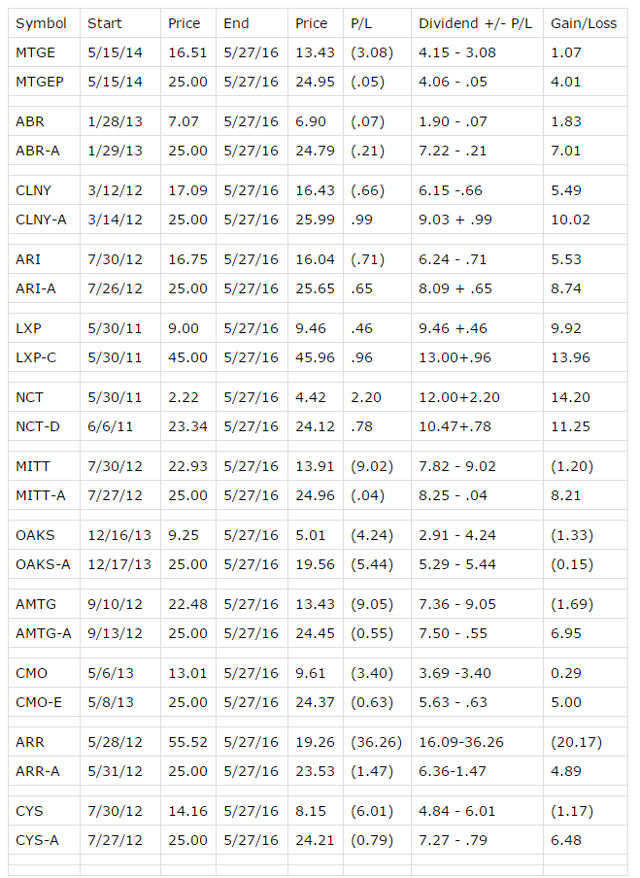 Click to enlarge
The quickest and easiest way to accomplish this is by returning to Yahoo's Interactive Chart, which allows me to enter the symbols of my company's peer group along with the S&P 500, which I use as my baseline comparison. The allows me to follow how the company and peer group in general performed in relation to the basic market, which is well represented by the S&P 500.
With that done, and if I still remain interested, I return to Quantum and the preferred series that I have initially selected to invest in or to study for an SA article. This does not mean this will be the series I will ultimately invest in or suggest as the best candidate in which to invest. While in Quantum's window on the particular preferred, I click on the Distribution Dates link - this will bring me to the MarketWatch view of the preferred, which will illustrate how well this particular preferred has performed currently and in the past. I normally select a chart of its performance over the past three years' time frame. This is a good indication of how my fellow preferred investors feel about the particular preferred and its issuing company. I'm certain many of the more knowledgeable preferred investors view it in approximately the same way as I do.
The following comes from a recent study of Ashford Hospitality Trust (NYSE:AHT) and the chart I utilized to study the performance of its E Series preferred: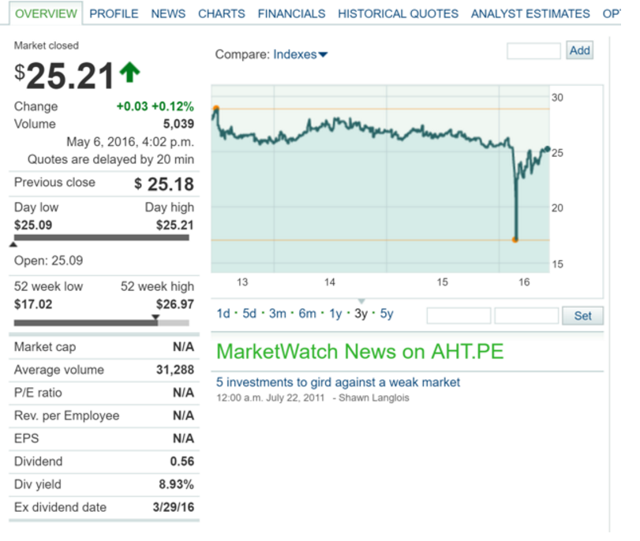 Click to enlarge
Now for the tedious and more difficult, at least for me, part of my research. I attempt as best as possible to dig more deeply into the company numbers, its most recent conference call, and any news I consider relevant. If nothing pops out that I consider of existential threat, I'm ready to invest. I mention this because price fluctuations over the next quarter or even the following year are of little concern to me. What concerns me, and has always concerned me, is a company's long-term viability. Convince me of that, and I'm in. Case closed.
Finally, as an added bonus for my followers, I take the time to do the math to figure out which preferred, provided the company offers more than one, is the best value at the prices they were as I wrote the article. Although yield is important, I consider other factors - like what the ultimate share price upside will be if and when the shares are called. Shares bought at $22.00 have greater upside than those bought at $24.00. The $2 difference might sway me if the yield comparison of the $24 preferred is only slightly better than its $22 brother.
This is illustrated by following taken from my NCT article: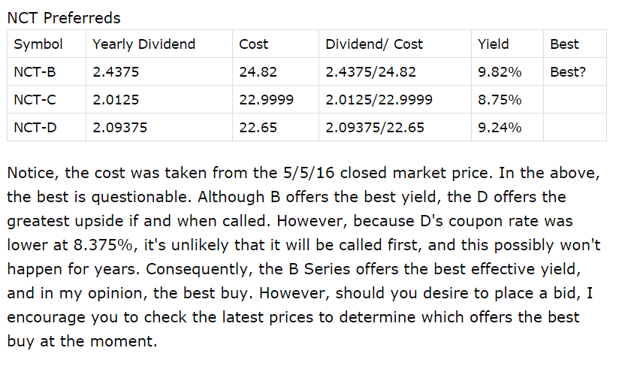 Click to enlarge
For the most part, I have received overwhelmingly positive reviews of my preferred investment research advice, although a small but vocal few have attacked for my admitted weakness to adequately research and fully understand financial statements. In fact, it was that weakness which was one of the primary reasons I decided to concentrate on preferred investing, which I have repeatedly explained in just about every article I have contributed to SA. For this reason, I have been conducting revisits to my earliest articles to assess my method and basically grade myself. Granted, I have not completed many, and the time frame is short (I began writing in early March), but I can boast a perfect score concerning my assessments and investment advice. Will this continue? Most probably not, but I believe I will be proven more right than wrong a majority of the time. I will continue to review and update myself in a three-month cycle. I also pledge to do this in the order I first presented each article, making sure to review all prognostications whether or not I am proven right. Bottom line: I expect my followers, for the most part, to profit from my advice, not lose.
Disclosure: I am/we are long AMTG-A, ARR-A, ARR-B, CMRE-C, CMRE-D, DLNG-A, GSL-B, GST-A, ISHCO, KMI-A, LGCYO, MITT-B, NCT-B, RSO-B, RAS-C, SSW-C, NRF-C, PPHMP, SB-D, STAR-E.
I wrote this article myself, and it expresses my own opinions. I am not receiving compensation for it (other than from Seeking Alpha). I have no business relationship with any company whose stock is mentioned in this article.
Editor's Note: This article covers one or more stocks trading at less than $1 per share and/or with less than a $100 million market cap. Please be aware of the risks associated with these stocks.