As record supply outages have made oil reach its 2016 high last week, the prices went down this Monday mostly because of a strong dollar, profit booking by some speculators and growth concerns in China. The US rig count also had increased for second straight week by six rigs which signify a slight increase in the US production. Let us analyze the current market situation to see where oil prices will move in the coming time.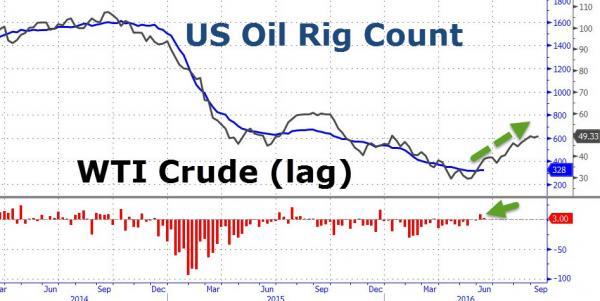 Image Source : Zerohedge
Nigeria's Supply Outage Worsens
With a mission to completely bring down Nigeria's oil production, militant outfit- Niger Delta Avengers has created a major problem for international oil companies like Chevron (NYSE:CVX), Shell (NYSE:RDS.A) and Eni by targeting their facilities in the country. To make matters worse, Nigeria's Trans Niger Pipeline was shut down on Wednesday due to a leak. Tans Niger Pipeline is one of the two pipelines in Nigeria that is used for exporting its Bonny Light Crude. This pipeline was operated by Shell, Eni, Total (NYSE:TOT) and Nigerian National Petroleum Corporation and its leak would result in an additional supply outage of around 130,000 barrels per day. NDA also attacked the Obi Obi Brass Pipeline in the Niger Delta Region on Friday which was operated by Eni. Nigeria's crude oil production has anyways fallen by almost 50% (when compared to January 2016) to around 1.1 million barrels a day. With the current incidents, the country's oil production might have fallen below 1 million barrels per day.
Demand Is Looking Strong
With a combined demand of almost 16 million barrels a day, it seems that both India and China are going to drive the global oil demand in the coming time. Imports from China's teapot refineries have increased considerably and have stood at 1.2 million barrels a day in May 2016. With a rapid increase in the number of individual vehicles on road, demand for both gasoline and diesel is increasing at a rapid pace in India. On the other hand, the market rebalancing will receive an additional boost as the global refining activity is increasing at record levels from 97.25 million barrels per day in March 2016 to an estimated 101.8 million barrels per day in August 2016. High refining demand needs to be satisfied by pumping more crude oil which can further reduce the inventories.
While some analysts remain bearish on oil (NYSEARCA:USO), I feel that oil prices will increase
Matt Smith, Director- Commodity research at Clipper Data feels that oil prices might fall back to $40 a barrel level as China's demand for oil may hit a ceiling very soon. "China is importing so much crude, it's absolutely insane. They're importing about a million barrels a day more than they are actually consuming", said Matt Smith. He further stated that China, which has stockpiled around 135 million barrels of oil, can reach its full capacity in the next three to four weeks and this can drop its imports substantially from the current levels. However, I do not agree with this view. China had increased its oil storages by 787,000 barrels per day in the first quarter of 2016. Even if China's demand is somehow reduced by around 1 million barrels per day, this demand deficit can be very well offset by the current supply disruptions and their long term effects on oil production and infrastructure. Even OPEC has lost its hold on the markets as its most influential member- Saudi Arabia is more focused on achieving the goals set in its ambitious National Transformation Program which limits its oil output capacity by 12.5 million barrels a day by the year 2020. Even Iran's current production capacity is around 3.7 million barrels a day which prevents it to produce significantly beyond its current production levels. With all these factors coupled with the reduction in new oil and gas investments, I strongly feel that oil prices will indeed increase in the coming time.
Disclosure: I/we have no positions in any stocks mentioned, and no plans to initiate any positions within the next 72 hours.
I wrote this article myself, and it expresses my own opinions. I am not receiving compensation for it (other than from Seeking Alpha). I have no business relationship with any company whose stock is mentioned in this article.