On June 10th European Ombudsman Emily O'Reilly called for the European Medicines Agency (EMA) to release previously withheld details involving the AbbVie Inc. (NYSE:ABBV) rheumatoid arthritis drug HUMIRA. The European Ombudsman office is tasked with "investigating complaints about maladministration in the institutions and bodies of the European Union." The office investigates complaints of EU citizens and can launch inquiries on its own initiative. The AbbVie HUMIRA case was one of these internal investigations.
The announcement is the latest salvo in a conflict that's been pretty quiet for the last couple of years. Two years ago AbbVie sued the EMA, an EU agency that approves medicines for use in the EU, until the agency agreed to withhold parts of the HUMIRA clinical trial data. AbbVie cited business concerns, specifically protecting "commercially confidential information". O'Reilly now says these protections were overdrawn and that the EMA has a responsibility to consumers to release the additional information. In terms of the balance with commercial information, she contends that, "where the information in a document has implications for the health of individuals (such as information on the efficacy of a medicine) the public interest in disclosure will generally defeat any claim of commercial sensitivity. Public health should always trump commercial interests."
O'Reilly's 17-page report insisted that the "entirety" of clinical studies should ultimately be reported, of course excepting patient privacy data. The concern about the data is centered on the redaction of lot numbers. These lot numbers break down clinical trial data by subgroups and by time and also include procedural descriptions.
Any sort of threat to HUMIRA reflects substantially in AbbVie's prospects, as HUMIRA is the core of the company's pharmaceutical portfolio (as detailed on the 2015 Annual Report Page 8). In fact, HUMIRA accounted for just over 60 percent of the company's net sales in 2015. The US compound patent for HUMIRA ends in December of 2016, but the European Union one lasts until October of 2018 in most EU countries. The EU and US are the two largest markets for HUMIRA, but it is approved in over 60 other markets. Additionally, AbbVie consistently works to expand HUMIRA's use beyond rheumatoid arthritis.
The inquiry conclusion continued a June skid for the company, which is down another 1-1.5% during midday trading on June 13th. For the month the stock has dropped from $65 to around $60 a share. In the 2015 Annual Report (page 156) the company listed its "Health Care Peer Group" of nine companies. Included in the peer group are Amgen, Inc. (NASDAQ:AMGN); Bristol-Myers Squibb Company (NYSE:BMY); Eli Lilly and Company (NYSE:LLY); Gilead Sciences (NASDAQ:GILD); GlaxoSmithKline plc (NYSE:GSK); Johnson & Johnson (NYSE:JNJ); Merck & Company, Inc. (NYSE:MRK); Novartis AG (NYSE:NVS); and Pfizer Inc. (NYSE:PFE). Our peer set analysis only supports US-based peers so excludes GlaxoSmithKline plc and Novartis AG. In total shareholder return, Abbvie is pretty even with its peer set but there is significant variety in the peer set returns (as enumerated in our recent Johnson & Johnson article.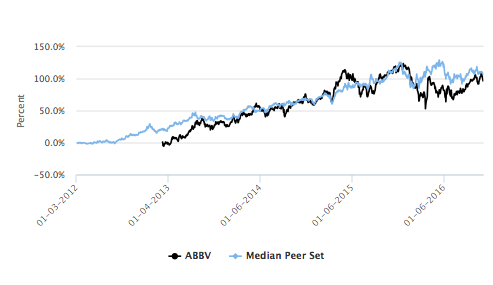 Exhibit 1: AbbVie Total Shareholder Return from the beginning of 2012
Source: Enlight Research
Note: AbbVie information starts in 2013 after its spinoff from Abbott Laboratories (NYSE:ABT). The peer set includes US-based peers as described in the article.
Despite the rough month so far, the Ombudsman found no evidence of misadministration in the EMA's handling of the data. Despite the Ombudsman's recommendations, there is no enforcement power to force compliance. In the Ombudsman's 2015 Annual Report 52.3% of cases were "settled by the institution or solution agreed". In almost 30% of cases no maladministration was found, while maladministration was found in almost 11% of cases. That 11% of cases represented 30 total cases. For context, in only 11 of those 30 cases where actual maladministration was found was there even partial acceptance of the Ombudsman's recommendations. In the other 19 of those cases, all that ultimately occurred was critical remarks from the Ombudsman to the institution in question.
For the EMA and AbbVie inquiry, where maladministration was not found, there is little pressure to substantially change the status quo. The EMA pledged in 2010 to take a lead in transparency but the success of AbbVie's court challenge four years later showed that such initiatives could be successfully curtailed. Consequently, there seems to be little concern that the data will be released, ostensibly protecting AbbVie's commercially confidential information. Of course, it also further protects the company from the chance of potentially negative health revelations gleaned from public availability of the data.
What does the news actually mean for HUMIRA and AbbVie? We think that it should not have an impact on HUMIRA business, even if it has partially influenced the share price drop in the short-term. It has been a rough month for AbbVie, but in our opinion chalk this piece of news up as a moot point for the company. There does not seem to be an EMA release of HUMIRA information pending and the announcement of the inquiry conclusion should not hurt the company's long-term value. Even if EMA chooses to push for release, expect another lawsuit and a drawn out legal battle before anything becomes public.
Interested in seeing similar metrics done with another company and peer set? Drop us a comment, send us a private message, or check out our profile to access our free real-time monitoring platform.
Disclosure: I/we have no positions in any stocks mentioned, and no plans to initiate any positions within the next 72 hours.
I wrote this article myself, and it expresses my own opinions. I am not receiving compensation for it (other than from Seeking Alpha). I have no business relationship with any company whose stock is mentioned in this article.