REITWeek is one of the most important events in the world of REITs, as it has a tendency to move markets in a big way. As a REIT-dedicated analyst, I attended the meeting and will provide my observations in this article. The key takeaways from this year's REITWeek were a notable change in the atmosphere and the upcoming creation of a REIT GICS sector.
REITWEEK Atmosphere
In the past, value has been a key topic at REITWeek, with each company's presentation at least attempting to demonstrate the value proposition of investing. In June 2016, however, Price-to-FFO and even NAV were nearly absent from the discussion.
Pragmatic evaluation of an investment's merit was replaced by fear, which seemed to dominate the investor sentiment at the meetings. It wasn't the traditional bearish fear. Instead, it was an unusual mix of both extremes - fear of total failure, and fear of missing out on the big payoff. Headwinds and tailwinds seemed to each be viewed as far greater in magnitude than reality would suggest.
Neil Shah, CEO of Hersha Hospitality (NYSE:HT), had to spend a majority of his presentation fielding questions about the supply of select service hotels in specific boroughs of NYC. While questions of this nature are valid and fundamental in nature, the response is blown out of proportion. Yes, supply growth is heavier than usual, and it likely will outpace demand, but all this will do is decrease RevPAR by a few percentage points. Given that less than a third of HT's EBITDA comes from NYC, and that the remainder of the portfolio is performing above expectations, the bottom line is still anticipated to grow, albeit slightly slower than it was growing last year. Supply has been a concern in NYC for a couple of years now, and the response has been enormous. Hersha dropped from almost $30 per share to the mid-$18s.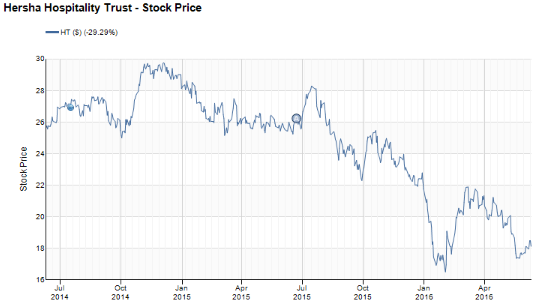 Hersha's REITWeek meeting evinced my suspicion that the market is overly focused on, or even fixated on, specific headlines without looking at the bigger picture of the overall value proposition.
A similar fixation was observed at the WP Glimcher (NYSE:WPG) meeting, at which Michael Glimcher had to field a barrage of questions about the company's lesser malls. Fundamentally, there is some risk that these malls will fail as more retailers feel the strain of competition. However, it seems the market is once again too fixated on a single headline to be able to see the bigger picture.
Greater than 70% of WPG's portfolio is of higher quality and expected to grow SSNOI at a good clip in the coming years. Since the stock is trading at a roughly 30% discount to NAV, the weaker portion of its portfolio is already being valued at $0 by the market. I view it as an overreaction to price the potential demise of weaker malls as a certainty when these assets are still cash-flowing positively and are maintaining strong occupancy.
This leads me to believe market pricing in the REIT space will continue to be excessively volatile despite the fundamental outlook generally calling for slow steady growth. Watchful REIT investors can take advantage of the volatility by trading against the overreactions.
GICS change
This year, the topic on everyone's mind seemed to be the impending changes to the Global Industry Classification Standard, or GICS. Starting in August of this year, REITs will be stripped out of the financials sector and will become an independent 11th sector of primarily equity REITs. The GICS change has been known for quite some time, but REITWeek incited a variety of speculation as to what the change would mean for REITs.
While opinions differed among industry participants, some aspects of the impact were more or less a consensus.
In the near term, volume and volatility will increase. As the change hits, sector weighted portfolios will have to increase their REIT allocation, as most generalist firms are underweight REITs. However, the Financial Spider (NYSEARCA:XLF), which contains both REITs and non-REITs, will likely experience outflows, as some investors may switch to the new ETFs that serve the remaining financials and REITs separately. Essentially, both inflows and outflows will likely be larger than normal. In the long run, volume is expected to remain higher, while volatility should decrease. Once the ETFs and sector-weighted portfolios are done making their initial adjustments, the volatility should calm down a bit, but volume should remain higher than before the GICS change, as there will be a broader pool of investors trading REITs. The REIT-dedicated investors will likely remain, while new investors will be brought in. Governance should be forced to improve. REITs have historically had a much higher retail portion of ownership and, consequently, a lower institutional portion. As a result, ownership is fragmented and REIT management teams have somewhat abused the situation with practices that are less than kosher. Once REITs become more mainstream, the institutional portion of ownership should rise closer to that of the broader market, which should bring increased scrutiny and eventually positive change to corporate governance.
Overall, perspectives varied substantially on whether the change would be bullish or bearish for REIT market prices. My opinion is that it will be neutral on overall pricing, but act as a correcting force bringing both the overvalued and undervalued closer to intrinsic value.
At a company specific level, the GICS change gets a bit more interesting. While the overall market is susceptible to both the inflows and outflows that will occur upon implementation, UMH Properties (NYSEMKT:UMH) might be immune to the outflows. Eugene Landy, chairman of UMH, pointed out that the company is not currently invested in any of the major ETFs, so they will not be sold off in whatever ETF shuffle happens. It could, however, participate in the inflows as it gets added to the various small-cap indexes that have previously excluded REITs. Expect some upward pressure on UMH stock in August and September.
Final Thoughts
REITWeek 2016 was among the most attended REITWeeks ever, with over 2000 participants. At a minimum, this indicates increased interest in the space.
Disclosure: 2nd Market Capital and its affiliated accounts are long WPG, HT and UMH. I am personally long WPG, HT and UMH. This article is for informational purposes only. It is not a recommendation to buy or sell any security and is strictly the opinion of the writer.
Disclosure: I am/we are long UMH, HT, WPG.
I wrote this article myself, and it expresses my own opinions. I am not receiving compensation for it (other than from Seeking Alpha). I have no business relationship with any company whose stock is mentioned in this article.