America is an armed society. This has become increasingly true in the last eight years with a massive increase in gun buying during the Obama administration. This has been a tremendous boon to gun and gun related stocks, which have been some of the best performers in the market during this period. The level of elevated gun sales is not likely to continue much beyond the Obama presidency (although they are likely to be much higher under a future Clinton presidency than a Trump presidency, as explained below). It is also quite possible that gun stocks have already peaked.
Two things tend to increase gun purchases in the U.S. - attempts to restrict, regulate or monitor gun ownership and terrorist or mass-shooting incidents. U.S. gun sales went through the roof each time Obama won the presidency and in the month of the 9/11 terrorist attack. While U.S. gun sales spiked to 754,000 in September 2001, they hit a higher peak of 1.1 million in November 2008 when Obama was first elected president. They skyrocketed to 2 million in January 2013, when Obama was sworn in for a second term. Gun purchases hit another surge in late 2015 (not captured on chart below). The last five weeks of the year, all ranked in the top 10 weeks in history for gun sales. Black Friday, the day after Thanksgiving, saw the largest number ever of gun background checks, 185,000, in a single day.
U.S. Monthly Gun Sales Since 2000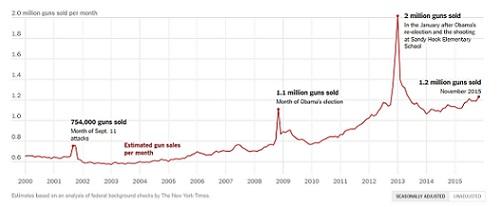 Regardless of your opinion on gun ownership, it can't be denied that gun and gun related stocks have made investors considerable amounts of money in the last several years. They were at a price low, during Obama's first election, as can be seen from charts of the two largest U.S. gun manufacturers below - Smith & Wesson (NASDAQ:SWHC) and Sturm Ruger & Co (NYSE:RGR). The red arrows indicated when Obama won the presidency.
Smith & Wesson Stock Price History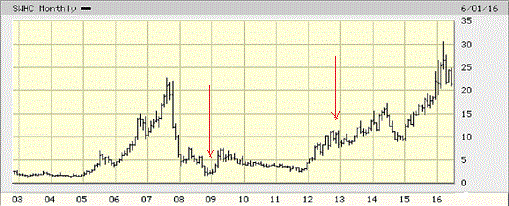 Sturm Ruger Stock Price History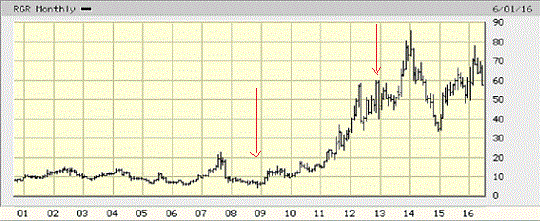 On presidential election day November 4, 2008, Smith & Wesson was $2.85. By presidential election day 2012, it has risen to $9.46. So far, its peak closing price has been $29.37 on March 23, 2016 - a 931% rise in less than less than eight years. The equivalent figures for Sturm Ruger are $7.04, $45.02 and $84.94. It peaked on January 16, 2014 (at least up to now) and had a 1107% rise from bottom to top.
Whether or not gun stocks have peaked remains to be seen. There are still seven months left of Obama's presidency and he could attempt new unilateral gun control initiatives, which would likely occur because of mass-shootings. How many more terrorist incidents will take place, and how serious they will be is impossible to predict. It can be predicted, however, that each one will cause at least a short-term rally in gun stocks. The day after Orlando, SWHC was up 6.9% and RGR was up 8.5%.
After years of heavy purchases, it is likely the gun market is satiated, so it will be increasingly difficult to obtain sales, especially a higher level of sales. Since Hillary Clinton is pro gun control, her presidency would be more positive for future sales. Donald Trump would be highly unlikely to take any measures to restrict guns and gun sales would consequently be weak during a Trump administration.
There are no ETFs for gun stocks. Other than SWHC and RGR, there are few pure plays for investors. TASER Intl (NASDAQ:TASR) comes closest, but it sells its products mostly to the law enforcement market and not the consumer market. Retail chains, such as sporting goods store Cabela's (NYSE:CAB), which sells guns are also possibilities.
Disclosure: I/we have no positions in any stocks mentioned, and no plans to initiate any positions within the next 72 hours.
I wrote this article myself, and it expresses my own opinions. I am not receiving compensation for it (other than from Seeking Alpha). I have no business relationship with any company whose stock is mentioned in this article.