On Monday morning, I wrote a bit about HY energy making a comeback on the back of rising crude prices. I encourage you to read that piece, but I'm going to talk a bit more about it here because I think it's important to look closely at what is invariably a self-defeating dynamic.
First of all, high yield (NYSEARCA:HYG) got hit during Monday's session as the broad risk-off sentiment that drove the yen (NYSEARCA:FXY) higher overnight spilled over into Europe and the U.S., tripping up risk as the market frets over a possible Brexit.
But make no mistake, it's been a good run for the space in general and for HY energy specifically. YTD, Barclays' overall HY index is up over 8% while the bank's HY energy index has posted a nearly 18% gain. Here are some summary stats for last week via BofAML and Bloomberg:
Energy sector yields fell below 10% for the first time since July, according to BofAML
BofAML U.S. HY spreads tightened 11bps to +598 vs +609
BBs +379 vs +384 (-5)
Bs +601 vs +614 (-13)
CCC +1,379 vs +1,413 (-34)
$12b priced across 13 deals making last week the busiest of the year
U.S. corporate high-yield funds saw inflows of $748.153m in the week ended June 8 vs inflows of $144.856m in the previous week
Not bad.
But the rally looks even more impressive when you pan out and look at spreads from a historical perspective.
Have a look, for instance, at the veritable collapse in the difference between spreads on BofAML's HY energy index and the bank's HY master index: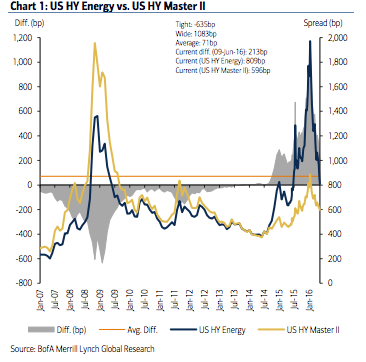 And it's the same story when you break down HY energy by credit quality: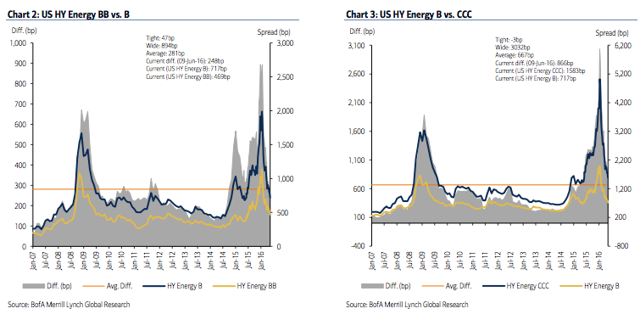 Click to enlarge
(Charts: BofAML)
You can talk about $50 being the magic number for US production all you want, but I'm sorry: this kind of spread compression doesn't seem justified given, i) the fundamentals, and ii) the fact that these would be risky credits at this point even if oil (NYSEARCA:USO) spiked to $80. A lot of damage has been done over the past 18 months. A quick move from $27 to $50 doesn't exactly fix things overnight.
If the above graphics aren't crazy enough for you, have a look at the following chart which represents the difference between the spread on the Barclays E&P index and the spread on the bank's overall HY corporate index: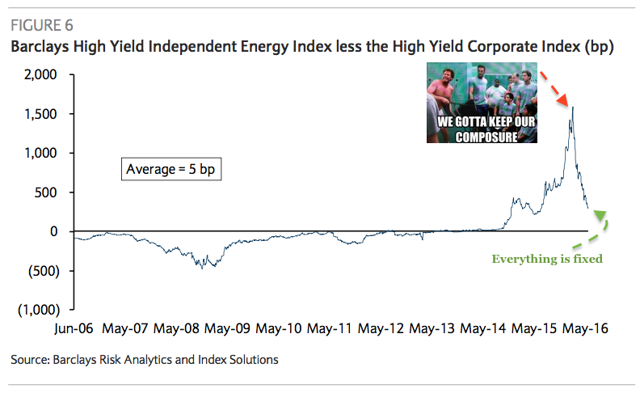 Click to enlarge
(Chart: Barclays with some annotations added by Heisenberg)
Here's Bloomberg's Lisa Abramowicz:
Last year's junk-bond sell-off seemed scary for a moment. Losses accelerated, funds collapsed, defaults mounted.

But something remarkable happened on the way to a destabilizing rout: Oil prices stabilized and investors piled back into the notes they had just abandoned. Everything was suddenly just fine again (with the exception of a few companies and investors that got annihilated along the way).
Yes, everything "is suddenly fine again." Only it most certainly is not, as Abramowicz makes abundantly clear in her piece.
Here's a table from BofAML which depicts the gory details behind the fact that so far this year, borrowing bases for HY E&P have been slashed by 21%, with 63% of the bank's sample accounted for: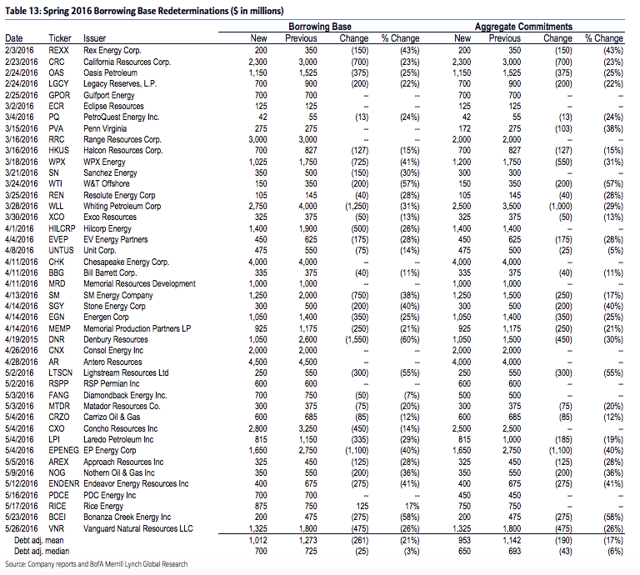 Click to enlarge
(Table: BofAML)
In short: credit lines have been cut by a fifth this year. In other words...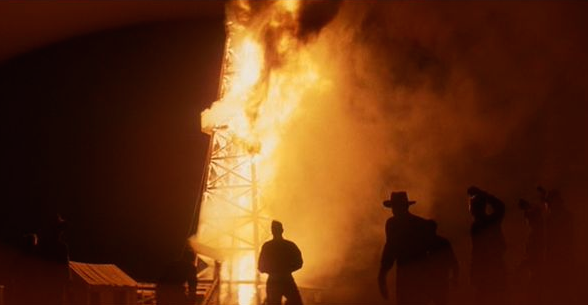 Meanwhile, the geopolitical landscape isn't getting any more favorable in terms of supporting a sustained rally in crude.
Iran replaced Roknoddin Javadi as managing director of National Iranian Oil Co. last week with Ali Kardor, a move which probably signals a more aggressive push towards securing foreign investment for the country's oil and gas industry. More foreign investment means more production. In addition, Oil Minister Bijan Namdar Zanganeh says Iran will look to ramp production by 600k-700k b/d over five years from fields along the Iraqi border.
As for the Saudis, well, they aren't about to back down. Price hikes on exports to the U.S. and Asia came in at the lower end of the expected range this month, which, according to Shakil Begg, head of oil research at Thomson Reuters, represents "a deliberate move by Saudi Arabia to capture market share with Iran continuing to ramp up exports".
While Credit Suisse notes that the Saudis' commitment "to maintain crude production capacity at ~12.5 Mb/d through 2020 greatly reduces the most significant medium-term upside crude oil supply risk," I would note that the following graphics, which depict global demand growth and U.S. production vs. rig count, certainly don't seem to be screaming "rally":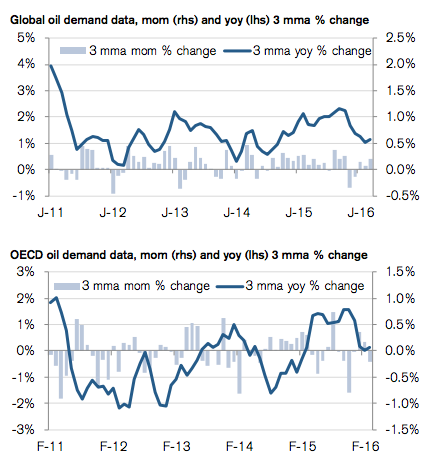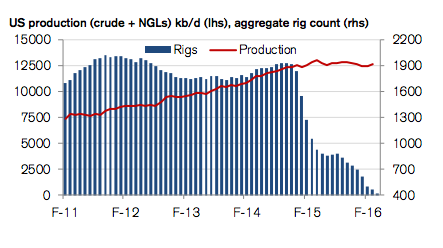 (Charts: Credit Suisse)
What does this mean for oil prices? Well, if you ask me, I would say fundamentals combined with geopolitical headwinds will keep the pressure on. Especially if we get any kind of persistent dollar strength.
But really I don't know. As we've seen over the past three months, it's anyone's guess in the short-term.
What I do know is that I wouldn't be piling into high-yield right now. And I would certainly keep clear of HY energy. Especially considering the fact that, as I wrote on Monday morning, the longer capital markets remain open to uneconomic U.S. producers, the longer prices will stay depressed. It's a self-defeating investment.
Incidentally, deputy crown prince Mohammad bin Salman will be in New York and Washington this week pitching his new plan to make the Saudi economy less dependent on crude. So look forward to more of this...

Click to enlarge
Disclosure: I/we have no positions in any stocks mentioned, and no plans to initiate any positions within the next 72 hours.
I wrote this article myself, and it expresses my own opinions. I am not receiving compensation for it (other than from Seeking Alpha). I have no business relationship with any company whose stock is mentioned in this article.