One-Year Stock Price Charts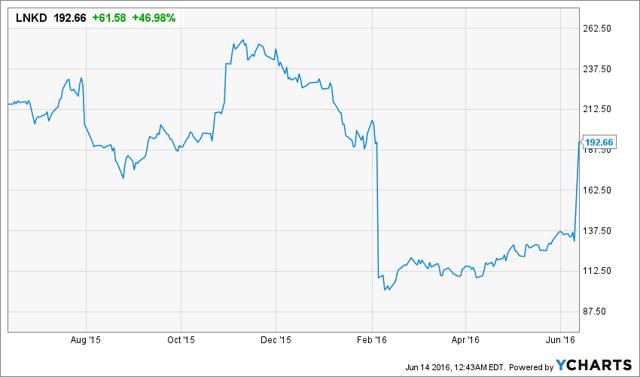 Click to enlarge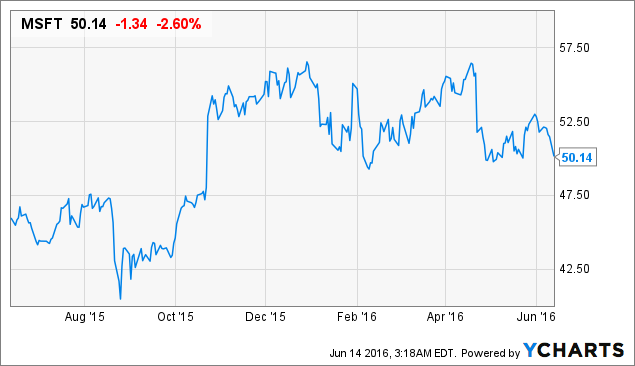 Deal Summary
On June 13 th, Microsoft (NASDAQ:MSFT) announced that it would be buying LinkedIn (NYSE:LNKD) for $26.2B in an all-cash acquisition to be funded by new debt issuance. The transaction should be completed by the end of the year. While LinkedIn shares rose 47% following the news, trading of Microsoft's stock was halted. When the suspension in trading was lifted, Microsoft's shares fell 2.6%. LinkedIn will be an independent business managed by the company's current CEO Jeff Weiner, and its financials will be reported in Microsoft's Productivity and Business Processes segment. The deal won't be accretive to Microsoft's earnings until Fiscal 2019 and will be mildly dilutive until then.
The Forward View
Forward View is raising our target price on LinkedIn to $196, Microsoft's offer per share of LinkedIn stock. We'll keep our Buy rating on LinkedIn because Microsoft has no significant obstacles to completing the proposed acquisition of LinkedIn. (LinkedIn's share price remains slightly below the anticipated closing price.) Our LinkedIn earnings estimates remain unchanged, and we'll continue to cover the company until the transaction is finalized.
Back in February, we received tremendous criticism for having a positive view of LinkedIn's stock before, and after, a disappointing 4Q15 earnings report. One investor even wrote to us just to claim that Forward View represented everything wrong with Wall Street. (Since we're not based on the Street and have a nontraditional business model, we found the anger rather misguided. But, we digress.) Our entire research department was questioned by several other people, but our patience was rewarded by LinkedIn's flawless 1Q16 earnings. The stock rose, yet we were again accused of being a shill for the company. A couple of people even suggested we were secretly buying the stock ourselves, an especially ludicrous idea because Forward View invests none of the firm's capital nor do our analysts trade in the shares of companies we cover.
If you had purchased LinkedIn stock on February 9 th following our 4Q15 earnings analysis, you would have earned an almost 91% return. Had you bought the stock when we became especially bullish following LinkedIn's 1Q16 earnings, your return would be 58%. We think those numbers speak for themselves.
Forward View is not trying to brag because we admittedly didn't forecast that Microsoft would make such a bold move. Honestly, we doubted that any technology company except for Alphabet (NASDAQ: GOOG) would have the capacity and creativity to complete a deal for LinkedIn. In reality, though, Microsoft is a better parent for LinkedIn than Alphabet. (IBM (NYSE: IBM) would be another more suitable home for LinkedIn due to its intensive business focus.)
Why is Microsoft a better fit for LinkedIn than Alphabet? The answer is very simple: Microsoft, despite its popular consumer products like the Xbox and Windows operating system, is now primarily a B2B company. While Alphabet sells billions of dollars of ads every year to businesses, the company's technology is focused on the consumer experience. In addition, most of the new Alphabet ventures, such as self-driving cars, are aimed at B2C markets. Microsoft, meanwhile, is developing new products/services for businesses and organizations. The company's cloud offerings, Office 365 subscriptions and big data technologies are pulling in corporate dollars, and the profit margins remain high.
LinkedIn is very similar to Microsoft in that consumers are very familiar with the flagship LinkedIn app and the company's main website, but LinkedIn's growth is based on B2B services. In 2015, LinkedIn earned almost 80% of its revenue from business clients, with around 60% of the company's sales coming from the rapidly growing Talent Solutions segment. By comparison, in Fiscal 2015, Microsoft earned 55% of its revenue from business customers. LinkedIn's core clients and its website users can benefit from Microsoft's impressive computational/programing strengths while Microsoft will enjoy LinkedIn's strong relationships with growing companies and professionals across the globe. LinkedIn's international monetization has just begun, too. Microsoft CEO Satya Nadella noted that the combined company's addressable market will climb 58% following the acquisition.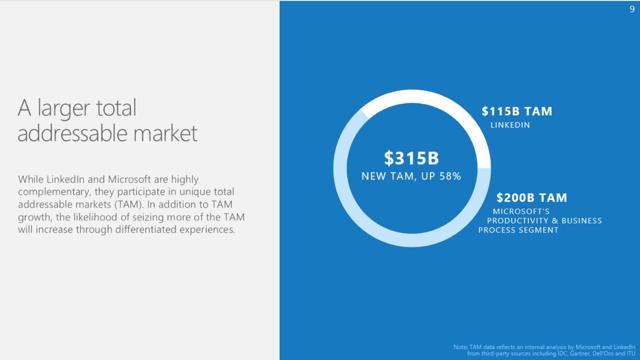 Click to enlarge
Image from a June 14 th, 2016 Microsoft presentation
In closing, we like the deal. It's one of the few mega-acquisitions Forward View has ever found appealing. "MicroLink" actually makes sense from operational, financial and cultural perspectives. With proper execution, always the biggest challenge in transformative strategic moves, Microsoft and LinkedIn will enjoy a strong partnership. Although we don't plan to initiate formal coverage of Microsoft, we will be tracking LinkedIn's performance even after the deal closes. Congratulations to both companies and their employees!
Disclosure: I/we have no positions in any stocks mentioned, and no plans to initiate any positions within the next 72 hours.
I wrote this article myself, and it expresses my own opinions. I am not receiving compensation for it (other than from Seeking Alpha). I have no business relationship with any company whose stock is mentioned in this article.