Ok, so here's what's happened over the past four or so weeks.
We got Williams (San Fran. Fed), Lockhart (Atlanta Fed), Rosengren (Boston Fed), George (Kansas City Fed), Dudley (NY Fed), Bullard (St. Louis Fed), and then finally Yellen (the boss) all coming out hawkish ahead of the FOMC's June meeting.
And then we got the May NFP print.
Yellen reversed course just nine days after hawkish comments at Harvard, causing the market's expectations for a summer hike to yo-yo: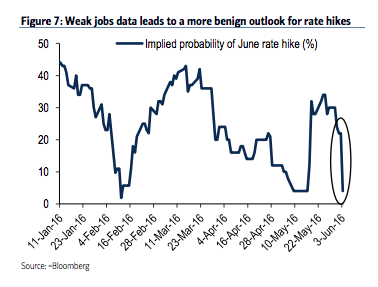 (Chart: BofAML)
It was a rather amusing about-face and as I documented here it "proves beyond a shadow of a doubt that the market now views the FOMC as a myopic (and possibly drunken) driver of short-term economic outcomes and financial market swings rather than a prudent steward of long-term unemployment growth and price stability."
Essentially, the Fed was staring down a jobs number that could possibly undercut the case for a June hike (although in reality they should never be deterred by one data point) and even though they all knew a bad print would scare everyone to death, they all put on their brave hawk masks and charged out to the media only to get ambushed on NFP Friday.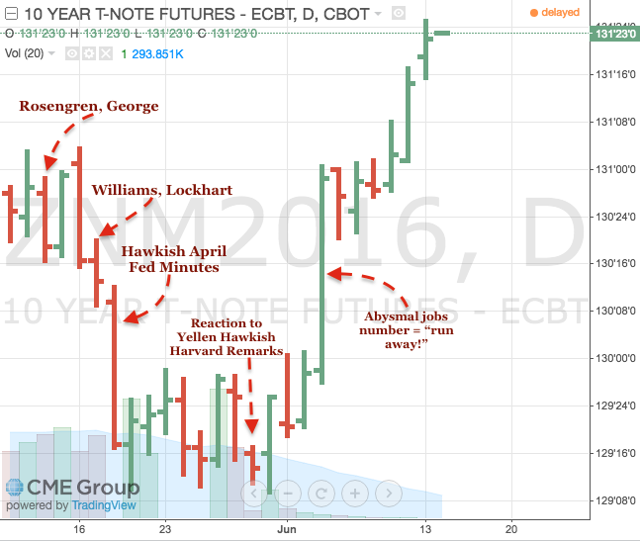 Click to enlarge
(CHART: CME)
Then Yellen beat a hasty retreat last Monday. Or, visually (for the Monty Python fans):
("It's just a harmless little jobs number…")
With that rather amusing backdrop in mind, I scanned a BofAML note out Monday which asks the following rather pertinent question: "Are spreads (NYSEARCA:LQD) and vol entirely priced for a summer of suspense?" Here's an excerpt:
One of the more remarkable things that occurred right after the weak payroll report and Janet Yellen's speech the following Monday was the sharp rally in credit. Any sign of uncertainty interferes with the steady income of carry and roll-down and should therefore increase the premium at which selling protection or going long looks attractive. And here we had the Chair of the Fed mention the word 'uncertainty' 13 times in her speech and all we got to show for it was 3bp tightening in IG and a 60c rally in HY.

The knee-jerk reaction of 'no rate hike' = 'tighter spreads' fails to appreciate the reason for monetary policy status quo. Signs of a slowdown in the labor market, the shining star in an otherwise tepid recovery, ought to be a worrying rather than reassuring signal with the Fed so close to the zero-bound. The probability of a June hike has gone from 45% at the beginning of the year to almost zero by February, back to 45% a month later to zero again now. In addition, in this election year, as our Economists point out, there is a risk of a confidence shock due to policy uncertainty, if the rhetoric fails to cool down between now and November.
Right. And don't think the rhetoric will "cool down."
Especially not after the massacre in Orlando.
Have a look at the following graphic from BofAML which clearly shows that things are, for lack of a better word, getting "crazier":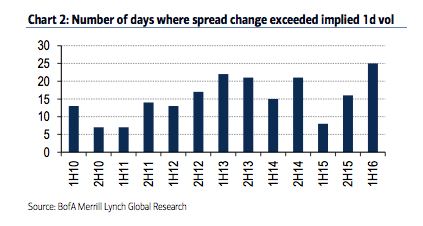 So what of the market and the election now that Trump and Clinton have locked up their parties' presumptive nominations (sorry Bernie, it was a good run)?
Last month, I discussed Citi's "polarization principle" and how it helps to explain not only the rise of Donald Trump, but also rising inequality and increased correlations between asset classes.
Well, it certainly appears as though this election is going to be as divisive (i.e. polarizing) as any we've seen in recent memory and that may not be good news for risk. Here's BofAML again:
The election itself can cause a shock to confidence that hurts growth and risk assets. In particular, the election raises three kinds of concerns - (1) a divisive campaign damages trust and confidence in future leaders, (2) uncertainty about what policies will be implemented can cause those who could be hurt to adopt a "wait-and-see" attitude, and (3) some of the more aggressive policy proposals could hurt growth and confidence.
And here's a look at an annotated chart of two "uncertainty measures":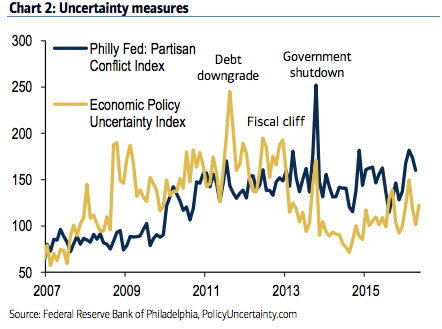 (Chart: BofAML)
Note the "partisan conflict index" is at its highest level of the decade ex-the government shutdown.
On the bright side, Americans dislike Congress even more than they dislike the two candidates: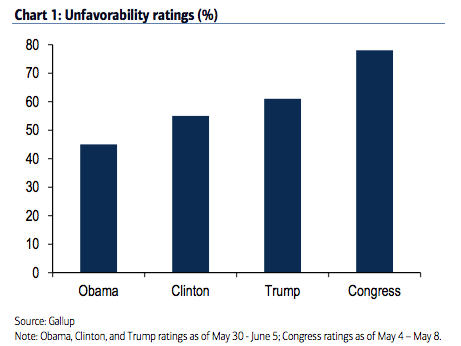 (Chart: BofAML)
Given the spread compression we've seen in HY and the rally in equities, one can't help but feel uneasy about the next six months.
We're staring down a UK referendum on EU membership, a Fed that's trying to navigate an impossibly complex reaction function, a BoJ that's desperately trying to keep a lid on a yen that's determined to appreciate (which is bad news for the S&P), and a U.S. election that pits a member of America's entrenched political aristocracy who is the subject of an FBI probe against a billionaire reality TV star who has called for a ban on Muslims entering the country.
And the VIX is still sitting at just 21 and that's after rising 23% on Monday!
If you're long U.S. equities (NYSEARCA:SPY) you had better hope that corporate buyback bid holds up...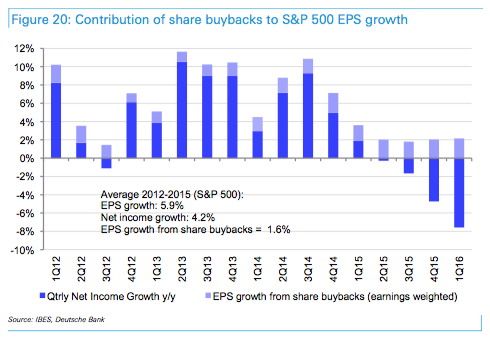 (Chart: Deutsche Bank)
... or else hope this picture abruptly turns around: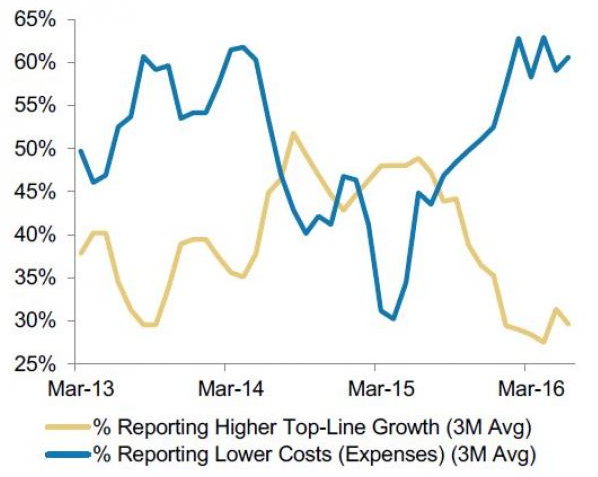 (Chart: Morgan Stanley)
I'll close with one last quote from BofAML which I think captures the mood quite nicely:
Our biggest concern is that the rhetoric does not cool down and investors start to worry about big tail risks to growth. Proposals to deport all illegal immigrants, sharply increase tariffs, curb Fed independence or sharply expand the budget deficit could hurt business and market confidence even if the proposals do not ultimately come to fruition. In our view, this could cause a confidence shock starting sometime after the July conventions.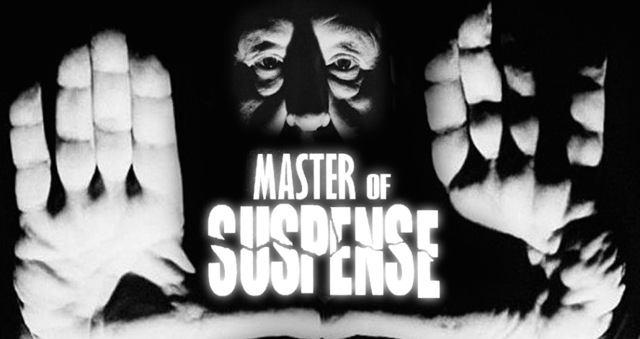 Click to enlarge
Disclosure: I/we have no positions in any stocks mentioned, and no plans to initiate any positions within the next 72 hours.
I wrote this article myself, and it expresses my own opinions. I am not receiving compensation for it (other than from Seeking Alpha). I have no business relationship with any company whose stock is mentioned in this article.