AMN Healthcare (AHS), one the largest US healthcare staffing firms that recruits and places nurses, physicians and other healthcare professionals in travel or permanent assignments, is benefiting from some very favorable macro trends, including regulatory changes, but the company seems to have taken an aggressive posture amid these tailwinds, delivering strong topline and profit growth. In this supply constrained environment of healthcare staff, which is ideal for staffing firms, the business is standing apart, with high growth, superior visibility and profitability to match.
But now that the stock is up almost 400% over last five years and trading near multi-year highs, there are increasing concerns about the valuation getting rich or cyclical pressures on the staffing services space, the type of fears that take different names, but are mostly related to the stock chart. Acquisitions have definitely contributed to the growth and tough comps as well as cyclical pressures may pose a challenge for the staffing industry in general, but even with all these potential risks, the fundamentals seem to offer enough to warrant a closer look and suggest that good times, both on relative as well as standalone basis, may last a while.
Favorable industry climate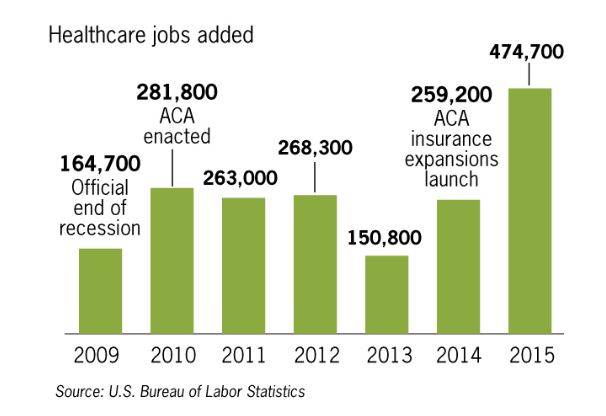 Image source: Modern Healthcare
No doubt, the healthcare jobs do experience their own share of ups and downs, but there is hardly any disagreement that recruitment and workforce optimization for healthcare businesses is becoming an increasingly important issue.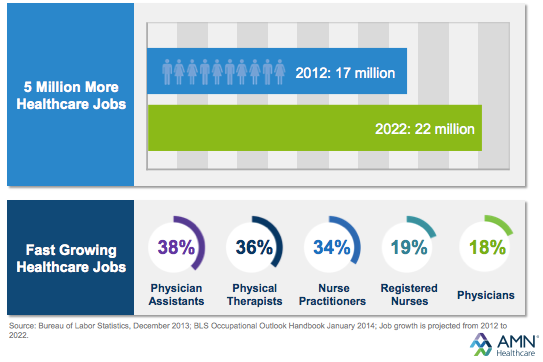 Source: AHS presentation
The industry is benefiting from a shortage of doctors and nurses to treat the growing number of patients. Besides demographics, the Affordable Care Act, which expanded health insurance subsidies and tens of millions came under coverage, is positively impacting the demand side of the equation, whereas retiring working women, who make up the majority of health care workers, equaling the projected number who are joining the health care system are negatively impacting the supply side of equation. Since it takes longer to hire permanent staff, the demand for temporary staff to fill the void goes up, besides helping the healthcare facilities adopt a more flexible staffing model.
Moving up the value chain
But, besides the positive macro environment, the business seems to be doing a good job at monetizing the favorable tailwinds by providing more services and moving up the value chain, which should help the business survive the cyclical volatility better than others.
Trying to move up the value chain, the company is trying to expand its portfolio of services beyond staffing by becoming a one-stop shop, offering services like recruitment, training, hiring, etc. Hospitals are happy because they can cut costs, outsource training and related services as well as align staff costs to patient demand, while maintaining service levels.
The most prominent opportunities for the company is the growth of managed services programs (MSP), which covers recruitment, credentialing, clinical support, reporting and consolidated invoicing, and vendor management services (VMS), which covers automated temporary and float pool staffing through online order and fulfillment, scheduling, credential tracking, timekeeping, reporting and invoicing, etc. Combined MSP and VMS has reached almost $2 billion of annualized spend under management, highlighting the fact that addressing the business as just another staffing company may be misleading.
Hospital and others wanting to get their arms around spending are fueling the momentum for these programs and looking at some segments where almost 50% of revenue is through MSP clients, one can be sure that the momentum may continue to help the topline growth.
Acquisitions playing a key role
Over the last few years, a number of value-add services have been acquired, which has significantly helped the company grow faster than the peers, but looking at acquisitions, as just a topline growth driver may again be misleading. Even through acquisitions have contributed significantly, organic growth was not lagging either. Last quarter, organic growth was close to 28% and expectations are for approximately 20% organic growth for the current quarter, both significantly ahead of peers like Cross Country Healthcare (NASDAQ:CCRN).
The importance of acquisitions seems to be more at the strategic level, where it has not been appreciated enough. The company has added more than half a dozen companies over the last two years and each should help position the business as a well-balanced high-growth services business. From Peak Health Solutions with health information management capability, B.E. Smith with executive search & advisory, Avantas with predictive analysis to Onward Healthcare with travel nurse & allied staffing solutions.
Profitability improving and valuation not fully reflecting the improvement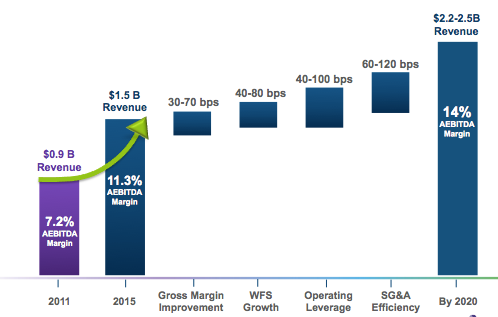 Source: AMN Healthcare
The profitability has been improving and more importantly, there is a clear path with decent visibility for the future improvements, but the valuation is hardly reflecting the same.
The stock is trading close to 16 times next year's earnings, in line with Cross Country, which is barely growing at mid-high single digit growth rates. Even compared to other players in the broader staffing services names, e.g. Robert Half (NYSE:RHI) or Manpower (NYSE:MAN) that are significantly more exposed to the cyclical pressures and barely growing around mid-single digit levels, the name does not seems to be enjoying any major premium on PEG (PE/ growth) basis.
Disclosure: I/we have no positions in any stocks mentioned, and no plans to initiate any positions within the next 72 hours.
I wrote this article myself, and it expresses my own opinions. I am not receiving compensation for it (other than from Seeking Alpha). I have no business relationship with any company whose stock is mentioned in this article.