Overview
Eastman Chemical (NYSE:EMN) is a global chemical company that produces a broad range of "advanced materials, chemicals, and fibers" used in everyday products. The company has 49 manufacturing sites and stakes in four manufacturing ventures in 14 other countries.
The company has five segments: Additives and Functional Products, Adhesives and Plasticizers, Advanced Materials, Fibers, and Specialty Fluids and Intermediates.
Additives and Functional Products
This segment manufactures chemicals for the coatings, tires, consumables, animal nutrition, crop protection, and energy markets. This segment accounted for $2.4 billion in sales in 2015, or roughly 25% of total sales.
The company is currently working toward expanding its reach with this segments by retrofitting a German manufacturing facility and expanding its Crystex insoluble sulfur rubber additive facility. These expansions, it claims, are positioned to take advantage of recent technological enhancements in Crystex manufacturing.
Adhesives and Plastics
This segment produces intermediate chemicals - not finished products - and helps customers grow in their own end markets. It supplies products used in construction, health and wellness, industrial processing, and the durable goods market. It accounted for $1.2 billion in sales in 2015, or 12% of total sales.
The company says it is and will continue to benefit from market growth in adhesive resins in China, south east Asia, eastern Europe, and Latin America, and also believes the return of construction in the United States will help its business. It believes the growth in these markets is higher than the predicted economic growth.
Advanced Materials
This segment produces polymers, films, and plastics for use in transportation, construction, durable goods, and health and wellness products. This segment created revenue of $2.4 billion in 2015, or 25% of total sales.
The company has leading market positions in this segment. The company is also working to expand its higher margin products in faster growing markets. The company feels it's particularly well-positioned to take advantage automotive markets in North America and Asia.
Fibers
This segment produces materials for cigarette filters, apparel, furniture, and industrial fabrics. The company is the second largest supplier of acetate tow, which is used for cigarette filters, and the world's leading supplier of acetate yarn, which is used in apparel, furniture, and fabrics. The segment generates sales revenue of $1.2 billion in 2015, which is 13% of total sales.
However, as a result of a challenging market for acetate tow, the company closed its facility in the UK in 2015.
Specialty Fluids and Intermediates
This segment produces products for use in industrial processing, construction, health and wellness, and agrochemicals. It accounted for $2.4 billion in revenue in 2015, or 25% of total sales.
As with other segments, the company's primary goal is to increase presence in a high margin, expanding markets around the world.
Growth Strategy
The company's management believes it can continue to grow by taking advantage of its technology platforms, increasing emphasis on specialty business and products, and taking advantage of its external market positions.
Management wants to emphasis internal and external growth. In 2015, the company completed its integration of Tamico, another specialty chemical company. Also in 2015, the company updated a German manufacturing facility in the Additives and Functional Products segment and began construction on a 40,000 metric ton expansion on a sulfur additive facility, which is expected to be operational in 2017. The company also started construction on another facility in the Advanced Materials segment. All of its expansions are designed to take advantage of emerging opportunities in the manufacturing world, especially in expanding regions.
On a minor note, the company will also slightly restructure its organization starting 2016. The Adhesives and Plasticizers segment and the Specialty Fluids and Intermediates Segment will be rationed out into the Adhesives and Plasticizers segment and in a new Chemical Intermediates segment. The purpose of this restructuring is to allow the company to become more streamlined in its focus on specialty chemicals and products, which is cornerstone of its growth strategy.
Acquisitions
Part of the company's plan for growth is to acquire other company that will help it expand its reach and add to revenue.
The company made four acquisitions in 2014. First it acquired BP's "global aviation turbine oil business". It then acquired Knowlton Technologies, a leader in design, prototyping, and production of filtration, friction, and custom designed composite webs. This acquisition, I suspect, will be a part of the company's Fibers segment. The company also acquired Tamico Corporation, which is another global chemical company. The company then finally acquired Commonwealth Laminating and Coating, which is a specialty films business.
Overall, the company's acquisitions only add to its value and appear to fit in well with its long-term goals, which is a positive.
Cash Flow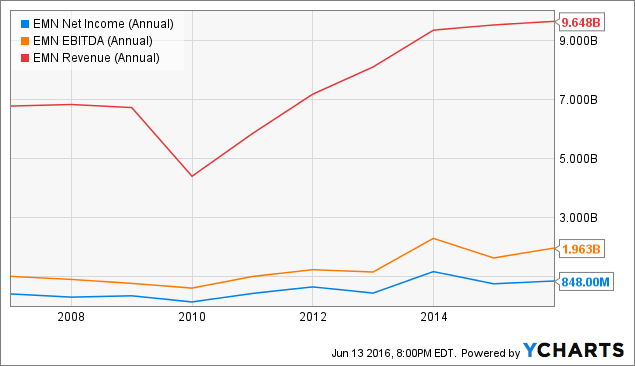 EMN Net Income (Annual) data by YCharts
The company seems to have a very strong cash flow, which is important for all investors, but most important for value investors. Revenue seems to have plateaued over the past year, but the years prior have shown a strong increase in cash flow.
The scale of the graph might make the net income increase seem slight, but net income has substantially increased over the past few years, which is also good for the business.
However, one can't help but notice the rise and dip of earnings around 2013. Indeed, net earnings increased from $444 million in 2012 to $1,172 million in 2013, and then fell to $757 million in 2014. Net earnings for 2015 were $854 million.
Earnings increased so drastically from 2012 to 2013 due to the purchase of Solutia, a global chemical company. Also, the company had a $279 million pension and other postretirement benefit adjustment gain which significantly impacted the earnings number.
Even if the pension and postretirement gain is adjusted for, however, the company still seems to have had a decrease in earnings from 2013 to 2014. Gross profit decreased a total of $555 million from 2013 to 2014. This was partially due to the one-time increase in profit from the pension and postretirement gain, but also due to a $240 million dollar pension and postretirement benefit adjustment loss in 2014. Gross profit for the core business slightly increased. Earnings from all segments increased, but were slightly offset by a small decrease in sales from Adhesives and Plastics.
The $369 million increase in gross profit from 2014 to 2015 was not driven by pure strength from the business however. There was a $156 million reduction in pension and other postretirement benefit adjustment loss in 2015 compared to 2014. Profit also increased because the decrease in raw material and energy cost were greater than the decrease in end selling prices. Profits from acquired businesses also helped.
Over the past few years, the company has also pointed out how an increase or decrease in gross profit was affected or partially caused by the relationship between prices for raw materials and energy and the company's end selling prices. It's worth pointing out that over the past five years, the cost of raw materials and energy and the company's end selling prices have always moved up or down together.
Book Value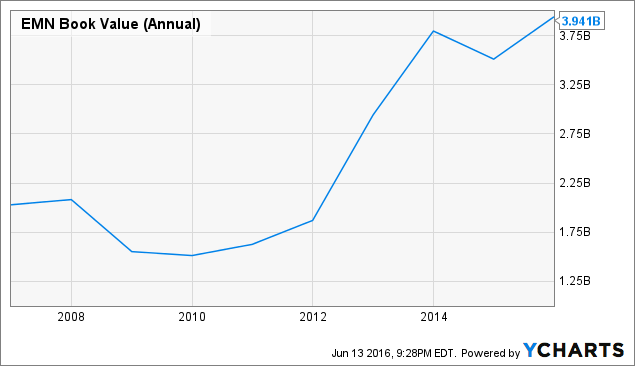 EMN Book Value (Annual) data by YCharts
The company's book value has obviously grown rapidly over the past few years, especially because of the company's major acquisition of Solutia and its acquisitions in the years since.
Overall, the company's external growth strategy seems to be working pretty well. Its profits seem to be steadily growing partially because of its acquisitions and the company's size also continues to grow.
Conclusion
I think Eastman is a very solid company. The company's growth strategy seems to be working, especially externally. And earnings have substantially increased over the past few years. It seems to be run by a management that's very clear about the company's goals, as was glaringly clear in its annual reports. It's stayed true to its goals and its plans to expand its own internal capacity to produce will hopefully show positive results in the future.
However, I will not be adding the company to my personal portfolio. I think Eastman is a strong company, but in my opinion, it's not selling at a strong enough discount to warrant a purchase. This rings especially true for value investors, who tend to stay away from a stock if the opportunity isn't glaringly obvious.
The market is something that provides opportunities for investors when price is lower than value. But at this point, it's unclear to be if Eastman is selling at a discount or not. Eastman's price shot up after the 2015 annual report was released in February of this year. The upside, in my opinion, isn't that great. The margin of safety isn't large enough for my personal taste, and it's unclear to me whether or not any investor will be able to achieve a very good return on the stock at the current price level.
But, I imagine that for many investors, Eastman would be a great opportunity, despite the price. The company also has a relatively solid dividend rate, which also makes it attractive to some. Investors in the company can rest assured that the company they bought into or are planning to buy into is a very solid and will remain very solid. I'll definitely keep an eye on the stock and buy in if the market irrationally decreases its price.
Disclosure: I/we have no positions in any stocks mentioned, and no plans to initiate any positions within the next 72 hours.
I wrote this article myself, and it expresses my own opinions. I am not receiving compensation for it (other than from Seeking Alpha). I have no business relationship with any company whose stock is mentioned in this article.