I've owned Union Pacific (NYSE:UNP) for a few years now, and always considered it the elite rail operator to own. It easily bests its domestic U.S. peers CSX (NYSE:CSX), Kansas City Southern (NYSE:KSU), and Norfolk Southern (NYSE:NSC) when comparing return on invested capital.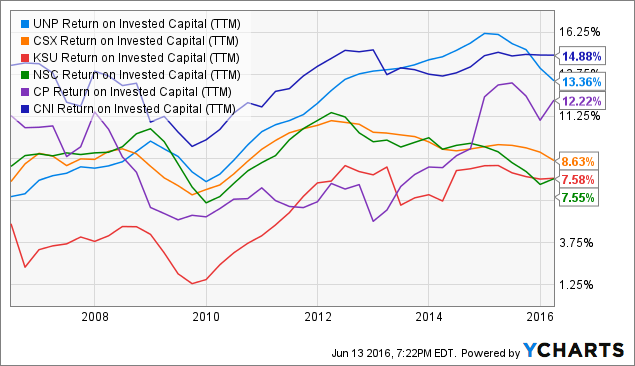 UNP Return on Invested Capital (NYSE:TTM) data by YCharts
When adding Canadian railroad operators to the mix, however, competition becomes more fierce. In fact, Canadian National Railway (NYSE:CNI) is the only other company that can boast better capital-allocation skills it seems. Canadian Pacific (NYSE:CP) comes "close, but no cigar."
The equity perspective
When singling-out the equity slice of the capital structure, return on equity is somewhat comparable between the two firms, but we can clearly see that CNI claims a more consistent track record of achieving above average ROE over the last ten years.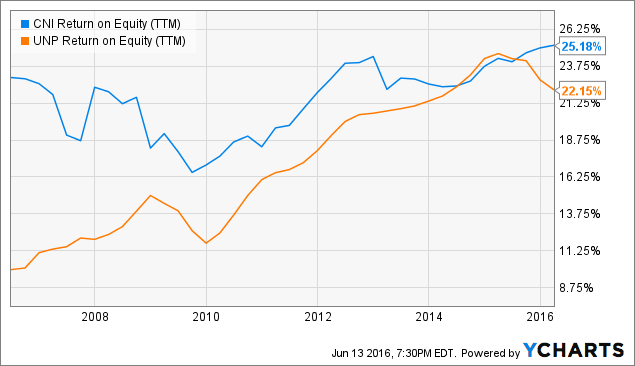 CNI Return on Equity (TTM) data by YCharts
Both companies utilize a similar amount of leverage and maintain strong balance sheets. Union Pacific's assets-to-equity ratio stood at 2.63 at the end of 2015, while Canadian National's was a tick lower at around 2.43. CNI's debt-to-equity ratio sat at 0.60 while UNP's sat at about 0.66.
With the exception of Kansas City Southern, the two previously mentioned railroad operators above seem to be the most conservatively financed companies in the industry, with the least amount of leverage and lowest amount of debt in relation to their overall capital structures. KSU's leverage ratio was around 2.13 for fiscal 2015, with a debt/equity ratio of 0.52, for comparison purposes.
Overall, it appears Canadian National beats out Union Pacific, whether we are talking about return on invested capital, return on equity, or balance sheet strength - but only by a nudge. If we are talking about long-term consistency, the comparative gap widens in favor of Canadian National Railway.
Better cash flow, too
CNI appears to churn out more free cash flow as well, which further widens its lead.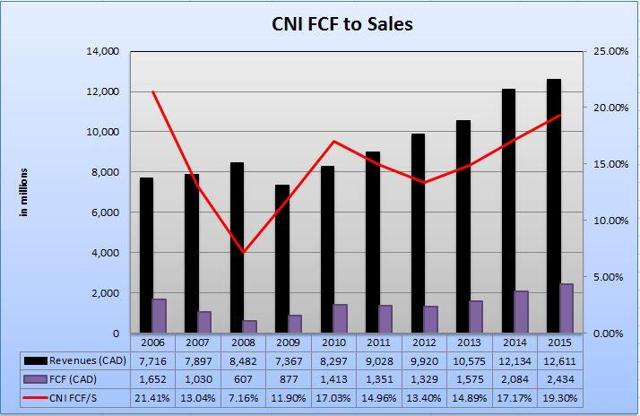 Chart created by Joseph Harry, data from Morningstar
Converting sales into double digit free cash flows has been relatively common over the last decade, in fact. Turning to Union Pacific, there's a weaker, but still somewhat respectable picture painted.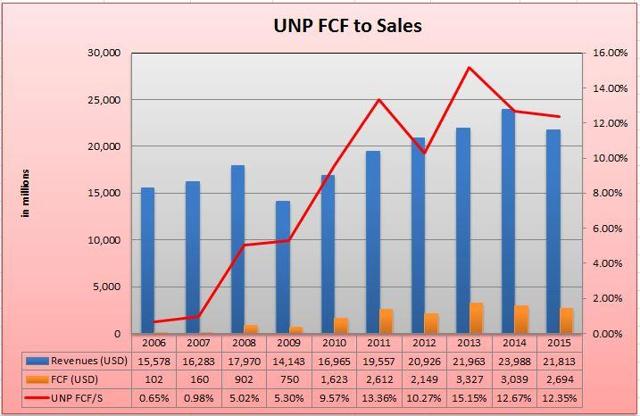 Chart created by Joseph Harry, data from Morningstar
UNP can't match CNI's performance in the present or the past it seems. The beginning of the decade clearly wasn't anywhere near as solid as it is today (as far as free cash flow generating abilities are concerned), but I think management's current efficiency over the last few years is shining through and translating into better numbers. ROIC and ROE show similar trends over the last decade, with the last few years especially showing drastic improvement.
Icing on the cake - Using the strong dollar as an advantage
U.S. investors buying ADR's (American Depository receipts) of CNI are using their historically strong dollar to buy underlying assets priced in Canadian Dollars.
We can see below that the two currencies are no longer at parity, despite some recovering in the value of the Canadian Dollar versus the US Dollar recently. The USD currently buys 1.273 in Canadian Dollars, and with the exception of the financial crisis, this doesn't seem to be normal. We also live in strange times, so I wouldn't count out continued strengthening of the US Dollar, but I also don't have a crystal ball.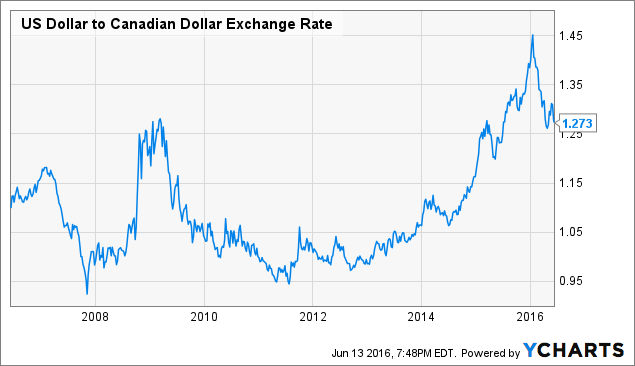 US Dollar to Canadian Dollar Exchange Rate data by YCharts
If/when this trend "reverts to the mean", however, not only will the value of Canadian National shares increase in US Dollar terms, but so will the dividends, which are converted from CAD into USD.
Union Pacific currently trades at roughly 15.50 times forward earnings and Canadian National trades at roughly 16 times forward earnings. I wouldn't be in a rush to buy either at current levels, but will be watching both on any significant dips and would probably favor CNI if I was forced to buy one or the other at current prices.
Conclusion
Union Pacific has improved by leaps-and-bounds over the last few years, boosting free cash flow and improving its ROIC significantly enough to push it firmly ahead of its U.S. competitors. It's also managed to maintain a strong and financially-flexible balance sheet in the process. With all this said, it still seems to be second best in an expanded investment universe that includes all of North America - and not just the U.S.
Canadian National not only appears to be the best-of-the-best, but it also has a track record of outperforming for many years, not just recently. If the dollar weakens, that adds to the argument for favoring CNI over UNP even more in my opinion, but by then the favorable currency impacts will likely be priced in.
I don't have any current plans to substitute CNI for my existing UNP shares, but rather plan to add a complimentary position when the time is right. I think there's room for more than one geographically- monopolistic rail operator in my portfolio, at the right price of course. I consider both Union Pacific and Canadian National Railway to be legitimate long-term investments.
If you enjoyed this article and would like to receive further updates and articles in the future, please feel free to hit the "Follow" button at the top of the page by the author's name.
Disclosure: I am/we are long UNP.
I wrote this article myself, and it expresses my own opinions. I am not receiving compensation for it (other than from Seeking Alpha). I have no business relationship with any company whose stock is mentioned in this article.
Additional disclosure: I may also initiate a long position in CNI in the next 72 hours. Articles I write for Seeking Alpha represent my own personal opinion and should not be taken as professional investment advice. I am not a registered financial adviser. Due diligence and/or consultation with your investment adviser should be undertaken before making any financial decisions, as these decisions are an individual's personal responsibility.