Ophthotech (NASDAQ:OPHT) is approaching a critical milestone later this year. Fovista's phase 3 trial results should be released in Q4, which should be a major milestone for the company and a significant catalyst for the share price. Ophthotech's share price is 30% off its late 2015 highs due to the biotech bear market and the current valuation seems attractive considering Fovista's peak sales potential. Ophthotech might be the next Regeneron (NASDAQ:REGN), and Regeneron's market cap growth after successful phase 3 trial results and after the approval and launch of Eylea is a good example of what can happen to Ophthotech in the next few years.
Very promising pipeline
Ophthotech is approaching a very significant milestone. The company's lead product candidate, Fovista, is in three phase 3 trials:
The first and the most advanced trial is for Fovista in combination with Lucentis for the treatment of wet AMD.
The second trial is for Fovista in combination with Eylea.
The third trial is for Fovista in combination with Avastin.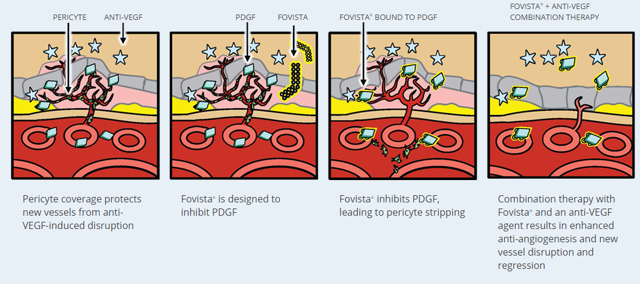 Click to enlarge
Source: Ophthotech
The company expects to provide initial topline data on Fovista-Lucentis combo in wet AMD in Q4 2016, which will be the most important milestone for Ophthotech. The other two phase 2 trials with Eylea and Avastin will complete enrollment this year and the company will probably file a separate NDA or an sNDA to the FDA if the results are positive.
The rationale behind Fovista's market potential is the significant vision gain in combination with Lucentis compared to Lucentis as monotherapy. The phase 2b data showed that patients receiving the combo gained a mean of 10.6 letters of vision compared to 6.5 letters for patients receiving Lucentis monotherapy, representing a 62% additional benefit. The results were statistically significant with a p value of 0.019. No significant safety issues were observed. The study was relatively large with 449 patients and it has substantially de-risked Fovista. Ophthotech should be able to replicate the results in phase 3 trials. If phase 3 results are positive, the company should submit an NDA within a few months, and approval and launch should occur in late 2017 or early 2018. Ophthotech has an ex-U.S. partnership with Novartis and is entitled to receive up to $300 million to $400 million in marketing and sales milestone payments as well as mid-thirties royalties on net sales of standalone Fovista products and "a royalty of approximately equal value for sales of combination Fovista products."
The retinal disease market is very lucrative - the market was worth more than $10 billion last year and is still growing. Analyst peak sales estimates on Fovista are between $2 billion and $3.5 billion, which compares very favorably to the current market cap of $2 billion. Ophthotech is also seen as leading the pack with at least a 3-year lead over other competing products in development. Regeneron and Bayer have an anti-PDGF product candidate co-formulated with Eylea in a single injection in phase 2 trials and Ohr Pharmaceutical has an eye drop formulation in development with completed phase 2 trials and an intention to begin phase 3 studies. There are also other competitors in earlier stages of development.
In addition to the three phase 3 trials, the company has a number of ongoing Fovista expansion studies:
OPH1005 is in open-label phase 2a trial of Fovista in combination with Lucentis, Eylea or Avastin in subretinal fibrosis in wet AMD patients.
OPH1006 is in open-label phase 2a trial of Fovista in combination with Lucentis, Eylea or Avastin to investigate the optimized regimen of Fovista administration with anti-VEGF drugs.
OPH1007 in a "randomized, double-masked, controlled phase 2b clinical trial to evaluate discontinuous, bi-monthly regimen of Fovista in combination with Avastin during the maintenance phase of wet AMD treatment compared to bi-monthly regimen of Avastin monotherapy."
OPH1008 in an open-label phase 2a trial to "investigate the role of multi-modal imaging in assessing anatomic responses to various wet AMD treatment regimens of Fovista administered in combination with anti-VEGF drugs."
Now, let's move on to Zimura, the company's second pipeline candidate. Zimura is an "inhibitor of complement factor C5, a protein that is associated with complement mediated inflammation and cell damage" which the company believes is involved in the development and/or progression of AMD. Ophthotech has two ongoing trials for Zimura:
OPH2003 - in Q4 2015, the company initiated a "randomized, double-masked, controlled phase 2/3 clinical trial to evaluate the safety and efficacy of Zimura monotherapy in patients with geographic atrophy, or GA, which is a form of dry AMD." An interim analysis will be done at month 18 of the trial after which the company will decide whether to continue the trial. Dry AMD is the most common form of AMD and there are no FDA or EMA approved therapies. Approximately 30 million people worldwide have some form of AMD with dry AMD accounting for up to 90% of cases. Ophthotech has completed an open label phase 1/2a trial of Zimura in patients with GA where a relative trend was observed, favoring the higher dose group which showed a reduction in the mean growth of the GA lesion area at 24 weeks. The company believes that this suggests a possible drug effect.
OPH2004 - in Q4 2015, Ophthotech initiated an "open-label phase 2a clinical trial to evaluate the potential role of Zimura when administered in combination with anti-VEGF drugs (Eylea, Lucentis and Avastin) for the treatment of wet AMD." 22 patients (51%) gained at least 15 letters with the most patients (9, or 60%) in the highest, 2.0mg dose group.
Zimura might have potential as either monotherapy or in combination with anti-VEGF drugs, but it is too early to tell if it has commercial potential. I wouldn't assign any value to Zimura at this point and would regard it as a relatively cheap call option for Ophthotech investors (meaning that there are costs for conducting clinical trials).
Regeneron as an example
Regeneron is a good example of what can happen if Fovista is successful in phase 3 trials and eventually approved in late 2017. Regeneron's market cap was in the $2 billion to $2.5 billion range before the company announced successful phase 3 trials for Eylea in November 2010 and the results pushed the valuation to over $5 billion over the next 12 months. Regeneron then exploded to a market cap of over $15 billion just twelve months after Eylea was approved. I am not saying this will happen to Ophthotech, but a 100%-200% gain over the next few years is realistic if Fovista is approved and if it is broadly accepted in the marketplace. Granted, Regeneron has a more diversified product portfolio and pipeline now, but the big part of its current $40 billion valuation is still based on Eylea. Ophthotech has the potential to be a smaller version of Regeneron if Fovista reaches its potential.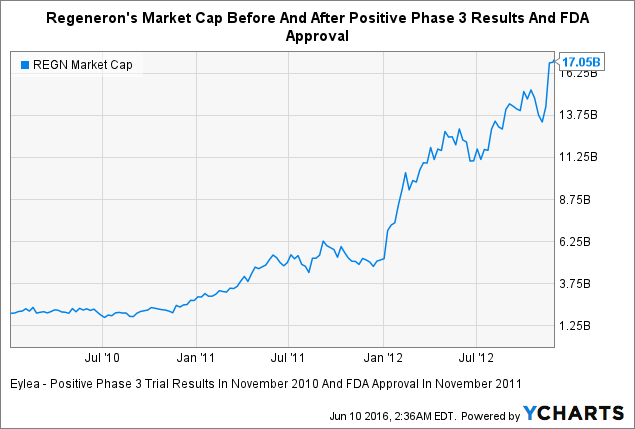 Source: Ycharts.com
Risks
The main risks for the bullish thesis are:
Fovista's phase 3 results. Although the results from phase 2b trials de-risked the Fovista story, there is no guarantee that the results will be replicated in phase 3 trials. A 40% to 60% vision improvement would still make the bullish case viable, but anything below 30% would make Fovista less attractive and would likely lead to lower acceptance.
Zimura is less of a risk since it is being largely neglected at the moment, but its failure could also put a dent in the share price.
The competition is about three years behind, but could pose a threat in 2020 and beyond, especially if competitors develop a better product by then.
Ophthotech had $356 million in cash and marketable securities at the end of Q1 and dilution is not a near-term concern, but the company may need to raise additional funds in 2017 or 2018.
Conclusion
Ophthotech has significant growth potential, but it comes with a binary event in Q4 2016. Fovista's positive phase 3 trial results should drive significant shareholder gains and I think that the probability of approval is high considering the very good phase 2b trial results. If the company can replicate or come close to these phase 2b results (a 62% benefit in combination with Lucentis compared to Lucentis as monotherapy), there is a good chance that the above-mentioned Regeneron scenario will occur - which translates into a triple-digit gain over the next two-three years. In addition to Fovista's potential, Zimura comes as a relatively cheap call option which could unlock additional shareholder value in the following years. The bullish scenario is a $5 billion to $7 billion market cap over the next two-three years, which is less than half Regeneron's gain following successful phase 3 results for Eylea and the subsequent approval. Fovista's $2 billion to $3.5 billion peak sales potential makes the targeted bullish valuation realistic. The risks are significant as well, but they come with the territory - both Fovista and Zimura might fail in clinical trials and they might also fail to live up to expectations if approved.
Disclosure: I/we have no positions in any stocks mentioned, but may initiate a long position in OPHT over the next 72 hours.
I wrote this article myself, and it expresses my own opinions. I am not receiving compensation for it (other than from Seeking Alpha). I have no business relationship with any company whose stock is mentioned in this article.
Additional disclosure: This article reflects the author's personal opinion and should not be regarded as a buy or sell recommendation or investment advice in any way.