On the surface, all looks as was expected from the Census Bureau's May monthly retail sales report. Sales at U.S. retailers rose 0.5% in May after a 1.3% gain in the prior month. The April retail sales figure went unrevised. The trend that has improved in the last two months for retail sales figures suggest the consumer is healthy and somewhat confident in the economy. This comes at a time when job creation is slowing according to the latest Nonfarm Payroll data for the month of May. Digging a little deeper into the May retail sales report finds that when excluding the auto and gas dealers, retail sales rose a smaller 0.3% in May. That was in line with expectations according to FactSet.
When we look at the month-to-month retail sales data, the two worst performing segments came from building materials/supplies and the usual culprit, department store retail. On a MTM basis, department store retail sales fell .9% while the YOY metric fell a whopping 5.8 percent. The trend in department store retail sales is alarming and fitting with what department store and big box retail chains have been reporting by and large.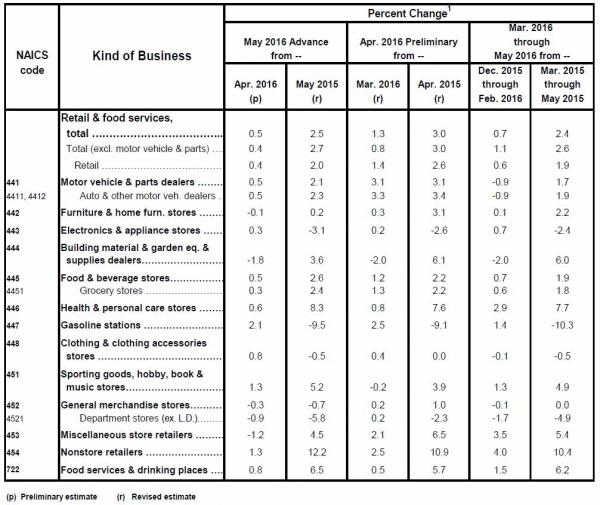 It's no secret where the spending is going when it leaves department store retailers. A further look at the May retail sales report indicates that nonstore/e-commerce sales grew another 1.3% MTM while they grew another 12.2% YOY. Again, this trend away from traditional brick & mortar sales in favor of e-commerce sales continues to plague the likes of Target (NYSE:TGT), Bed Bath & Beyond (NASDAQ:BBBY), Macy's (NYSE:M), J.C. Penney (NYSE:JCP) and many others. Oddly enough and even after Target reported a large sales miss for its Q1 2016 reporting period, CNBC highlights the retailer in a photograph while covering the May retail sales report from the Census Bureau. See below: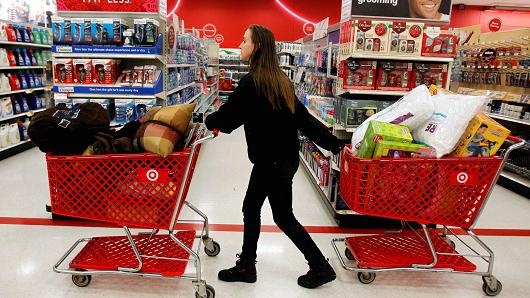 You might also notice in the CNBC article that they report nothing with regards to the decline in department store retail sales.
Sales at electronics and appliance outlets gained 0.3 percent. But sales at building materials and garden equipment stores fell 1.8 percent after declining 2.0 percent in April. Furniture store sales dipped 0.1 percent.
It seems odd that CNBC would overlook this very key line item, but maybe they will edit the article over the next 24-hour period. Now let's take a look at a rather ominous retail sales chart that indicates a slowing retail sales trend akin to what we saw leading up to the financial crisis.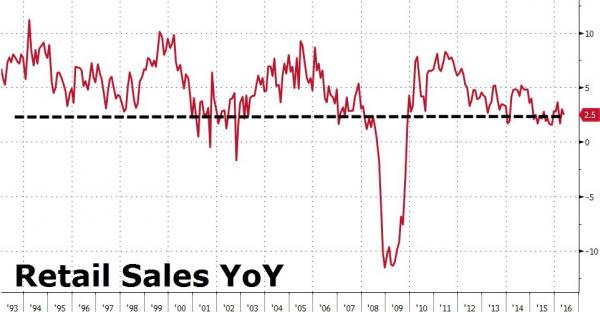 Just as we were in 2007, retail sales are hovering right around the flat line for greater than a year.
We can't be too certain as to how the markets will react to the latest bout of economic data. Just yesterday I authored an article titled "May Retail Sales May Find XRT Bottoming". Within the article I denote how the trend in department store retail sales has been very correlated to the monthly retail sales data. Additionally, the retailers highlighted within the article have witnessed strong share price deterioration for disappointing sales results during the Q1 2016 period. If we extrapolate the recent department store retail sales data, it doesn't appear on the surface, that sales trends are turning for the better in the month of May. Having said that, in the pre-market the SPDR S&P Retail ETF (NYSEARCA:XRT) is modestly positive after May's retail sales report.
From an investor's perspective, and looking at the technicals for the XRT it may need to retest the 90-day lows before bottoming. As such, I'm not expecting department store retail stocks like TGT, JCP, M, or BBBY to outperform. While valuations for these stocks remain at historically low levels, they exhibit this valuation for valid reasons. Additionally, the reason being poor sales results, remain present if correlated to the trending monthly retail sales data. As such, if you have already deployed capital to the aforementioned retail names, it may be prudent to take advantage of potentially lower prices in the future by cost averaging. On the other hand and if you have yet to deploy capital in the aforementioned retail stocks, it may be prudent to continue to remain on the sidelines for further depreciation and advantage your portfolio with acquiring shares at lesser valuations.
Disclosure: I/we have no positions in any stocks mentioned, and no plans to initiate any positions within the next 72 hours.
I wrote this article myself, and it expresses my own opinions. I am not receiving compensation for it (other than from Seeking Alpha). I have no business relationship with any company whose stock is mentioned in this article.