Moody's is overstating the credit risk of Deluxe Corporation (NYSE:DLX) with its Ba1 rating. Our fundamental analysis highlights a safer credit profile for DLX, whose strong cash flows cover all operating obligations going forward. Moreover, their healthy liquidity profile would allow them to service all obligations including debt maturities through 2022. We therefore rate DLX two notches higher at an IG4 credit rating, or a Baa2 equivalent using Moody's ratings scale. (To register for free access to our corporate credit ratings, please click here.)
Meanwhile, CDS markets are grossly understating credit risk with a CDS of 47bps relative to an Intrinsic CDS of 321bps, while cash bond markets are understating credit risk with a cash bond YTW of 3.476% relative to an Intrinsic YTW of 4.446%. This is justified by their negative net working capital levels and limited asset backing, which drive a nonexistent recovery rate on unsecured debt.
Cash Flow Profile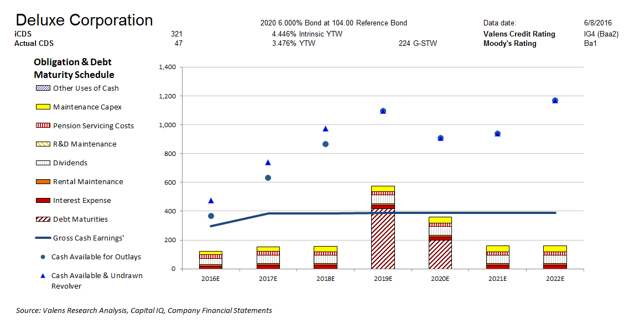 We produced a Credit Cash Flow Prime chart for Deluxe Corporation, as we do for every company we evaluate. The chart provides a far more comprehensive view of credit fundamentals than traditional ratio-based analyses. It shows the cash flow generation and cash obligations related to the credit of the firm, adjusted for non-cash financial statement reporting distortions from GAAP. The blue line indicates the gross cash earnings (Valens' scrubbed cash flow number) expected to be generated based on consensus analyst estimates and Valens Research's own in-house research team. The blue dots above that line include the cash available at that time while the blue triangles indicate that same amount plus any existing, available lines of credit.
The colored, stacked bars show the cash obligations of the firm in each year forecast. The most difficult obligations to avoid are at the bottom of each stack, such as interest expense. The obligations with more flexibility to defer year to year, such as pension contributions and maintenance capital expenditures, are at the top of the stacked bars. All of the calculations are adjusted for non-cash distortions that are inherent in GAAP accounting, including the highly problematic and often misused statement of cash flows.
If the company generates and has cash levels that are above their obligations, the risk of default is extremely low. Even if the cash generated yearly is close to the levels of the stacked bars, a company generally has the flexibility to defer payments of various kinds. For example, they can allow assets to age a little longer, or they can cut certain maintenance costs such as maintenance capex. While decisions such as those can create other business concerns, the issue in credit risk is simply this: Does the company have enough cash to service their credit obligations?
DLX's cash flows would consistently exceed operating obligations going forward. Moreover, their expected 2019 cash build would allow them to cover all obligations through 2022. However, their negative net working capital and poor asset backing relative to debt levels drive a nonexistent recovery rate on unsecured debt. That said, even with the firm's nonexistent recovery rate, their robust ROA' profile and strong cash flows should facilitate access to credit markets to refinance if needed.
Management Incentives
Like most people, senior executives and board members do what they are paid to do. This is why DLX's Form DEF 14A is key to understanding this company's fundamentals, something that credit agencies seem to be missing. Our Incentives Dictate Behavior™ analysis focuses on DLX's senior executive compensation and governance. This analysis is meant to help investors understand corporate governance, how aligned a management team may be with shareholder interests, and the potential consequences of a management compensation framework to the business.
DLX management's short-term compensation is based on adjusted revenue, adjusted operating income, and enterprise factors, while their long-term incentive compensation is driven by marketing solutions and other services revenue combined with adjusted operating margin and TSR.
This compensation structure focuses management on improving margins and growth over time. However, it does not punish management for overspending on capex and acquisitions or taking on excess leverage, which could reduce cash flows available for handling debt obligations
Management Representations
We provide analyses of companies' statements on earnings calls, termed Earnings Call Forensics. This analysis is meant to help assess a management team's confidence in their conference calls when discussing certain areas of the business such as operations, stability, strategies, their ability to manage business risks, and especially, their liquidity and solvency.
In the case of DLX, the analysis of their Q1 2016 earnings call highlights mixed markers from management. Management is confident about their revenue growth in Q1 2016 and about their diversified revenue stream. However, they appear concerned about the sustainability of their marketing solutions and other services revenue growth, and may lack confidence in their ability to meet their financial services revenue guidance. Furthermore, they appear concerned about their ability to find value add acquisitions in both financial services and small business services.
Conclusion
Ultimately, a company's credit risk (or lack thereof) is driven by cash available against cash obligations. DLX's credit risk is being overstated by Moody's given DLX's strong cash profile, and robust ROA'. However, based on the firm's nonexistent recovery rate, CDS markets are grossly understating credit risk while cash bond markets are understating credit risk. As a result, while ratings are expected to improve, credit market spreads are expected to widen.
Our Chief Investment Strategist, Joel Litman, chairs the Valens Equities and Credit Research Committees, which are responsible for this article along with the lead analyst, Rafael Formoso. Professor Litman is regarded around the world for his expertise in forensic accounting and "forensic fundamental" analysis, particularly in corporate performance and valuation.
Disclosure: I/we have no positions in any stocks mentioned, and no plans to initiate any positions within the next 72 hours.
I wrote this article myself, and it expresses my own opinions. I am not receiving compensation for it (other than from Seeking Alpha). I have no business relationship with any company whose stock is mentioned in this article.