I love buying companies that are going through hell. Valeant is perhaps the most derided company of 2015 and 2016 so far. I couldn't resist anymore and bought a little bit of Valeant (NYSE:VRX) common stock. Stupid? Maybe, I'll be the first to admit I don't understand the company from A to Z. Why the hell would I buy it if I don't understand it?
Here are my reasons:
Valeant is currently "uninvestable"
New CEO reported first quarter
Revenue is up first quarter
GAAP cash flow from operations was $558 million for the quarter
Debt load is challenging but not insurmountable
Uninvestable
If there is one thing I learned from prolific Seeking Alpha contributor Chris deMuth it is to buy what others are forced to sell or can't touch and that's a lesson, perhaps wrongly, I'm incorporating here. By the way, he isn't endorsing my application of that idea.
Valeant literally destroyed investors careers. Goldfarb left Sequoia after a 45 year career for championing the position after it got torched. Pershing Square is frantically trying to "explain" the position to its shareholders and investors virtually every month.
The brand of the stock is so tainted right now, it is very hard to hold as a professional investor. It's a very asymmetrical bet for many a fund manager. Asymmetrical, the wrong way. If it goes up faster than your benchmark you'll earn a tiny bit more money this year. If it goes down you have put your career on the line.
New CEO
Fresh CEOs have a tendency to take out the trash. What would you do if you had to take over at Valeant? You have one opportunity to blame everything on former CEO Mike Pearson and it's the first quarter. After that, you are at least to blame in part. It did not surprise me for one second guidance was lowered quite a bit to adjusted non-GAAP EPS of $6.60 to $7 for the year and an adjusted EBITDA number of $4.8 billion to $4.95 billion for 2016. If anything surprised me, it was that there wasn't any more trash on the first call under Joseph Papa. Coupled with Papa buying $5 million worth of shares subsequently I view the lowered guidance and relatively trash free earnings call as a positive.
Revenue
Revenue surprised on the upside with total revenue for Q1 2016 coming in at $2.4 billion versus the guidance of $2.3 billion to $2.4 billion. Despite all the negativity surrounding the name, the customers aren't walking away. That's fairly important because Valeant is fairly vulnerable to customers walking away, as its portfolio is light on life or death drugs. But apparently they are sticking with it, whatever the media may have you believe.
GAAP Cash Flow
SA Editor Marc Pentacoff warned just a couple of days ago of the dangers of non-GAAP numbers and actually used Valeant as a prime example of an offender. I couldn't agree more you really can't use the adjusted figures and rely on them to pay down the debt that's coming due. But even the GAAP cash flow from operations came in at $558 million for the quarter. That's a lot given its market cap of just $8 billion. Unfortunately, It's not as impressive given its close to $40 billion enterprise value. Which gets me to my final point…
Debt
$31 billion of debt will take a while to chip away at with an GAAP operating cash flow of some $2 billion. If it falls short, it becomes quickly inevitable the company will need to sell-off some assets. However, Papa appears willing to part with a few non-core businesses. Inspecting the list of notes outstanding I'm somewhat comfortable with the time Papa has left. 2018 could be a tough year depending on whether he does any divestitures before that. I think he would be wise to avoid getting squeezed out of assets around that time: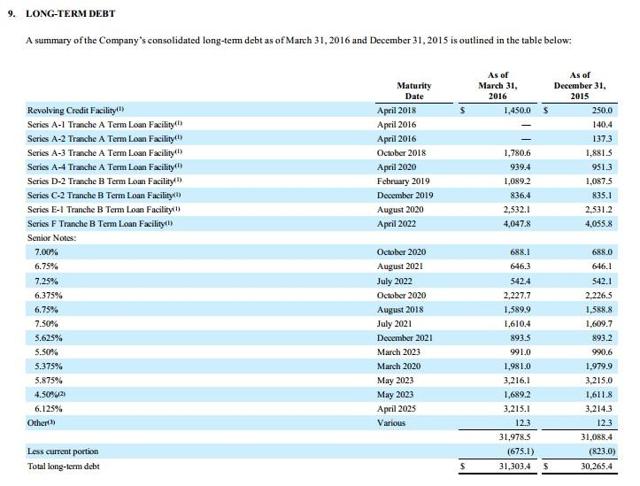 Click to enlarge
Source: Company filings
Another thing that helps is Valeant has bonds trading below par. The company basically said it is looking to do so on the recent call:
Based on debt repaid to-date and our upcoming yet to be paid mandatory Q3 and Q4 amortization payments under our credit agreement, we will have paid over $1 billion of term loans, leaving an incremental $700 million of permanent debt repayment to meet our goal. We continuously monitor the market and will remain opportunistic across our bank debt and senior notes to pursue the best approach to meet our goals.
If that's successful its $2 billion of GAAP cash flow can be stretched to make a little bit of bigger dent in that $30+ billion debt load.
In summary, the idea I'm justifying this buy with is that I may not understand the asset I'm buying perfectly but the way its price is set, should work strongly in my favor. The primary driver of its stock price, is its debt load. It will be a challenge but it can be handled. Especially with asset sales before 2018.
Disclosure: I am/we are long VRX.
I wrote this article myself, and it expresses my own opinions. I am not receiving compensation for it (other than from Seeking Alpha). I have no business relationship with any company whose stock is mentioned in this article.