Procter & Gamble (NYSE:PG) offers investors a roughly 3.2% dividend yield today. That's a full percentage point higher than Colgate-Palmolive (NYSE:CL), 40 basis points higher than Kimberly-Clark (NYSE:KMB), and even a little higher than Unilever (NYSE:UN). A great consumer products company with a collection of well-known brands that's yielding more than peers might be enough to entice investors into Procter & Gamble, but does that mean it's a good value today?
The big picture
The back story at P&G is pretty simple. Over the years the company's product portfolio grew unwieldy. And after a highly successful leader left, his replacement pushed into new geographic markets, a move that didn't pan out as planned. Product innovation, meanwhile, long a strong point for the company, hasn't resulted in any big hits lately. To deal with all of this, the company brought in the old successful leader to help craft a new game plan and hand off the company, with a rejiggered plan in place, to a new CEO.
That refresh is basically a back to basics approach. The first step is that P&G is jettisoning smaller brands and refocusing on its best properties. That, the company hopes, will allow it to better invest in everything from advertising to new product development. It's basically in the middle of this process today. Meanwhile, financial results have been mixed. In fact, for the first time in at least a decade, earnings didn't cover dividends in 2015.
So there's a lot going on at P&G today and there's good reason for investors to be a little concerned about the stock. Which helps explain why the dividend yield is higher than peers. However, P&G has been around for about 175 years so reinvention isn't a new thing. Moreover, it has a 60 year history of annual dividend increases, which shows a clear commitment to returning value to shareholders. But, here's the thing, despite the relatively high yield compared to peers the numbers say the stock isn't really on sale right now.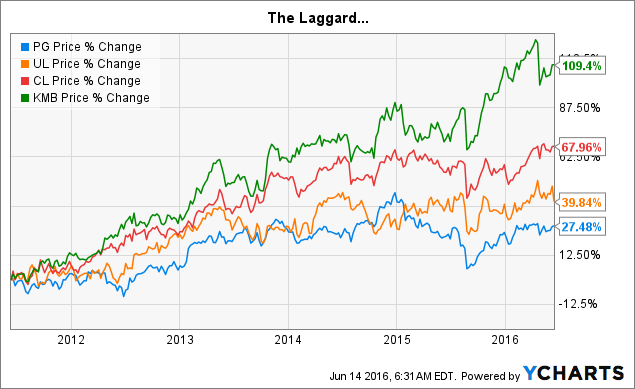 PG data by YCharts
Not cheap
At best, P&G is fairly valued. For example, the price to trailing earnings ratio is around 27 today. The company's five year average is closer to 20. To be fair, that number is based on depressed earnings, but it's not the only valuation metric that's elevated.
For example, price to book value has recently been in the 3.8 area. The five year average for price to book is 3.1. Price to sales is around 3.3 versus a five year average of 2.6. And while price to cash flow is a little below its five year average, the difference isn't enough to suggest a cheap price. The relatively high dividend compared to peers, meanwhile, is basically in line with the company's five year average yield of 3.1%.
For my two cents, P&G's collection of brands, long history of reinvention, and impressive streak of annual dividend hikes makes it a great company. It's one that conservative investors should have on their watch list (it's on mine). However, I don't think the price is cheap enough to pull the trigger today.
Better than nothing?
That said, if you have cash that you feel you have to put to work (I'd recommend sitting on cash over investing today), then P&G might be worth a deep dive. For example, the metrics I noted above aren't out of line with peers. Unilever, Kimberly-Clark, and Colgate-Palmolive, for example, are all expensive when you look at P/E, P/B, price to sales, price to cash flow, and yield versus recent history.
If that's the case, you might as well go with the highest yielding name. Add in the fact that Procter & Gamble is among the least leveraged of its peers and there's an element of safety in P&G, too. And if you are worried about the corporate makeover, it's peers are all trying to adjust to changing markets around the world, too. Perhaps the changes at peers aren't as robust, but in my mind that simply means that P&G is being more proactive about improving its core business. I don't view that as a negative.
So, in the end, there are some things to like in P&G, if you have to put some money to work right away. But, that said, it's value relative to its own history isn't one of them, which should cause you some pause, even if you do end up deciding to buy in.
Watch and wait
But I still think the broader market is screaming "wait" right now. That might mean holding cash, which is often painful for investors. But there's no rule that says you have to put all your money to work at any given time. And with the stock market near all time highs after a long bull run, caution is probably the best option right now. P&G is a great company, but I'm letting it sit on my watch list. It's just not cheap enough, particularly in a market that appears increasingly strained to me. At a 4% yield, I'd start to get a lot more interested.
Disclosure: I/we have no positions in any stocks mentioned, and no plans to initiate any positions within the next 72 hours.
I wrote this article myself, and it expresses my own opinions. I am not receiving compensation for it (other than from Seeking Alpha). I have no business relationship with any company whose stock is mentioned in this article.