You are in the Fed meeting right now. What are you discussing? Jobs and inflation. Jobs are weak, which we know. Inflation is picking up. But the CPI was just handed to you. It will affect your opinion. We think we can tell you what that may be.
The CPI gets reported on Thursday but will be in the Fed hands on Wednesday ahead of their FOMC decision at 2PM.
Here's CPI picking up.
| | | | | | | | | | | | | | |
| --- | --- | --- | --- | --- | --- | --- | --- | --- | --- | --- | --- | --- | --- |
| CPI | | | | | | | | | | | | | |
| Apr | May | Jun | Jul | Aug | Sept | Oct | Nov | Dec | Jan | Feb | Mar | Apr | May |
| 0.1 | 0.3 | 0.2 | 0.1 | 0 | -0.1 | 0.2 | 0.1 | -0.1 | 0 | -0.2 | 0.1 | 0.4 | ? |
We've reported many times that the Fed entirely changed their tune when transitory factors flipped.
The term "transitory" was the Fed's word describing oil (NYSEARCA:USO) and the Dollar's (NYSEARCA:UUP) short term nature of holding back inflation. Have you seen those two lately? They flipped.
That swung the Fed to become hawks. Even though growth has slowed, inflation not only lingers, but is getting worse due in part to the transitory flip.
So there are two key ingredients to the transitory flip, oil and the Dollar. Before these two factors flipped, the Fed had already said inflation would be higher and worthy of higher rates. But those two factors held back inflation...that is, until they flipped.
Oil flip up...(Higher prices)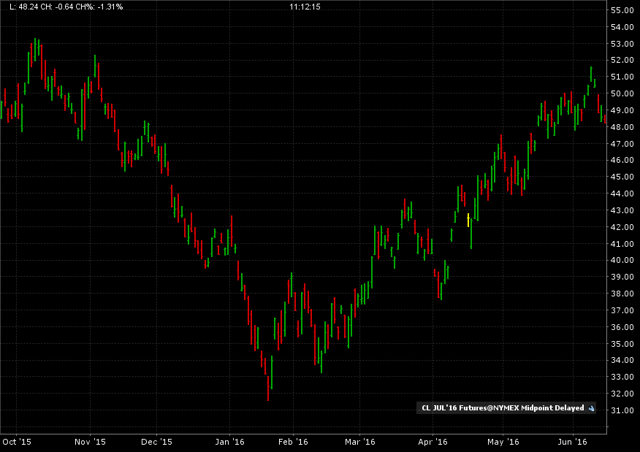 Click to enlarge
Dollar flip down (higher import prices)...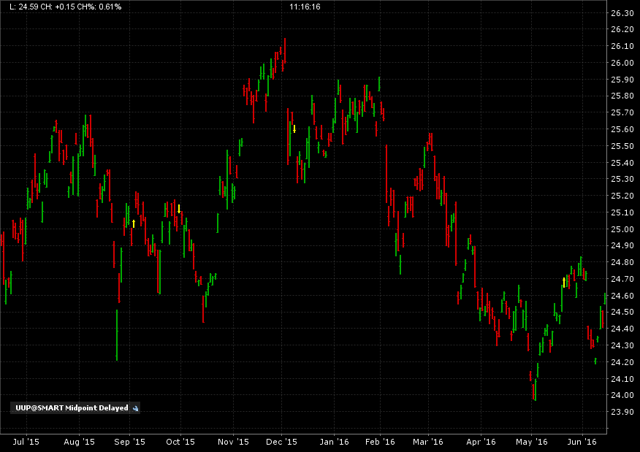 Click to enlarge
Oil and the dollar were the key factors that flipped and flipped the Fed.
Fed's Hawk Reason Confirmed By Import Prices Today, And Big!
In our Sunday prediction on this week's market (Catalysts This Week For Downside) we said there was ONE catalyst that was important ahead of the Fed meeting, import prices.
Here's what we said early early in the wee hours of Sunday night:
"Import Prices: We don't think anybody cares about this number .... but we do. Follow me here... Import prices (Tuesday) will give us a look into Thursday's CPI (that the Fed will know Wednesday) ahead of the Fed. (Tuesday, we may know Thursday for Wednesday. That would be nice, right?). Remember, import prices were 1/2 of the transitory equation holding the Fed back from raising earlier in the year. When it flipped, the Fed became hawks only 3 days after we predicted and two days after the numbers confirmed (See "Did The Fed Just Tell Us To Go Short")."
Here's the import prices that were reported today. It's all going according to script.
Import Prices
| | | | | | | | | | | | | |
| --- | --- | --- | --- | --- | --- | --- | --- | --- | --- | --- | --- | --- |
| May | June | July | Aug | Sept | Oct | Nov | Dec | Jan | Feb | Mar | Apr | May |
| 1.1 | 0.1 | -0.9 | -1.8 | -1.1 | -0.3 | -0.6 | -1.2 | -1.3 | -0.5 | 0.4 | 0.7 | 1.4 |
The Fed looks at CPI. That also picked up. But import prices, through the dollar were specifically cited as the reason the Fed turned hawk.
And now we have the data, the highest in four years.
We think, this is better than the CPI in hand because import data was the flip itself and it's way up.
Please read this Fed statement from March 16th carefully...
In a recent FOMC meeting, The Fed stated, "Inflation is expected to remain low in the near term, in part because of earlier declines in energy prices, but to rise to 2 percent over the medium term as the transitory effects of declines in energy and import prices dissipate and the labor market strengthens further."
They've done much more than dissipate. Oil since March 16th is up 15% and the import price for May annualized is up 17%.
We don't call that dissipate we call that...
INFLATION OUT OF THE CAGE.
And you see that's the two measures that the Fed said will ho hum gradually tip toe in the long long run in never never land.
Not so.
That is near and present danger. That is the same inflation they taught us about in snoozy economics classes. We call 15% inflation a jump especially when it wasn't expected 3 months ago.
For these reasons we'd guess the CPI can show an upside surprise which can lead the Fed to give us a downside surprise to hit markets.
We're short S&P 500 futures (NYSEARCA:SPY).
Happy trading.
Good luck and please be in touch. All of your comments teach US a ton.
See more from Elazar Advisors, LLC on SA
Elazar Advisors, LLC specializes in earnings and predicts, analyzes and reacts to earnings and earnings events as well as developing current company and macro stories with a hedge fund perspective.
If you want Elazar's analysis on Seeking Alpha, scroll to the top of the article and hit "Follow." Elazar also writes real-time pieces as earnings and news are reported on Seeking Alpha. If you want to be among the first updated, be sure to check the box for "Real-time alerts on this author" under "Follow."
Disclaimer: All investments have many risks and can lose principal in the short and long term. This article is for information purposes only. By reading this you agree, understand and accept that you take upon yourself all responsibility for all of your investment decisions and to do your own work and hold Chaim Siegel, Elazar Advisors, LLC, bestideas, their related parties, and its authors harmless. #in, $spy, $qqq, $iwm, $vxx, $ycs, $fxe, $EUO, $YCS, #elazaradvisorsllc
Disclosure: I am/we are short ES BUT THAT CAN CHANGE AT ANY TIME.
I wrote this article myself, and it expresses my own opinions. I am not receiving compensation for it (other than from Seeking Alpha). I have no business relationship with any company whose stock is mentioned in this article.