In my previous article I talked about how the latest deal announced by NQ Mobile (NYSE:NQ) to sell 64.87% of their FL Mobile subsidiary to a Chinese a plastic company called Shenzhen Prince New Materials raises a ton of questions. This includes Shenzhen Prince having to raise over 3 billion RMB in cash first along with the entire deal and financing needing approval from the China Securities Regulatory Commission.
Now there is a Chinese news article dated June 14, 2016 from China Economic Net on the Shenzhen Prince and FL Mobile deal which raises a number of additional issues and questions. First though I did some research on how credible China Economic Net is.
China Economic Net is an online finance news site first launched in 2003 and is sponsored by the Economic Daily. The Economic Daily in turn is one of oldest business newspapers in China and first started printing in 1967. So it would appear China Economic Net is fairly credible as a news source.
The first few sections of the article mainly goes over the terms of the Shenzhen Prince deal and also talks about the various failed and cancelled deals for FL Mobile that NQ Mobile has announced in the past since 2014. I have also gone over these failed FL Mobile deals in another previous article before.
Questions & Possible Issues with FL Mobile's Reported Largest Suppliers
An interesting section of the article from China Economic Net is where it talks about inconsistencies and possible issues it found regarding FL Mobile's disclosure of their largest suppliers that was released as part of this deal with Shenzhen Prince.
Here is an automatic computer translation of Chinese to English for the section, which I will provide a clearer translation to. As a note in the automated translation, "Fei Liu nine days" is referring to FL Mobile.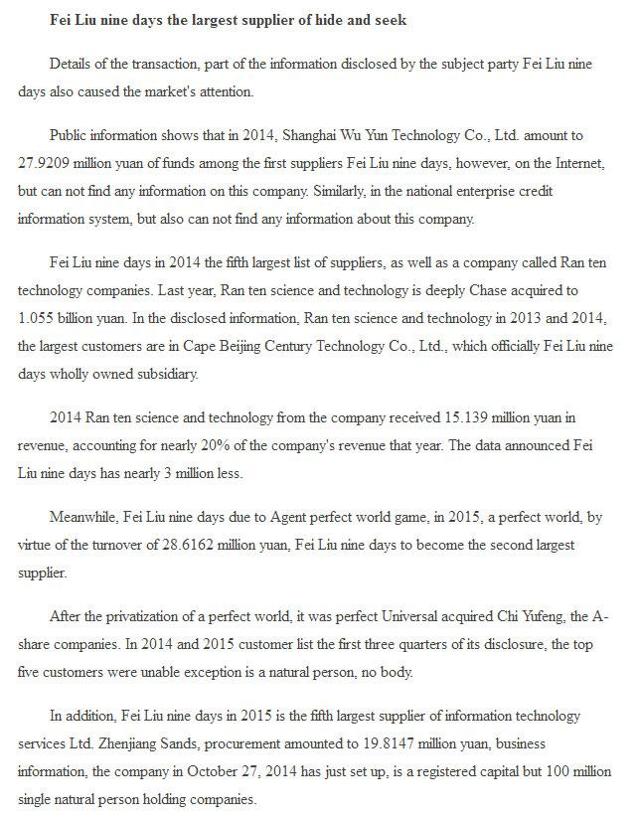 Click to enlarge
The title of the section translates roughly to "FL Mobile's Largest Suppliers Hide and Seek" and the first sentence states that the information disclosed by FL Mobile should have cause for market concern.
The article states that in 2014 a company called Shanghai Wu Yun Technology was listed among the largest suppliers of FL Mobile at 28 million RMB. However the reporter(s) for China Economic Net looked on China's National Enterprise Credit Information Disclosure System and elsewhere online and was unable to find any information whatsoever about this company.
Next the article states that in 2014 a company called "Ran Ten Technology" was FL Mobile's fifth largest supplier. Ran Ten also released set a of disclosures on their business in 2015 last year when they were being acquired by a listed Chinese company. In Ran Ten's disclosures a subsidiary of FL Mobile was listed among their largest customers for 2013 and 2014.
However there are inconsistencies with the numbers. In 2014 Ran Ten reported generating 15.14 million RMB in revenue from FL Mobile, accounting for nearly 20% of their revenue that year. However the data being reported by FL Mobile shows expenses from Ran Ten being almost 3 million less compared to what Ran Ten reported.
The article goes to say that FL Mobile reported the gaming company Perfect World as their second largest supplier in 2015 at 28.62 million RMB. Perfect World was previously listed in the United States before going private. After going private Perfect World was acquired by a company listed on China's stock exchange. As part of this acquisition Perfect World also had to make disclosures of their business. The article states that in the disclosure of largest customers made by Perfect World for 2014 and during the first three quarters of 2015, FL Mobile was nowhere to be found.
The last part of this section states for 2015 the fifth largest supplier for FL Mobile was a company called Zhenjiang Sands at 19.8 million RMB. This company though was just barely started on October 27, 2014 and is a holding company owned by a single person.
Net Profit Requirements?
The final section of the article also goes over some other interesting issues. One of them is related to the net profit requirements for FL Mobile. Here's an automated translation of the section.

Click to enlarge
The article states that as part of the deal FL Mobile's net profit cannot be less than 400 million RMB, 500 million RMB, and 600 million RMB for 2016, 2017, and 2018 respectively. These net profit requirements were never disclosed by NQ Mobile. So a significant question is what will exactly happen if these net profit requirements aren't met by FL Mobile?
In addition the article says that FL Mobile disclosed a net profit of 287 million RMB for 2015, which is around $43.56 million US dollars. However if this number is true, this would mean all of NQ Mobile's other businesses outside of FL Mobile would have lost a fairly massive amount of money in 2015 for the figures to add up.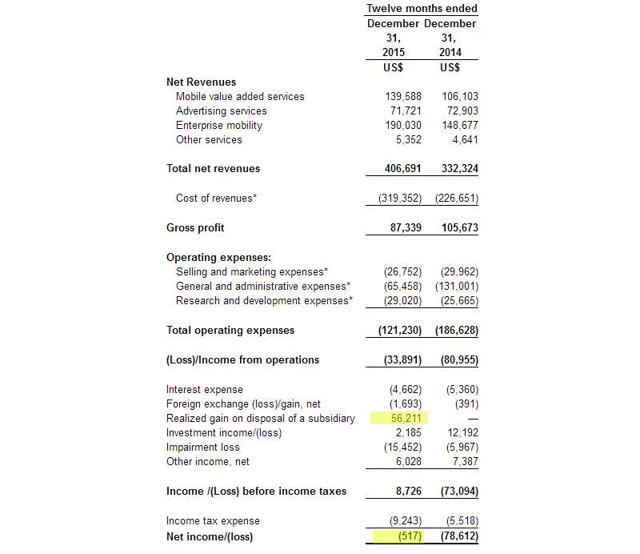 Click to enlarge
From NQ Mobile's income statement in 2015 they reported a net loss of $517,000. However this is including a one time gain of $56.2 million from a disposal of a subsidiary, which was mainly from selling NationSky at the end of the year.
Without the subsidiary sale NQ Mobile would have of had a net loss around $57 million in 2015. And if you exclude the alleged $43.5 million net profit for FL Mobile in 2015, this would mean NQ Mobile's other businesses would have loss around almost $100 million in 2015.
Even if assuming most or even all of the $9.2 million in tax expenses in 2015 was related to the NationSky sale , that still would be a net loss of at least $90 million for NQ's other businesses outside of FL Mobile.
Therefore if the 2015 net profit of 287 million RMB being reported by FL Mobile is accurate then all of NQ Mobile's other businesses combined would have to be highly unprofitable and losing a significant amount of money for the math to be correct.
FL Mobile's Mysterious Valuation Increase
The article also talks about the mysterious valuation increase of FL Mobile which it says is worth looking into.

Click to enlarge
It states that in March 2016 the Chairman and COO of NQ Mobile Vincent Wenyong Shi agreed to buy a 22% stake of FL Mobile for 880 million RMB, giving FL Mobile a 4 billion RMB valuation. Then about a month later the valuation of FL Mobile jumped to 5 billion RMB, a 25% increase. The article is referring to the valuation of the remaining stakes in FL Mobile that are being sold to Jinxin Hengrui and Shenzhen Prince.
Assuming the valuations are real then Vincent Shi would have made a 25% profit of 220 million RMB in just 30 days. This raises additional questions on is there really anything that could justify such a sharp increase in valuation for FL Mobile in just a month's time or could there be sort of conflict of interest going on?
Inquiry Letter from Shenzhen Stock Exchange
Near the end of the article it also talks about Shenzhen Prince receiving an inquiry letter from the Shenzhen Stock Exchange regarding the FL Mobile deal.

Click to enlarge
It states that on May 30 the Shenzhen Stock Exchange issued a detailed inquiry letter to Shenzhen Prince asking if the valuation for FL Mobile is too high. The letter asked Shenzhen Prince to provide a response before June 2. However Shenzhen Prince did not respond as expected. On June 1 and then on June 8 Shenzhen Prince deferred replying to the inquiry letter from the Shenzhen Stock Exchange.
The question here is how serious is this inquiry letter and what is the hold up in providing a response?
Conclusion
This news article from China Economic Net certainly brings to light a lot more questions and issues surrounding this latest iteration of NQ Mobile trying to sell off or divest FL Mobile. It would be interesting going forward to see how this deal with Shenzhen Prince proceeds or does it gets cancelled and replaced by a new deal like all the other failed FL Mobile deals in the past.
Disclosure: I/we have no positions in any stocks mentioned, and no plans to initiate any positions within the next 72 hours.
I wrote this article myself, and it expresses my own opinions. I am not receiving compensation for it. I have no business relationship with any company whose stock is mentioned in this article.