RetailMeNot (NASDAQ:SALE) has intrigued me as a growth story for some time now. The company's focus on digital coupons resonates with consumers that are increasingly looking for what they perceive as a good deal and coupons are a big piece of that to be sure. SALE has produced long-term growth but of late, has stumbled a bit. I've been a proponent of the stock due to sheer cheapness of the valuation but a quick check of the chart below reveals I've certainly been on the wrong side of that one. However, SALE is doing things like making acquisitions in order to support future growth and with Q1 coming in with a beat, I think once again investors may not understand the growth story here.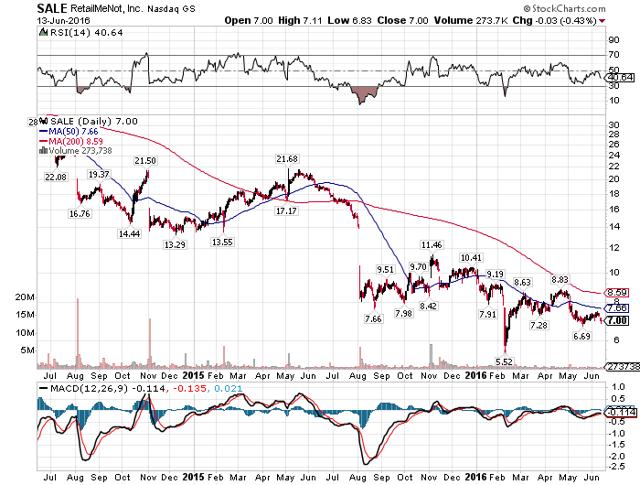 Click to enlarge
SALE's business has a place in today's deal-driven consumer environment but the company has been going through a state of flux. Desktop usage in general has been deteriorating and that is true with SALE as well as it has seen a steady stream of transactions flow out the door. While some of those lost desktop transactions have been recovered via mobile gains, in Q1 in particular, SALE simply lost a significant chunk of its revenue.
That significant chunk was worth 10% as transactions fell off by a similar amount. Mobile transactions were down 1% but the desktop business lost 19% of its revenue. SALE is still heavily reliant upon desktop transactions for its revenue so the fact that shares are down so much isn't surprising given that it is going through its transition. That's the tough part with SALE. The valuation is very attractive but to be honest, we have no idea what the steady state company looks like and that is tricky.
SALE's guidance for the full year disappointed investors as revenue and EBITDA came in weak, particularly in light of the fact that the GiftCard Zen business is part of consolidated results now. While guidance ranges for revenue and EBITDA still contain consensus numbers, SALE certainly set the bar fairly low for the rest of the year. Is SALE sandbagging so it can beat later on or is the company forecasting additional weakness? Time will tell but for now, it is all about desktop revenues. SALE is picking up mobile users and visits are up nicely there but the losses in desktop revenues and visits are staggering and for now, they are simply too much for the mobile business to overcome.
I certainly have concerns about SALE but I think the stock is so cheap that it is ripe for a buyout or activist investor step in and take action. The current management team has failed to create value for shareholders despite the fact that shares are so cheap and I think a shakeup is needed. Whether that means one of the two options I just mentioned, a share buyback or a transformative acquisition or merger, something has to give. Investors have shown that they collectively don't believe in the future of SALE so something needs to change.
Having said that, SALE is a prime candidate for such actions because its balance sheet is tremendous and its valuation is still very low. Shares are trading for 12.5 times this year's earnings and for a company that is still very young and in a state of transition, the fact that it is producing 56 cents annually in GAAP earnings is tremendous. But what's even better is its balance sheet, as we can see below.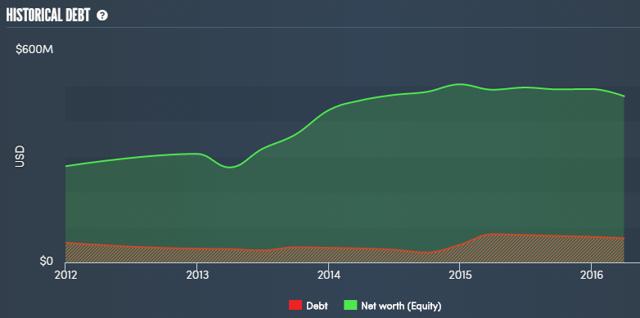 Click to enlarge
Source: Simply Wall St.
SALE's tremendous balance sheet means that its enterprise value is just $152 million against a market cap of $341 million. And its book value is much higher than that at $471 million, indicating that investors are building in losses of capital in the future because in theory, liquidating the company's assets would produce a sizable gain for shareholders. That's not a good situation and it implies a complete lack of confidence in management.
That is why SALE must do something and given the high percentage of insider ownership (~25% of outstanding shares), I think the chances are better that something like a buyback or acquisition would take place rather than a sale or activist situation. That would be fine with me but for now, all I know is that what the company is doing isn't working.
I'm sort of torn on SALE because I like the idea of the model and clearly, consumers like SALE's product. However, the shift away from desktop is very painful and since we don't know where the bottom is, the uncertainty is creating a very cheap stock. Investors are discounting a horrendous scenario where desktop falls into the abyss and while that may happen, it also may not.
And given that so much negativity is already built in with shares trading at a lower book value than most banks, the potential for upside is significant. And that's what keeps me interested. SALE's balance sheet is a terrific positive going forward and while I don't have any answer on the desktop/mobile mix question, I think the pieces are in place for a very cheap stock that just needs a catalyst to move a lot higher.
This is far from a sure thing but I do think that at $7, the risk is skewed to the upside. This one takes some faith but the reward could be outsized if I'm right. I can't see a lot of downside simply because the company itself is so valuable without factoring in the operating results of the business so that gives me some comfort in taking a shot.
Disclosure: I am/we are long SALE.
I wrote this article myself, and it expresses my own opinions. I am not receiving compensation for it (other than from Seeking Alpha). I have no business relationship with any company whose stock is mentioned in this article.