Yesterday Chinese search giant Baidu (NASDAQ:BIDU) suffered heavy after-market declines after it announced a revision to second quarter revenue guidance and provided an update on recent business developments. This downward revision came as little surprise to ourselves considering the problems the company has gone through in recent months. We believe it has created a great opportunity to pick up shares on the cheap.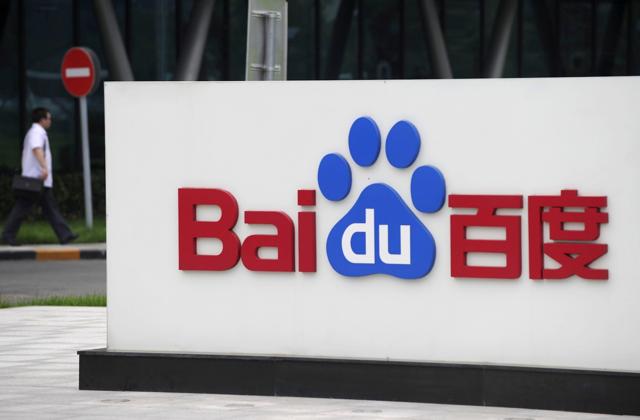 Click to enlarge
In its press release the company said that:
Baidu currently expects estimated second quarter 2016 revenue to be in the range of RMB18.100 billion ($2.807 billion) to RMB18.200 billion ($2.823 billion) compared to the previously stated range of RMB20.110 billion ($3.119 billion) to RMB20.580 billion ($3.192 billion).
As we mentioned at the top, this 10% downward revision doesn't come as a big surprise. The company has come under a lot of pressure in recent months following the tragic death of Wei Zexi. The Chinese student had a rare form of cancer and, in a desperate bid to save him, his parents borrowed money in order to pay for an experimental treatment found in a Baidu search. The search results didn't make it apparently clear that the result was a paid advertisement, instead Wei Zexi and his family believed it to be a top rank search result which was trustworthy and the best thing for him at that point.
This led to a government review of its operations, with the Cyberspace Administration of China saying its search results misled users and Baidu must make it clear when posts have been paid for. As well as this, Baidu was ordered to review its medical advertising to clear out those that didn't comply with new standards. Another change that was made also was the reduction in the number of advertisements on a search page. This will now be limited to 30% of results shown. News of the government review unsurprisingly sent Baidu shares down to $187.00, and its been heading lower ever since as the chart below shows. This chart doesn't cover the pre-market drop of Baidu's shares, which as things stand at present, are expected to open on Tuesday down 6% at $153.74.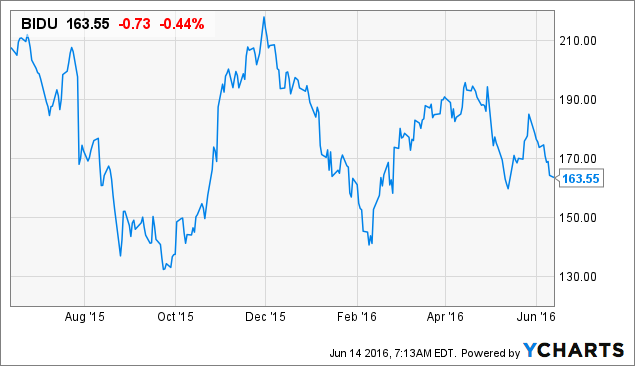 Baidu's CEO Robin Li responded to this development with a plea to employees to "put values before profit." He warned that losing their values would lose the support of users and would send the company "bankrupt in just 30 days".
And it appears to be that values are being placed ahead of profit. Although it may have brought about a revision in revenue guidance, we are pleased to see the revision is nowhere near as drastic as some had predicted. There had been speculation that the types of adverts that were being banned were providing significant amounts of revenue for Baidu. But these theories appear to be unfounded and, although 10% is hard to swallow, we believe that once this has been priced in it will be onwards and upwards for the stock.
Management has indicated that some high quality medical businesses have held back from advertising during this time as company's adjust to the new regulations. It expects that these businesses will return in due course and their absence is just temporary. In addition to this it acknowledged that fewer paid links on search pages was having a noticeable impact on revenue. However, it does believe the move will mean a bit of short term pain for long term gain as the quality of the user experience increases as a result of the change. Which is something we completely agree with. The old quality over quantity adage rings true here in our opinion.
Much like its US rival Google (NASDAQ:GOOG), we believe that Baidu is a fantastic long-term investment. Its core business may well be in search, which is of course highly profitable and with a huge addressable ma, but in ten years' time we can see it being far more than just a search giant. The company's plans to mass produce driverless cars in five years is both ambitious and exciting.
There are many out there that say that the rapid rise of Uber (Private:UBER), Lyft (Private:LYFT), and Didi Kuaidi (Private:DIDI) is a sign that one day car ownership could become a rarity. Uber CEO Travis Kalanick has stated previously that "our intention is to make Uber so efficient, cars so highly utilized that for most people it is cheaper than owning a car." One way that this could happen would be to remove driver wages from the equation. Whilst wages are being paid to drivers, fares can only go so low. But without them, we believe it would undoubtedly make ride-sharing apps cheaper in the long-run than owning a car. Baidu's investment in Uber China, which it refers to as a "strategic stake" could one day be a destination for these cars perhaps.
In our opinion, this is a company with a bright future ahead of it. It has had a terrible few months and the stock has been justifiably punished, but it has responded well and next year we believe things will pick up where they left off. It is the market-leader in an incredibly large and lucrative market with a lot of growth left in it. When things start to improve, which we are very sure they will, we expect to see the share price rocket higher as investors flock back in.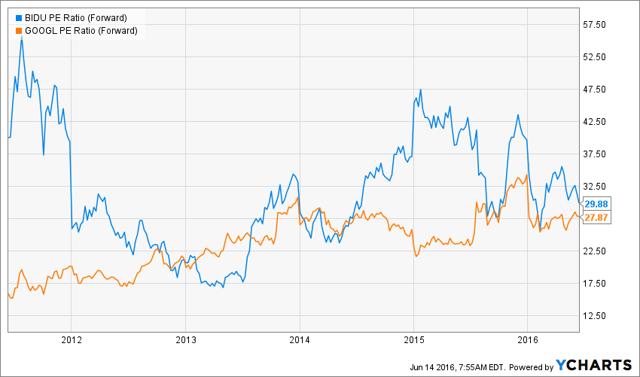 Click to enlarge
Earnings this year are likely to be negatively impacted by the recent revenue revision, but next year we expect things will be back on target. We forecast earnings per share to come in around $5.20 per share this year, rising to around $7.33 per share the following year. This is based on the current USD/CNY exchange rate of 6.56.
We feel that a forward price-to-earnings ratio of 27 is fair for both Baidu and Alphabet, which means our 12-month target price for Baidu comes to $197.91. This would represent a return of 28.7% from Tuesday's indicative open price. This level of return makes Baidu a great investment today, which we expect will continue to produce strong returns for shareholders over the next decade.
Disclosure: I/we have no positions in any stocks mentioned, but may initiate a long position in BIDU over the next 72 hours.
I wrote this article myself, and it expresses my own opinions. I am not receiving compensation for it (other than from Seeking Alpha). I have no business relationship with any company whose stock is mentioned in this article.