Denison Mines (NYSEMKT:DNN) has started gaining some momentum on the stock market of late as its shares are up over 10% in the past month. This improvement in Denison's stock price is despite the fact that the spot price of uranium has continued declining. In fact, so far in 2016, uranium spot prices are down over 21%, but despite this weakness, Denison's financial performance has improved at an outstanding pace. This is shown in the chart given below: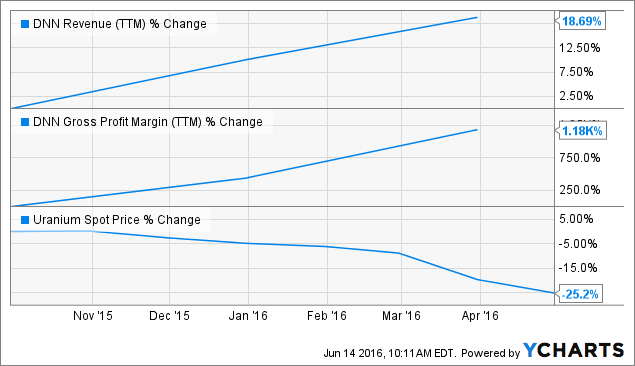 DNN Revenue (TTM) data by YCharts
Thus, it is evident that Denison has managed to swim against the stream and bring about an improvement in its financial performance. This can be attributed to the fact that Denison Mines is focused on increasing its production from those assets that carry a low cost base due to higher grades. In my opinion, Denison will be able to sustain this impressive financial growth going forward as it has been making efforts to further increase its production from its low cost assets. Let's see how.
Stronger grades at Wheeler River will be a tailwind for Denison
Late last month, Denison received the results of the uranium assay for the winter 2016 exploration program at Wheeler River, where the company owns a 60% stake. The company had carried out drilling at 32 holes near the Gryphon area for a total depth of 21,761 meters to test the grades in the area.
The good thing is that Denison came across a number of high-grade intercepts during this exercise, discovering a bigger mineralized zone that lies 200 meters north and north-west of the Gryphon deposit. Encouraged by this new discovery of more high-grade assets at Wheeler River, Denison has started exploration drilling at this site already.
This is not surprising as the Gryphon deposit at Wheeler River is one of the lowest-cost operations in Denison's portfolio. In fact, according to Denison's preliminary economic assessment at Wheeler River, the Gryphon deposit can generate uranium at $14.28 per pound, including mining, surface transportation, mineral processing, and G&A expenses.
As a result of such low costs at this mine, Denison forecasts that its pre-tax internal rates of returns will come in at 20.4% at Wheeler River at its current contracted uranium price of $44 per pound. All in all, Denison believes that it can recoup its investment in the Wheeler River project in a period of three years in a base case scenario where uranium prices are at $44 per pound, with average operating costs of $19.01 per pound.
Moreover, even after taxes, Denison believes that it can generate a return of 17.8% in the base case scenario. This is shown in the chart below: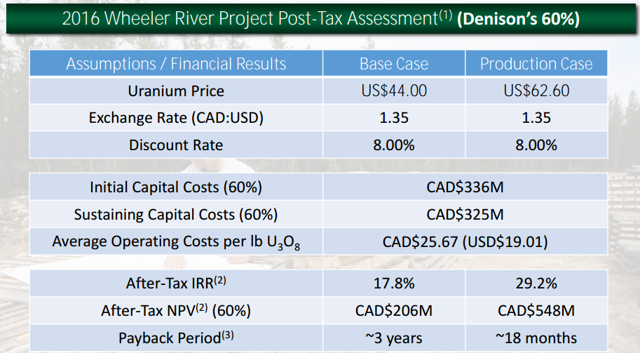 Source: Denison Mines
As seen above, Denison forecasts that its returns at Wheeler River will be robust even in a low uranium price scenario. But, as the price of the commodity improves, Denison's returns from this asset will also start going up in an impressive manner, as shown in the chart above. What's more, it is likely that Denison might be able to improve the returns at this resource as it lined up a summer exploration program for 28,000 meters at the Gryphon deposit.
Higher uranium prices will provide a big boost to Denison
There is no denying the fact that Denison Mines has done impressively despite being under pressure from uranium prices. However, I think that the company can expect some relief on this front as demand for uranium rises going forward, creating a gap between demand and supply.
According to a Denison Mines report, the uncovered demand for uranium is set to increase at a tremendous pace going forward. From just 4% of forecasted demand this year, or 7.4 million pounds of uranium, the uncovered demand for the commodity will rise to 75.1 million pounds in 2020, and this will be almost 40% of the forecasted demand.
This rise in uncovered uranium demand will be driven by the increasing usage of nuclear energy. The World Nuclear Association forecasts that demand for nuclear energy will increase by almost 26% by 2030 as compared to 2014 levels, driven by a growth of 81% in electricity demand in the next 20 years. This massive increase in demand for nuclear energy going forward is not surprising since it is one of the cleanest sources of generating electricity. This is shown in the chart given below: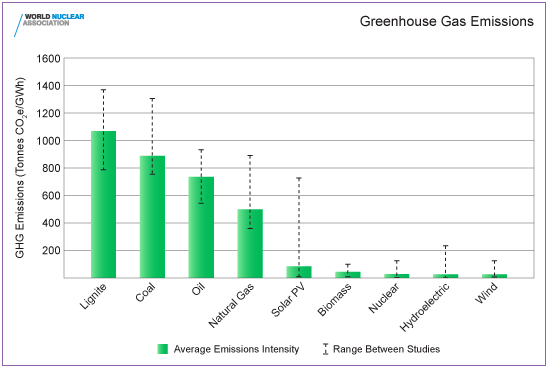 As a result of the increase in uncovered demand, the price of uranium will go up in the long run. This will help Denison take advantage of its strong asset base and improve its return profile going forward.
Conclusion
Denison Mines has done well despite adversity this year. More importantly, the company is set to improve its asset base further at Wheeler River as the latest exploration results show a further increase in grades. On top of this, a possible improvement in uranium prices will also prove to be a tailwind for Denison. Thus, in my opinion, investors should continue to hold shares of Denison Mines going forward since it is capable of getting better as the situation in the end-market improves.
Disclosure: I/we have no positions in any stocks mentioned, and no plans to initiate any positions within the next 72 hours.
I wrote this article myself, and it expresses my own opinions. I am not receiving compensation for it (other than from Seeking Alpha). I have no business relationship with any company whose stock is mentioned in this article.
Editor's Note: This article covers one or more stocks trading at less than $1 per share and/or with less than a $100 million market cap. Please be aware of the risks associated with these stocks.