Overview of The Company and Product
Plug Power (NASDAQ: PLUG) is a manufacturer of hydrogen fuel cells for use as backup generators and mobile power supply. Additionally, the company provides a turnkey solution to install and create ways for companies to integrate hydrogen power, which has been a major driver for revenue growth in the past two years. As for revenue, the company has grown 422% over the past two years to $78,002,000 at the end of 2015. While the growth has been excellent, the company has yet to make a profit or positive net income and this has been due to very low margins on its product. This has led to a net income of $-55,795,000, and a relatively low value. However, the Q1 report has indicated the company will improve margins and keep up the growth, thus showing this trend may reverse.
PLUG's business is broken down into four main segments, each with different margins. Understanding these is critical to understanding the future prospects of the company. They are: Sales of Fuel Systems, Service of Fuel Systems, Power Purchase Agreements and fuel delivered to customers.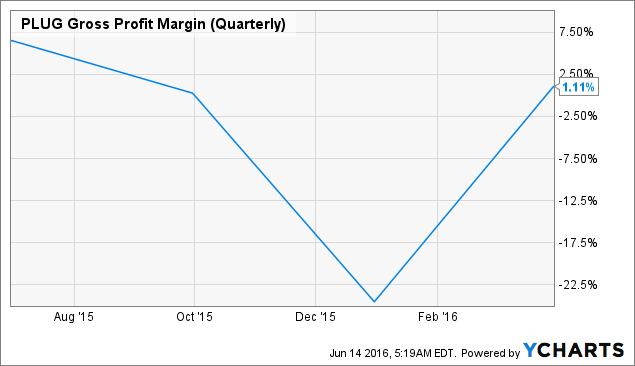 PLUG Gross Profit Margin (Quarterly) data by YCharts
Sale of Fuel Systems
Sale of fuel systems is the primary revenue driver of PLUG. It provided a third of revenue in Q1 and over three quarters of total revenue last year. The reason it is so much lower in Q1 is because most of the installations of this product occur in Q3 and Q4. Based on the investor relations presentation released in May, there's no reason to assume this trend will change this year.
The earnings report in Q1 of this year has looked very favorable for this portion of the company. Total margins at the end of last year were 13.2%, in Q1 they were 25.29% and this is before most of the volume has been done. This is a good sign that the vast increases in sales are increasing the profitability of the company.
Services of Fuel Systems
This area is one of the major costs of PLUG as it involves maintenance and repair of their fuel systems. Last year it was a drain on the company, with margins of -63.7% and a net loss of $8.925 million. While this area may struggle to provide substantial financial value (as it appears to be more suited toward protecting the customers), Q1 has shown very good results for this sector of the business.
So far, the Service of Fuel Systems margins have improved to -9.6%, a massive improvement over the -63.7% at the end of last year and the -80% at the beginning of Q1 last year. What we see in this is that, despite its negative impact on the business, Service of Fuel Systems may eventually become a breakeven point in PLUG, possibly even at the end of the year. Also, its growth is having a positive impact on its expenses despite its frantic growth.
Power Purchasing Agreements
This is a relatively new part of the PLUG business. It was created in 2014, and it involves contracting their equipment out on a temporary basis to provide power without actually selling the product. This area of the business generated a token amount of profit last year, with a margin of 8.1% and profits of $465,000 compared to total a gross loss of $-9,890,000 and makes up less than a tenth of total revenue. The main purpose of this part of the business appears to be a method for creating long-term, sustainable revenue on a contractual basis.
This is one area of the company that Q1 did not reflect well on, with a profit margin of -6.4% which is much weaker than last year's. This may be either a result of more contracts coming into the fold later in the year, or perhaps the company decided these arrangements were less favorable than pushing the product. Regardless it seems to have been an area of the business that has fallen flat without much of an explanation. On the plus side it is a relatively small portion of the business.
Fuel delivered to customers
This is revenue gained from when the company sells fuel directly to customers after purchased through a third party. The margins on this were quite poor last year at -31.9%. This apparently resulted from miscalculations in fuel consumption requiring the company to purchase an above average amount of fuel for customers. Additionally, the large amount of sudden growth underwent by the company also may have impacted this.
Last quarter the margins on this have improved to -19.95%. Why the company has yet to turn a profit on this is puzzling. However with increased quantity being required as the business ramps up for the rest of the year we may see higher margins on fuel purchased. However, as is the case with the Power Purchasing Agreements, this makes up less than a tenth of total revenue, so it is a relatively minor in that respect.
Why Growth Will Continue
The addition of a turnkey solution for incorporating hydrogen fuel cells within the customer's business has been the major revenue driver for PLUG. The company expects business from this to continue to expand into this year and, based on the investor presentation in May plans to install 26 turnkey systems as opposed to 2015's 16. Additionally, market expansion in its other business segments has been predicted by management (additional info can be found here). Overall the company has an excellent goal of meeting and exceeding its predictions, and its Q1 growth (60% compared to Q1 of last year) indicates that it will likely continue to do so.
Conclusion
If the company continues its high level of growth (say 20%) and the margins improve past the Q1 example, or at the very least remain equal to them, PLUG is looking to have its first year of gross profit. While it is still likely that the company will have a net loss despite the improvements, it shows that its fast growth is paying off and that EPS will likely rise. This will become extremely apparent in Q3 and Q4, where the stock will do most of its business and fixed costs will be mitigated by the large jump in growth.
Risks
Technology is a potential risk in the company. It has had issues with its technology in 2015 which caused a large increase in losses. While the company insists the issue was taken care of, new technology can always create unforeseen problems. It's also entirely dependent on the viability of hydrogen fuel cells as a technology, which leads to an obvious lack of diversification and exposure to systemic risk.
This also assumes that PLUG is prepared to handle the large swell of orders in Q3 and Q4 as if the company is overwhelmed like last year and unable to maintain its margins - it will likely suffer like it has in years past.
Disclosure: I/we have no positions in any stocks mentioned, and no plans to initiate any positions within the next 72 hours.
I wrote this article myself, and it expresses my own opinions. I am not receiving compensation for it (other than from Seeking Alpha). I have no business relationship with any company whose stock is mentioned in this article.