Today, the official retail figures got published. Sales increased 0.50% on a month-on-month basis versus 0.3% expected.
The year-on-year change, however, is way more important because it shows a clear trend and is useful when analyzing stocks and markets.

Click to enlarge
Source: DailyFX
Retail sales (excluding food service sales) increased 2% versus last year. The growth slowing trend has not been broken and growth remains very slow.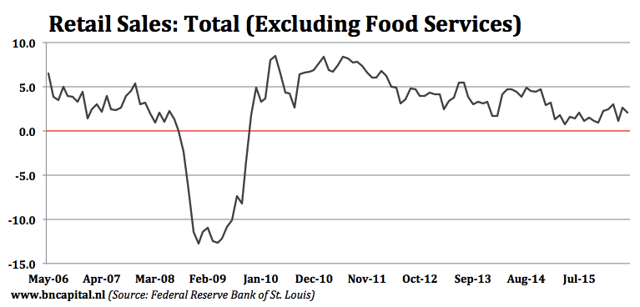 Click to enlarge
I prepared a few charts that give you a clear break down of the most important industries.
Furniture and home furnishing stores are not growing at all. Growth is back at 2013 levels and at the second worst level since the great recession.
This confirms my homebuilding article from last month. Although I did not expect that it would be this bad.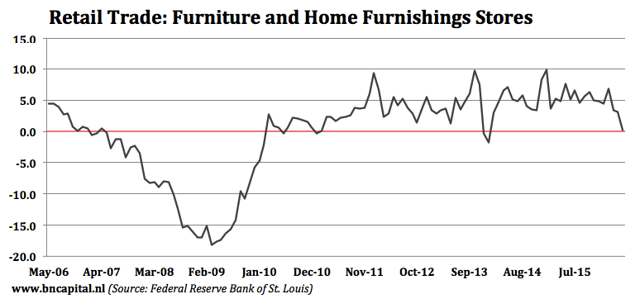 Click to enlarge
Clothing retail is contracting for the first time since the recession. The downtrend that started in 2011 has officially resulted in contraction.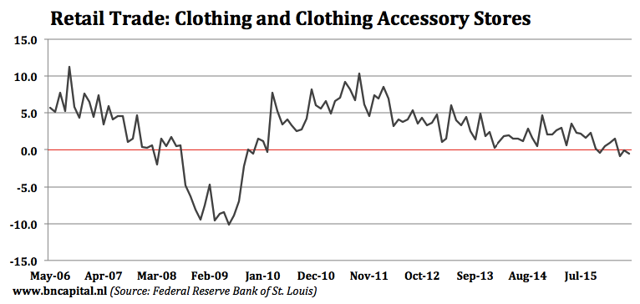 Click to enlarge
Food services and drinking places are by far the biggest winner. Growth increased a bit and is over 6% on a year-on-year basis. The growth accelerating trend is still intact.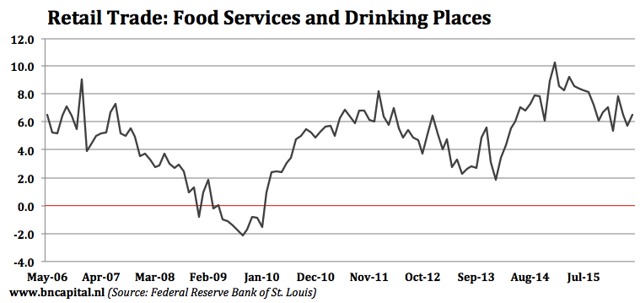 Click to enlarge
Motor vehicle and parts has had very strong growth after the recession. Average growth came in close at 10% which is way stronger than the other industries' performances. In 2016, however, things changed. Growth stagnated and has been weak since then.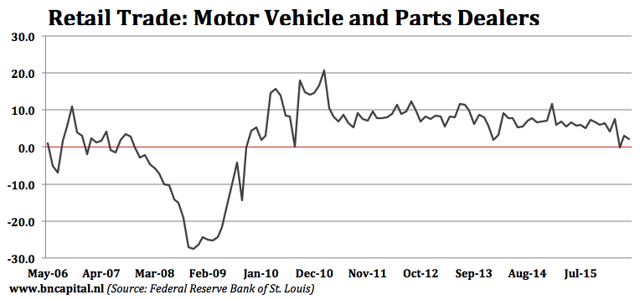 Click to enlarge
And last but not least. Electronic sales. An industry you don't want to be in. Contraction close to 5% since growth imploded in 2014. Note that contraction has happened in 2012 and 2013. The current contraction could be over quick or be the start of an even weaker depression.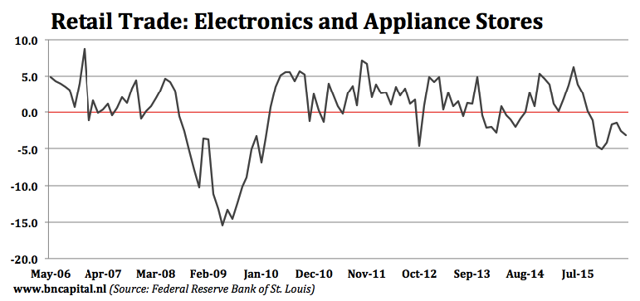 Click to enlarge
I didn't try to predict the future in this article. The main reason is quite simple. Retail sales are not leading. They are coincident indicators and are used to either confirm or deny leading indicators. Leading indicators have been fairly accurate. The only thing that surprised me were the bad furniture sales.
Disclosure: I/we have no positions in any stocks mentioned, and no plans to initiate any positions within the next 72 hours.
I wrote this article myself, and it expresses my own opinions. I am not receiving compensation for it (other than from Seeking Alpha). I have no business relationship with any company whose stock is mentioned in this article.