Risk aversion has taken a toll on EM currencies. This has combined with larger deficits in current accounts due to lower prices of relevant commodities for LatAm countries such as oil, soybean, iron ore and copper. As with many other aspects in Latin America, currencies show heterogeneous trends.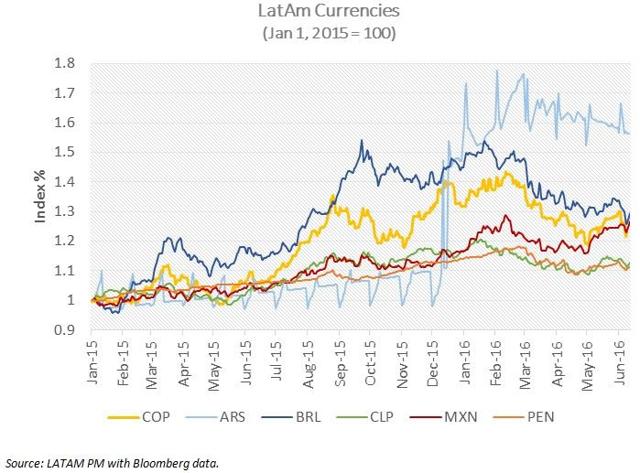 The Argentine peso depreciated 36% on December 17 after the newly elected Mauricio Macri ended a decade of capital and currency controls put in place by the Kirchners. Although YTD the ARS is one of the worst performers among LatAm major economies, only behind the Mexican peso, it has appreciated almost 13% since the end of February. Ahead, the ARS should join the Chilean peso and Peruvian New Sol as one of the best performers within our LatAm sample given that the new market-friendly policies and the sharp correction of the peso are likely to have a positive impact in Argentina's current account this year.
| | | |
| --- | --- | --- |
| FX | 2015 | YTD |
| ARS | 47.0% | 6.4% |
| BRL | 45.0% | -10.8% |
| CLP | 16.6% | -3.2% |
| COP | 31.9% | -4.8% |
| MEX | 16.3% | 8.9% |
| PEN | 14.1% | -2.5% |
The Brazilian real's path is not as clear given the political crisis in which the country is still immersed. Weeks ago, the impeachment of former President Dilma Rousseff brought a sharp BRL rally based on the assumption that the new administration of Michael Temer could bring the needed fiscal adjustment to correct the deterioration trend in Brazilian debt. Perhaps this buoyant sentiment is overestimating the real economy's (painfully-slow) recovery.
But Temer's administration is facing similar problems to his predecessor, while there are still a couple of months ahead in Dilma's impeachment process. Two Ministers from Temer's original cabinet are down amid corruption scandals, which matches a fiscal adjustment that has fallen short of market expectations. The long-awaited BRL's comeback might be further away from what the market originally priced.
The Chilean peso and the Peruvian New Sol have similar stories. Both currencies have depreciated on disappointing Chinese data, their larger trading partner. Chile and Peru's exports to China account for 8.1 and 4.0% of their respective GDPs. Back in April, a Chinese imports contraction of 11% later caused the CLP to have one of its worst months in May as investors increased their short positions on the peso in the currency forwards market.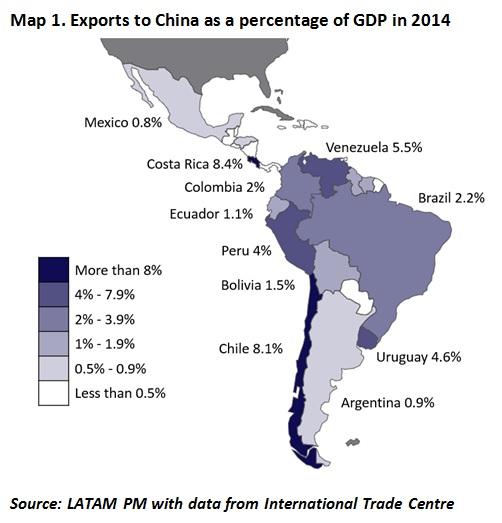 Chile and Peru have also been affected by decelerating economies and worsening current accounts. Corruption scandals and political risk have taken a toll in both countries too. Although the new Kuczynski administration in Peru was a surprise for markets, the PEN has barely responded to it and continues to be driven by global sentiment. Kuczynski also will suffer from weak legitimacy coming from such a tight election and a Congress controlled by Fujimorism. This might delay important policy shifts. So far, there seems to be limited upside for both the CLP and PEN.
Colombia also follows a deteriorating trend in growth and current accounts, but it has important actions in the pipeline that could improve the COP's performance amid the recent recovery in the prices of oil, Colombia's main export.
The Colombian government is going all-in with a fiscal reform and the implementation of its G4 infrastructure program. The fiscal reform will increase the VAT tax to reduce the deteriorating trend in the fiscal deficit, which is expected to 3.6% of GDP this year. The 4G project expects to award between 35 and 40 road infrastructure projects this 2016, with overall investments for all waves of 4G estimated in $18 billion for the next eight years. Colombia does not have an easy path ahead and the next 4-5 months will be crucial for policymakers. But if Colombian official plans go through, these could translate into significant upside for the COP.
Finally, the MXN continues to depreciate on the uncertainty of U.S. monetary policy, its use as a hedge for other EM currencies, a widening current account deficit, and the chances of a Trump presidency. The peso is cheap and could see an appreciation going forward, but we expect it to be modest and to happen in the medium term given Mexico's new status as an energy importer. In the short term, the MXN will continue its volatility responding to all major events such as divergent monetary policies in advanced economies, Chinese economic data, the Fed's decisions and Brexit. These first days of June, the peso is set in a course likely to break its record low against the dollar and force its central bank to intervene this month.
LATAM PM's Take: We believe that the MXN could be the most pressured currency in the short term in case external events such as Brexit or a Fed hike in upcoming months materialize. Plus, U.S. Election Day (November 8) is not that far away in the horizon, and this could bring further troubles for the MXN if Donald Trump's winning chances rise from current levels. (We still see Hillary Clinton winning the general election.) In terms of upside, we believe that the COP offers investors the best expected return, although a fast-paced recovery in Brazil (which we still do not see happening any time soon) could make the BRL the regional outperformer throughout the second half of 2016, which could offset the Mexican weight's dynamic in the regional bullish ETF (NYSEARCA:ILF).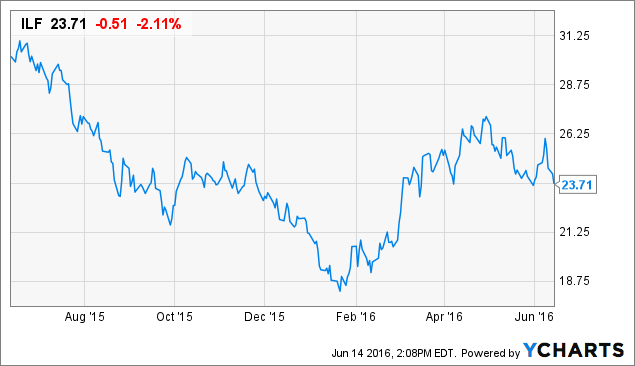 ILF data by YCharts
Disclosure: I/we have no positions in any stocks mentioned, and no plans to initiate any positions within the next 72 hours.
I wrote this article myself, and it expresses my own opinions. I am not receiving compensation for it (other than from Seeking Alpha). I have no business relationship with any company whose stock is mentioned in this article.