Ha, ha.
That was China's message to George Soros earlier this year when the billionaire who famously broke the Bank of England suggested he was short Asian currencies.
A People's Daily op-ed penned by a Commerce Ministry "researcher" suggested Soros was a "predator" and accused him of "firing the starting pistol" on a speculative attack.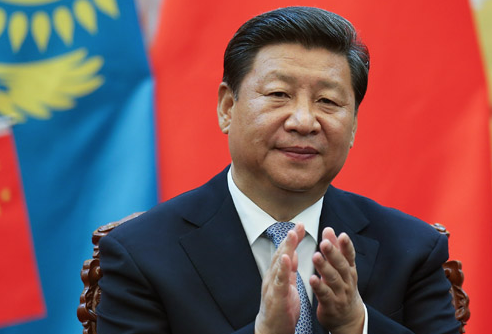 Of course, Soros isn't the only one betting against the yuan (NYSEARCA:CYB).
There's also Kyle Bass who believes a massive banking sector recap will force the PBoC to print trillions. Here's a key excerpt from Bass's investor letter out earlier this year:
As it is obvious that China's economy is slowing and loan losses are mounting, the primary question is what are China's policy options to fix the current situation? We believe that a spike in unemployment, accelerated banking losses/a credit contraction, an old-fashioned bank run, or more likely the fear of one or all of these events, will force Chinese authorities to act decisively. The policy options that China has then are limited to:


Cut interest rates to zero and let the banks "extend and pretend" bad loans - lower interest rates will force more capital abroad putting downward pressure on reserves and the currency.
Use reserves to recapitalize its banks - this will reset the banking sector, but wipe out the limited reserve cushion that China has built up, and put downward pressure on the currency.
Print money to recapitalize its banks - this will reset the banking sector, but the expansion of the PBoC's balance sheet will lead to downward pressure of the exchange rate.
Fiscal stimulus to revive the economy - this will help some chosen sectors of the real economy, but at the expense of higher domestic interest rates (if not done in conjunction with Chinese QE). The 2009 fiscal stimulus was primarily executed through the banking sector so a similar program would require a properly capitalized banking sector. Also, any increase in Chinese investment would reduce China's trade surplus and ultimately pressure the currency.
Adding to the outflow (and thus depreciation) pressure are the ranks of China's wealthy, who are pouring money into foreign real estate and driving prices in places like Vancouver into the stratosphere.
And don't forget about everyday Chinese, who are using any and all methods at their disposal to skirt capital controls which limit the amount of money individuals can move out of the country to $50,000 per year.
In short, almost everyone believes a larger devaluation is in the offing - for one reason or another. If it's not a banking crisis, then it will be necessitated by the need to shore up the country's flagging economy and maintain whatever shred of legitimacy the NBR might have left in terms of convincing the market that China's GDP figures are some semblance of real.
As a reminder, China shook markets in August by moving to a new FX regime wherein the spot rate supposedly carries more weight in determining the daily fix, a transition which almost immediately necessitated constant intervention to ensure the bottom didn't fall out. Beijing then shook things up again in December by adopting a new trade-weighted index (the CFETS), which suggested that the currency was still far too high versus the country's other trading partners.
Remember what happened in August after China devalued? That's right, US stocks (NYSEARCA:SPY) collapsed less than two weeks later. The Dow fell 1,000 points out of the gate on Black Monday. Note also that the adoption of the trade-weighted index in December played a rather large role in the decidedly rough start US equities got off to in 2016.
I'll pose the same question I posed previously: if that's what happens with a 2-3% RMB devaluation, can you imagine what a 30-40% drop (as Kyle Bass predicts) would trigger for global equities?
Let's take a close look at what's going on here, so you can see why this is a big deal.
Generally speaking, China's dollar (NYSEARCA:UUP) peg makes the country's economy less competitive during periods of USD strength, so devaluing is a must now that Beijing is headed for the much ballyhooed "hard landing." That said, China wants a kind of "controlled devaluation." A devaluation on its own terms in order to avoid triggering the type of massive capital outflows that took hold late last summer.
Basically, it's trying to do the impossible. It's a truly schizophrenic (and Herculean) effort that requires management of both the spot and the fix via reserve drawdowns and meddling in forwards, not to mention intervention in the offshore market. On Tuesday, for example, Commerzbank said the PBoC likely intervened to keep USD/CNH below a key resistance level of 6.6000.
Allow me to run through a few Bloomberg bullet points that have hit the wires over the past 48 or so hours, so you can see what I mean about nobody really having any idea where this is headed or what China is doing (the bolded passages are meant to highlight the extent of the confusion):
Yuan may depreciate further and drive CFETS index to test Sept. 2014 level of 95, after May economic data shows growth isn't rebounding, says Irene Cheung, senior FX strategist at ANZ. Official CFETS, released on a weekly basis, is at 96.01 on June 8 and has declined 4.88% so far this year.
Potential impact from Brexit on USD/CNY is likely to be far greater than any Fed rate hike, Khoon Goh, senior FX strategist at ANZ writes in note. PBoC may intervene to stem extent of the decline.
Upside in USD/CNY may be limited in event of Fed rate rise given current yield differentials. RMB index may increase as yuan stays more resilient than other currencies under a stronger USD environment.
Risk aversion to keep the dollar strong in the short term and push USD/CNY upward, but not beyond 6.65 by year-end, NAB's Asia head of markets strategy Christy Tan says.
Most May economic data point to stabilization in China, UBS head of China economic research Wang Tao says in note yesterday; sees no sharp yuan depreciation.
See what I mean? Perhaps, this quote from NAB's Tan sums it up best:
It could take just one piece of data for market expectations to swing back to live Fed hike in July; stay cautious and take short-term view.
Right. "Stay cautious," and just don't pretend like you have any idea where this is headed.
As things stood on Tuesday, Bloomberg's RMB index (that's just a synthetic CFETS RMB Index), was sitting near its weakest level since October 2014, and the onshore yuan was at its lowest level against the dollar in half a decade.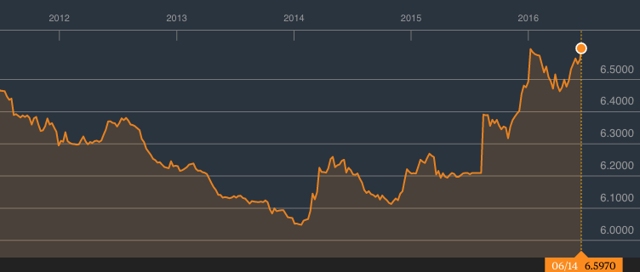 Click to enlarge
(Chart: Bloomberg)
Also, on Tuesday, IMF first deputy managing director David Lipton warned that "vulnerabilities are still rising [in China] and the buffers to deal with shocks are eroding."
"We see significant advances on switching from industry to services, but less on tackling credit growth," he told a press conference after meeting senior Chinese officials and conducting a review of the country's flagging economy. "There has been substantial liberalisation of financial markets, but less improvement in governance and hardening state-owned enterprise budget constraints."
That gets at the heart of China's problem. It can't grow the economy at the promised 6.5% pace while simultaneously deleveraging, and Beijing is extremely reluctant to allow SOEs to default. This leads to the perpetuation of the overcapacity problem and also to the extension of more and more credit to insolvent entities which will ultimately prove unable to service their debt. I discussed this on Tuesday.
But something has to give here. China has of course relied heavily on the shadow banking sector to extend credit as official NPLs and special mention loans have grown. Here's Deutsche Bank:
The proliferation of shadow banking credit has been acting as refinancing channels for formal banking credit in recent years. We estimate the total shadow banking amount in China to be Rmb39tr as of end-2015 (up 12% yoy from end-2014), accounting for 58% of China's GDP. During 2011-2015, the shadow banking system grew at a CAGR of 30% (Figure 15), against a bank loan CAGR of 15%.
So, CNY39 trillion. That's roughly $6 trillion in shadow banking credit extended. You might as well just count that as off balance sheet. There's no telling how much of it is carried as "investments" (i.e. outside the traditional loan book and thus not even considered when it comes to calculating NPLs).
What we do know is that for the country's local banks, the numbers are staggering. Consider the following from Reuters:
At China's mid-tier lender Industrial Bank Co, for example, the volume of investment receivables doubled over the first nine months of 2015 to 1.76 trillion yuan ($267 billion).

This is equivalent to its entire loan book - and to the total assets in the Philippine banking system, filings showed.
But the real problem here is the banks' exposure to sectors that are suffering from the global deflationary supply glut (i.e. overcapacity). So we're basically talking about commodities.
Here's a rather alarming statistic from Deutsche. Out of those firms that are borrowing more money just to pay principal and interest on existing obligations, around a third are concentrated in sectors where overcapacity is a problem. And while those firms have been leveraging up, their profitability has plummeted.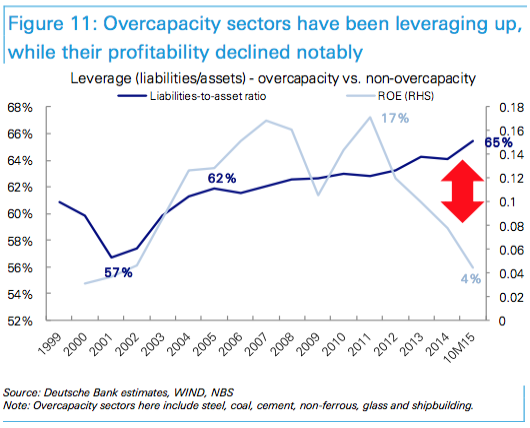 (Chart: Deutsche Bank)
Hell, while we're at it, let's pan out and look at some data for a sample Deutsche took of 1,500 corporate bond issuers: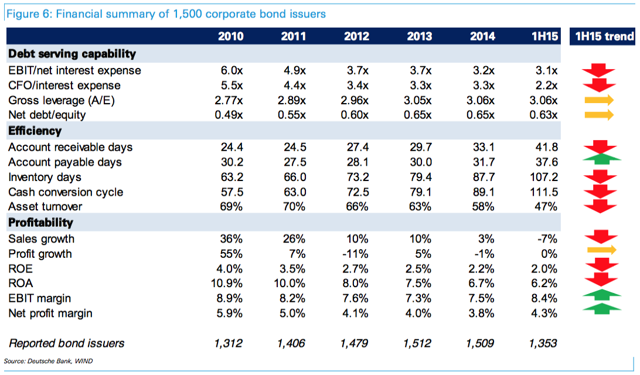 Click to enlarge
(Table: Deutsche Bank)
Obviously, that's a disaster on almost every line item. You're reminded that days sales outstanding are sitting at their highest level since the '90s.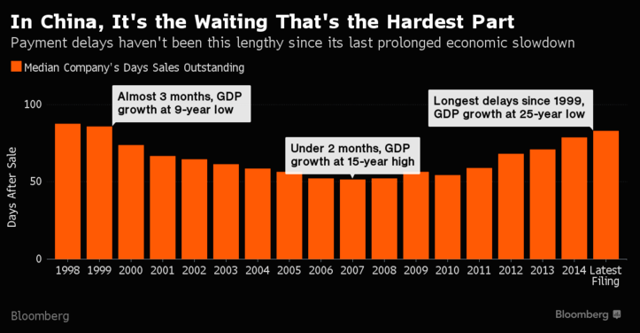 Click to enlarge
(Chart: Bloomberg)
If just one of these banks (even one of the country's 130+ city commercial lenders) goes under, it could send shock waves through the whole system and cause a crisis of confidence. It only takes one domino to trigger a collapse. That's when Bass's thesis comes into play. When it comes time to plug the holes, there's really no where to go but down for the yuan for the four reasons outlined at the outset.
The problem for Beijing is that reining things in will likely weigh on the RMB as well. That is, if it begins to tighten credit conditions, it will weigh on the economy and thus feed fears that the PBoC will need to devalue further in order to keep growth from collapsing. Here's how Deutsche Bank put it last week:
The government faces a policy dilemma. They need to tighten regulations to contain financial risks. They also need to keep GDP growth above the 6.5% floor as they promised. This is challenging. One lesson the government learned last year in the equity market is that deleveraging can be messy and disruptive.
Yes, yes, it sure can. But it's necessary. Because if you don't allow creative destruction to purge misallocated capital (which there is a whole helluva lot of in China), then you're just making the problem that much worse. Here's Deutsche's conclusion:
Overall we believe tightened credit will lead to slower growth in H2, putting depreciation pressure on the RMB. In addition, the cooling down of property market will increase incentives for domestic liquidities to seek oversea investment opportunities and push up capital outflows. We maintain our forecast of USDCNY at 7.0 by the end of 2016.
So, you either burst the bubble yourself and take the hit to your currency, or you kick the can and wait until the whole house of cards collapses and recapitalize the whole system. Either way, the result is the same:
I love the smell of napalm in the morning.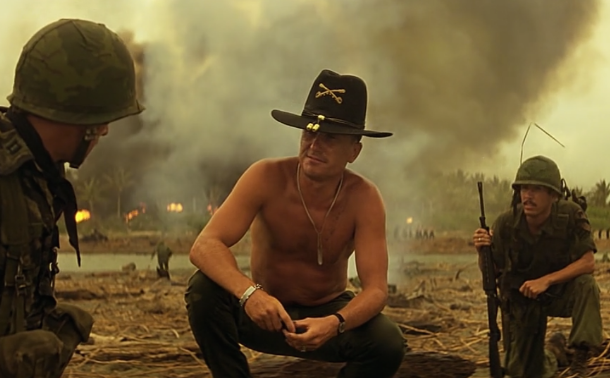 Disclosure: I/we have no positions in any stocks mentioned, and no plans to initiate any positions within the next 72 hours.
I wrote this article myself, and it expresses my own opinions. I am not receiving compensation for it (other than from Seeking Alpha). I have no business relationship with any company whose stock is mentioned in this article.