Click to enlarge
(Source)
On June 14, 2016, Synchrony Financial (NYSE:SYF) shares finished the day down ~13% on reports that the company expects a 20-30 bps increase in net charge-off rates and that the reserves would be build up accordingly. This significant drop in price for SYF shares is the company's biggest one-day stock movement since going public in mid-2014.
On a YTD basis, SYF shares are down ~12% while the S&P 500 is up ~4% over the same period of time. However, the company's stock has greatly outperformed the S&P 500 since going public in July 2014.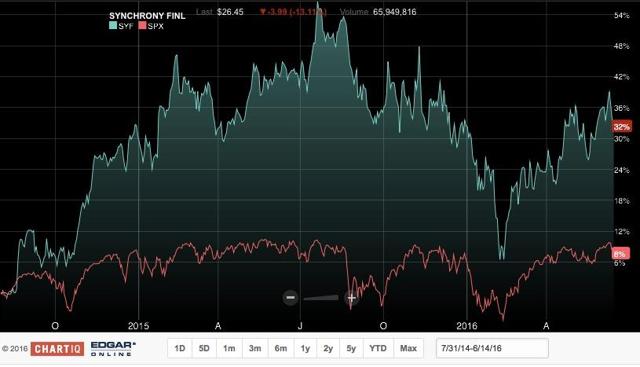 Click to enlarge
(Source: Nasdaq.com)
On one hand, I believe that the large decline in the stock price created a buying opportunity for long-term investors looking to start a position in a company that has a wide moat and great long-term business prospects, but, on the other hand, I am concerned with what seems like a swift change in management's commentary related to the company's asset quality.
Was Today's News Really That Bad? Or, Was It the Change In Commentary
On June 14, 2016, management disclosed that the net charge-off rates would be pumped up and reserves adjusted accordingly. This does not sound like what management was saying during the Q1 2016 conference call.
In late April, I discussed this very topic when I analyzed the Q1 2016 operating results in "Synchrony Financial's Q1 2016 Results: The Good, The Bad, And The Not So Bad". Within the "Bad" section of the article, I described the fact that the company's asset quality took a hit during the quarter:
"The company saw a YoY uptick in each of the following metrics: 30+ days past due, net charge-offs, 90+ days past due, and allowance for loan losses. The net charge-offs really sticks out as the company reported a 17% YoY increase ($780m at Q1 2016 from $668m at Q1 2015)."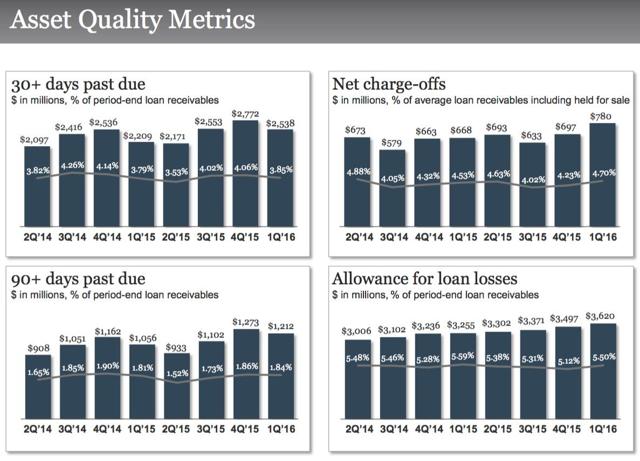 Click to enlarge
(Source: Q1 2016 Earnings Presentation)
I also quoted management from the Q1 2016 conference call, as the decline in asset quality was mentioned several times throughout the call:
"So, I think it still feels like we are operating in a pretty stable environment when it comes to credit. We continue to think that losses will be stable for the balance of the year. We have been pretty clear that we don't expect them to get better from here. I think that's pretty consistent across the industry....If you look at the reserve coverage against last 12 months charge-offs, it was 1.29x versus 1.26x a year ago, so also very consistent. So, I think for the balance of the year, we continue to say our losses will be stable, an overall change to that 2-year kind of average that we gave in January."
This quote was in response to a question related charge-offs and expectations over the next few quarters. Management described the environment as stable, which obviously is turning out to be otherwise. Moreover, throughout the conference call management never really expressed any concern over credit quality. Yes, management stated that the loss forecast was recently completed and this resulted in the increase in charge-offs but it is hard to believe that the facts changed so quickly over such a short period of time.
At the end of the day, I believe that management dropped the ball by not disclosing/communicating the bad news at an earlier point in time. Basically, I believe that today's stock decline could have been avoided (somewhat) if management better communicated expectations to investors, or even possibly mentioned the potential that asset quality could deteriorate over the next few quarters. Instead, investors were blindsided by the swift change in commentary.
As the dust begins to settle, I still believe that Synchrony is a great long-term buy-and-hold company.
Growing Market And Outperforming Peers
In a recent article, I described in detail how Synchrony was operating in a market that has experienced impressive growth over the last four-to-five years and how the growth is expected to continue in the years ahead. The presentation slides provided by management included informative information about the market opportunity that Synchrony has in the private-label credit card industry.
Furthermore, management provided a telling graph that displays Synchrony's above-average growth rates in several different categories.

Click to enlarge
(Synchrony Presentation at Barclays Conference, linked above)
So, let's take a step back and ask ourselves one question --why would I not want to invest in a company that is operating in a growing market and that has been able to outperform its closest peers?
Bottom Line
I purchased Synchrony close to the company's IPO, and I still maintain a sizeable position in my R.I.P. portfolio. I was close to pulling the trigger today and buying more Synchrony shares, but I decided to wait until I could do more research. While increases in net charge-offs and reserves is never good news, it also does not cause me to be overly concerned about my SYF position. The disclosed information is not a game changer, but it does warrant further investigation over the remainder of 2016.
In my mind, management could have done a better job communicating expectations and getting ahead of this type of adjustment but the actual news was simply not that bad (at first glance). I plan to dig deeper into the details, so stayed tuned.
There is a lot to like about Synchrony's future growth prospects, so investors with a long-term perspective should add the company to their watchlists.
If you found this article to be informative and would like to hear more about this company or any other company that I analyze, please consider hitting the "Follow" button above.
Disclaimer: This article is not a recommendation to buy or sell any stock mentioned. These are only my personal opinions. Every investor must do his/her own due diligence before making any investment decision.
Disclosure: I am/we are long SYF.
I wrote this article myself, and it expresses my own opinions. I am not receiving compensation for it (other than from Seeking Alpha). I have no business relationship with any company whose stock is mentioned in this article.