Whole Foods (NASDAQ:WFM) is the largest organic food supermarket in the U.S. It is also the 7th largest public company in the supermarket industry. In my previous article, I explained how the company's valuation has reached back to more rational levels that are more attractive to potential investors. In this article, I will be showing readers the growth trends in the organic food space and what these statistics mean for Whole Food's potential in the future. Although most readers can already guess that the organic food space is a growing trend, I will help break down what proportion of this growth is attributed to the company.
There is without a doubt a significantly growing trend of people in the U.S. who are buying organic food. According to the International Business Times, there are many different groups of people that contribute to the roughly half of all U.S organic food purchases. From my observation of the article, there are certain lifestyles that different groups pursue as reasons for their purchases. However, what these groups have in common are their average age ranges and median income. For these groups, the average age mentioned is in the range of 39-65 while average incomes are from $39,000 to $56,000. These statistics suggest that it is the baby boomer cohort that mainly contributes to half of the country's organic food purchases.
According to the exhibit below, we notice that the health trend for organic food purchases was relatively flat at the 40 million population level, but had a significant increase starting in spring of 2014. From Autumn of 2013 to Spring of 2015, we almost saw a 20% increase in the population of buyers who are purchasing organic food. According to the World Bank, the exhibit below shows that the U.S. population grew around 2-3% in total during that same time.
Sourced from Statista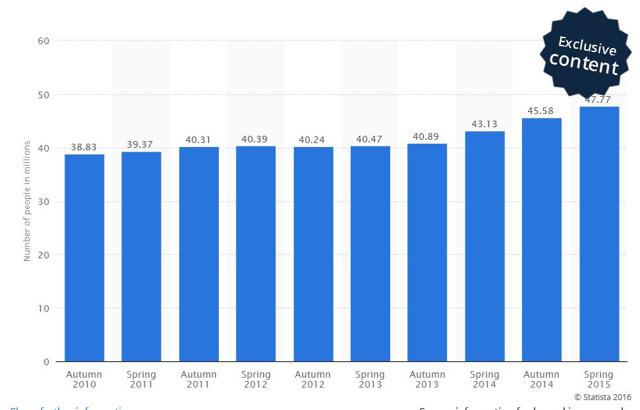 Click to enlarge
Sourced from World Bank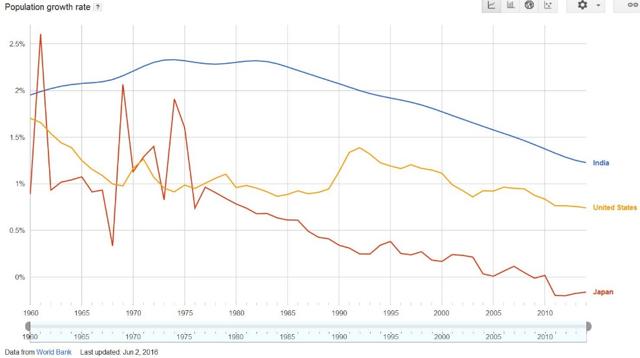 Click to enlarge
The actual dollar amount of organic food sales has increased significantly over the years. Over the past decade, the U.S. had organic food sales increase more than 100% from $26.4 billion in FY2006 to $54.9 billion in FY 2015. By 2017, Statista estimates that U.S. organic food sales will increase to $61.1 billion, which is roughly 10% more than 2015 actual results. We are also seeing a trend in the future growth rates in the country stagnating at the mid-single-digits going forward.
In terms of Whole Foods, the company has increased its revenues at rates significantly higher than what the total country has been growing at. Over the decade, the company increased its sales almost threefold from $5.6B in FY2006 to $15.4B in FY2015. Although the 2016 and 2017 estimates by the street indicate a slowdown in growth, I am confident that the company has what it takes to continue growing its sales faster than the country as it has in the past decade. What is worth noting is that even the street analysts believe that by 2017, revenue growth will be back to normal in exceeding country growth.
When tying in with the total U.S. sales that Whole Foods has as to a percentage of the total U.S organic sales, the company is actually growing market share in the organic space and over the years while it is increasing revenues. Starting from FY2006, Whole Foods contributed to 21.2% of total U.S. organic sales and now currently serves 28%.
Table is self-generated using sources from the Notes section in the exhibit

Click to enlarge
Sourced from Statista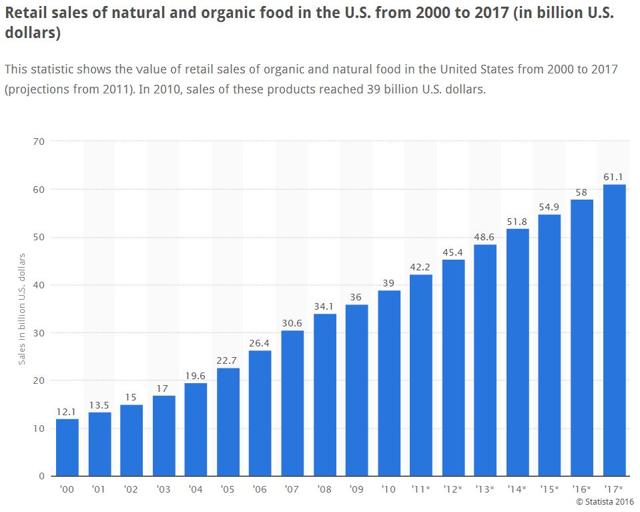 Click to enlarge
In conclusion, there is a significant growth trend in the organic food space. The overall U.S. organic food sales can most likely be attributed to certain groups of people. It is implied given average age and income ranges that the baby boomer cohort is suggested to have contributed to at least half of these sales. In terms of the actual population of organic food buyers, we noticed that it has relatively been flat over the past five years until recently. For Whole Foods' relative sales to the country's total organic food sales, we noticed that the company has grown significantly faster at almost 300% versus 100% by the country over the past decade. Based on market share, Whole Foods is increasingly becoming more apparent to buyers and has increased its proportion from 21% to 28% of total U.S country sales over the past decade. Overall, I am confident that the company has what it takes to maintain its leadership position in the organic food space while implementing strategies to further its market capture.
Disclosure: I/we have no positions in any stocks mentioned, but may initiate a long position in WFM over the next 72 hours.
I wrote this article myself, and it expresses my own opinions. I am not receiving compensation for it (other than from Seeking Alpha). I have no business relationship with any company whose stock is mentioned in this article.