Oil prices continued to stay under pressure on June 13th and 14th after OPEC released its monthly oil report, which covers not only the current market environment but also the global outlook for crude and other petroleum products moving forward. In what follows, I will dig into OPEC's release and discuss what it means for companies like Memorial Production Partners (NASDAQ:MEMP), Approach Resources (NASDAQ:AREX), and Legacy Reserves (NASDAQ:LGCY), as well as for those in the United States Oil ETF (NYSEARCA:USO) and other oil-related ETFs.
A look at supply and demand
On the global scale, the picture for oil according to OPEC hasn't really changed. Just as in the case of last month, the organization believes that global demand this year will still come out approximately 94.18 million barrels per day. Although this would be the highest demand (using OPEC's data) level on record, the increase is still just 1.20 million barrels over the demand seen during 2015. This flies in the face of earlier data by the EIA (Energy Information Administration), which had previously increased its estimate for oil demand this year by 1.45 million barrels per day from 93.81 million barrels per day to 95.26 million.
Due to stronger demand forecasts regarding China and India, as well as the low oil price environment that has spurred some activity here at home, I had expected to see OPEC's projection for this year increase. Moving forward, and assuming we don't see any major roadblocks like China's economy taking a beating, I still think it's highly probable that OPEC will increase its forecast in this regard but only time will tell if this estimate on my end will turn out to be true.
On the supply side, the picture doesn't really look different either. According to OPEC, global supply this year, including most recent OPEC output of 32.31 million barrels per day and annualizing that, should be about 95 million barrels per day. Even as non-OPEC production is slated to drop by 700 thousand barrels per day this year, led largely by the United States but also aided by other non-OPEC nations, the increase in production from OPEC should be more than enough to offset that once you add in the glut that has already existed.
Based on these numbers, if nothing changes, the supply/demand imbalance this year should average 820 thousand barrels per day. Although this represents a large disparity between supply and demand, it is far larger than 2015's oil glut, when the supply/demand imbalance came out to around 2.10 million barrels per day. Assuming that oil demand rises again next year and that supplies remain unchanged, we are likely looking at a pretty nice imbalance in favor of demand next year.
As a result of the continued imbalance, however, OECD stocks have continued to rise. According to the organization, total stocks for crude plus petroleum products in the OECD developed nations came out to 3.044 billion barrels during the first quarter of this year. This represents an increase of 29 million barrels from the 3.015 billion barrels seen at the end of 2015 and suggests that we still have a ways to go before the glut does vanish. However, the very fact that we seem to be nearing the end of the imbalance over the next 12 months or less is certainly a net positive in my mind.
The only other relevant piece of data I noticed came from OPEC's own production numbers. According to the organization, crude production among member nations came out to 32.361 million barrels per day last month. This is 100 thousand barrels per day below where we saw a month earlier but this number surprised me to some extent. In a prior article on the topic, I said that we should watch Nigeria's production to see how far it falls since the Niger Delta Avengers, an armed militant group, had taken a great deal of the country's production offline.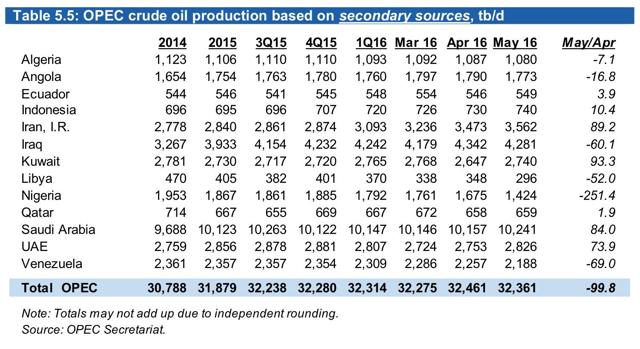 Click to enlarge
Sure enough, this did come to fruition and production in the nation fell by 251 thousand barrels per day from 1.675 million barrels per day in April to 1.424 million barrels per day in May. This is great news for long-oriented oil investors and it was accompanied by large amounts of falling output in Iraq, Libya, and Venezuela. However, as a whole, other OPEC members were able to offset these decreases, as you can see in the table above. Based on the data provided, Iran continued to grow output, raising it by 89 thousand barrels per day. Kuwait's production grew by 93 thousand barrels per day and the UAE (United Arab Emirates) grew by 73 thousand barrels per day. Even Saudi Arabia fared ver well, increasing production by 84 thousand barrels per day.
Takeaway
At this moment, the oil data coming from OPEC is, in my opinion, quite mixed. On the one hand, you have non-OPEC production continuing to fall and you have some OPEC member nations reporting significant drops in production as well. However, this is being negatively affected by demand projections that are remaining stagnant even while the EIA is increasing its own forecast and by rising supplies from some other OPEC countries. Overall, I am still very much bullish on oil but this report came across as pretty evenly mixed between bullish and bearish.
Disclosure: I am/we are long LGCY, MEMP, AREX.
I wrote this article myself, and it expresses my own opinions. I am not receiving compensation for it (other than from Seeking Alpha). I have no business relationship with any company whose stock is mentioned in this article.
Additional disclosure: My LGCY position is in the form of preferred shares, not common ones.
Editor's Note: This article covers one or more stocks trading at less than $1 per share and/or with less than a $100 million market cap. Please be aware of the risks associated with these stocks.