Welcome to the first iteration of what I hope will be a fairly regular series of pieces written focused on what catches my eye day in and day out in the markets. It's been awhile since I've written anything for Seeking Alpha and this is something that I've wanted to change. Now that it's summer time and my coaching responsibilities have ended for a few months I've decided to re-dedicate myself to publishing work here. This series, "The Most Interesting Thing(s) I Saw In The Market Today" is where I'll start. These articles will be somewhat short, self explanatory pieces, essentially highlighting interesting moves that I saw in equities on a daily basis. Even though I haven't been writing much lately, I haven't stopped following the markets and managing my portfolios. These pieces will give readers an insight into my daily market monitoring, where first thing in the morning I scan the market, looking for odd and over done price movements - movements that create attractive value, either for the short term, or long term, or both, in many cases. Hopefully this series will spark interest on your part to perform further due diligence. I enjoy these types of pieces when I see them, there are so many moving parts in the market that it's easy to overlook an actionable event. With any luck, I'll help broaden your horizons and add blips to your stock market radars allowing us all to continue to push forward with portfolio profitability.
So, today, Tuesday June 14th, what are the most interesting things that I've seen? I'll starting with two. One, is Novo Nordisk (NYSE:NVO) selling off to the tune of 5% on what appear to be disappointing news regarding Victoza, a drug meant to reduce catastrophic cardiovascular events for patients with type-2 Diabetes. The report released this morning showed that the drug did reduce risk of major complications, meaning that the drug wasn't an absolute failure, but it seems as though market expectations weren't met. I should say that I'm no doctor (or any other type of medical professional for that matter); however, I do follow healthcare/bio-tech stocks closely. I am overweight healthcare in my personal portfolio and though I don't own any shares of NVO, I can say for certain that this is a wonderful company that I've followed for some time. Unfortunately for me, I've sat on the sidelines due to valuation concerns since my initial coverage of the stock began in 2012. Since then I've watched as this stock rose and rose over the last few years. I've been waiting for this company to trade at a discount but the market has thought otherwise, maintaining a high premium on this blue chip company. As you can see here, it's been nearly 3 years since this company has traded below its "normal" p/e ratio of nearly 24x.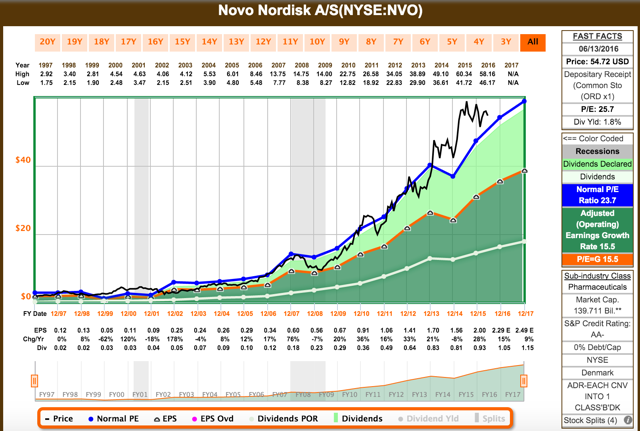 Click to enlarge
Click to enlarge
source: F.A.S.T. Graphs
I'd love to pick up shares trading below 20x ttm earnings, though as time has moved on, I've come to accept, much like I have with other blue chip companies in the past, like Disney (NYSE:DIS) for instance, that sometimes you just have to bite the valuation bullet and slowly average into wonderful companies like NVO if you want exposure within your portfolio. Because of the premium that NVO is given by the market, during moments like this, when you get a quick 5% off sale, I can't help but strongly consider looking past my usual value principles and adding shares to what would be an easy company to buy and hold for the very long-term.
It seems to me due to political headwinds, this market is always looking for reasons to dump healthcare names. Reading through NVO's press release, I wasn't overly disappointed with the news. The data shows that this drug saves lives and I trust that a top notch company like NVO will be able to take the information collected from these trials and continue to improve the drug's performance. It's events like this, a short term disappointment/potentially irrational market reaction that shouldn't have a significant impact on the company's long-term performance, that I try to take advantage of when managing my portfolio. NVO is a company that rarely trades at a discount. It is the world's leader in the very large, $30b Diabetes space - a space that is expected to continue to grow. Due to the size and nature of NVO, I don't expect this company's growth to sky rocket from here. However, if you're looking for solid, reliable EPS, revenue, and dividend growth in the mid to upper single digits over the medium to long-term, I believe that NVO is a company you should take a closer look at.
And, the second occurrence that I'd like to highlight for today's piece is the fact that another European based company, Diageo (NYSE:DEO), hit a new 52 week low, breaking down through the $100 barrier for a a short period just after the open. This company is caught in the Brexit crosshairs, though I believe this downward pressure is highly driven by speculation. I've heard intelligent arguments on either side of the Brexit issue as to whether or not this potential change would be a net positive or negative for the economies across the Atlantic over the short and long-term. I haven't been swayed one way or the other by these experts and I think its likely that no one really knows what sort of economic impact Britain leaving the Euro would have moving forward. This would be an extremely complicated issue should the vote go signal an exit. However, this is still a big if, with many prognosticators predicting that Britain will stay, rather than go. I'm not surprised to see market volatility surrounding this issue; however, when it comes to blue chip companies like DEO with its incredible portfolio of brands, I think long-term investors would be best off ignoring the political noise and adding shares of wonderful companies like DEO on any weakness.
Much like NVO, the market has placed premium valuation on DEO shares over the last couple of years. With interest rates so low, any company with a reliable 3%+ yield has experienced this high premium phenomena and investors must decide for themselves whether or not they are willing to pay 20x earnings for a company with mid-high single digit growth prospects.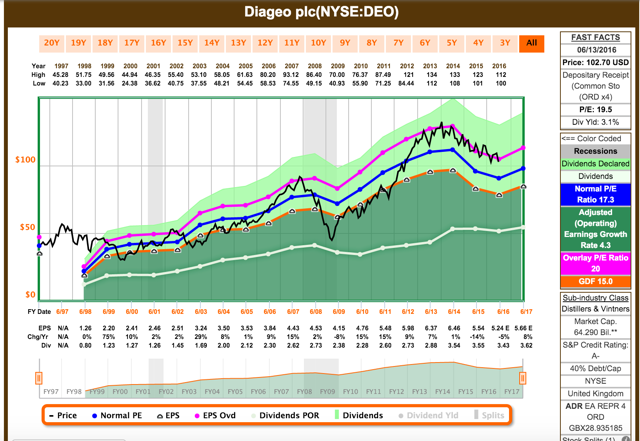 Click to enlarge
source: F.A.S.T. Graphs
To me, when it comes to DEO the reason to own is the company's portfolio of brands. I understand that the spirits market is more volatile than beer; however, I imagine that even in tough economic times, individuals will still find a way to buy a bottle of their favorite pass-time.
Through acquisitions focused on premium brands, DEO has built an impressive portfolio that, according to Morningstar, is comprised of "14 of the top 100 premium distilled spirits brands and 7 of the top 20." I imagine that DEO will continue to target premium brands and bolster its moat with continued acquisitions moving forward.
So, there you have it: two potentially investable moves happening today. Although neither of these companies offer tremendous top line growth, I believe that they are the wonderful, blue chip type of companies that can create wealth for conservative, long-term investors that buy and hold. Both companies pay a strong dividend and have a proven record of dividend growth. Both companies are top dogs within their industries and although they are facing potential issues in the short term, I don't foresee either losing massive market share or experiencing strong earnings headwinds moving forward. I haven't bought shares of either company, yet. I may before the market closes today, though I admit that I'm being a bit conservative right now with so many potential issues looming over the market. I am sitting on roughly 10% cash and so I don't have a massive reserve to spend. If/when I do buy shares of either of these companies I will be sure to update followers via stock talks here on SA. Let me know what you think! And stay tuned for tomorrow's version of The Most Interesting Thing(s) I Saw In Today's Market.
Disclosure: I/we have no positions in any stocks mentioned, but may initiate a long position in NVO, DEO over the next 72 hours.
I wrote this article myself, and it expresses my own opinions. I am not receiving compensation for it (other than from Seeking Alpha). I have no business relationship with any company whose stock is mentioned in this article.