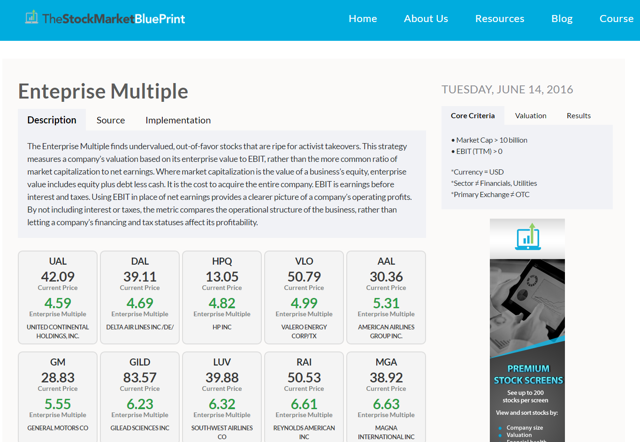 Click to enlarge
This article highlights five of the top stocks qualifying for the Enterprise Multiple screen.
The Enterprise Multiple investment strategy is discussed at length in What Works On Wall Street, Quantitative Value, and Deep Value.
Enterprise Multiple Description
The Enterprise Multiple finds undervalued, out-of-favor stocks that are ripe for activist takeovers. The ratio measures a company's valuation based on its enterprise value to EBIT, rather than the more common ratio of market capitalization to net earnings.
Where market capitalization is the value of a business's equity, enterprise value includes equity plus debt less cash. It is the cost to acquire the entire company. EBIT is earnings before interest and taxes.
Using EBIT in place of net earnings provides a clearer picture of a company's operating profits. By not including interest or taxes, the metric compares the operational structure of the business, rather than letting a company's financing and tax statuses affect its profitability.
Here is a breakdown of the five stocks with the lowest enterprise multiple as found on The Stock Market Blueprint:
Implementation
A good way to implement this strategy is by regularly investing equal amounts in the qualifying stocks with the lowest enterprise multiple.
Average investors will find numerous reasons not to buy the above stocks. Disciplined investors, on the other hand, will find success allowing a simple investment strategy to select stocks for them.
Access these stocks and more by signing up for free at The Stock Market Blueprint.
Disclosure: I/we have no positions in any stocks mentioned, and no plans to initiate any positions within the next 72 hours.
I wrote this article myself, and it expresses my own opinions. I am not receiving compensation for it (other than from Seeking Alpha). I have no business relationship with any company whose stock is mentioned in this article.