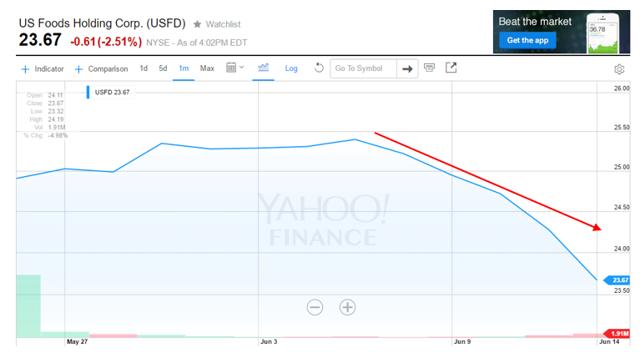 Click to enlarge
Yahoo! Finance
U.S. Foods Holding (NYSE:USFD) has witnessed a nearly 7 percent stock price decline since the company's closing peak price of $25.40/share on June 7, 2016. The primary factor that has changed since this date has been the company's disclosure regarding an intent to refinance existing term loans, principle notes and other facilities.
Yesterday, the company priced $600 million aggregate principal notes at 5.875 percent. IPO proceeds to U.S. Foods Holding was roughly $970 million. Combined, this amount reflected roughly $1.6 billion, but based upon the disclosed intent to refinance, was short of meeting all needs.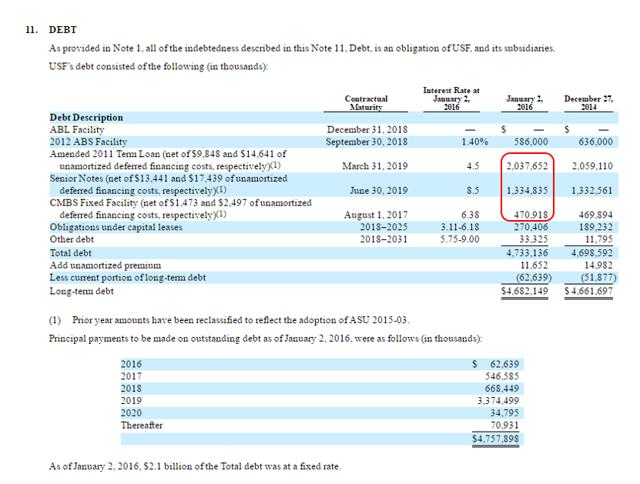 Click to enlarge
U.S. Foods Holding Prospectus
To be clear, in addition to the $1.6 billion in priced principle notes and IPO proceeds, the company needs to refinance the existing Term Loan of roughly $2 billion in order to redeem the Senior Notes due June 20, 2019 and pay in full the CMBS Fixed Facility, all highlighted in red above. Expectations are for the new Term Loan B to finance roughly $2.3 billion to accomplish this.
So nearly $1.8 billion in debt is being redeemed and repaid, while an additional $850 million or so is being added. The $600 million principle notes are being financed with a much lower interest rate at 5.875 percent and also are not due until 2024. Pricing has yet to be announced for the new Term Loan B, and hopefully the interest rate will be similar to the previous rate.
The market may be interpreting the financing actions negatively at first, but should soon recognize that the net debt reduction will have improved the company's leverage profile by reducing debt/EBITDA to below 450, from nearly 500 percent and extending debt obligations with better rate terms. The nearly $4.7 billion in debt will have been reduced by over 20 percent to nearly $3.7 billion for a net reduction of roughly $1 billion.
This is a very positive step. Combined with U.S. Foods Holding's focus and goals of improving operations by consolidation and productivity gains, as well as growing the company's customer base through higher margin markets, there will be a correlation in increasing free cash flow to further pay down debt.
The combination of reduced debt and margin expansion are the core catalysts leading to shareholder returns. My stake in U.S. Foods Holding is currently down nearly 4 percent, and with Brexit volatility a daily occurrence, it is a tough time to be confidently adding. However, for the long-term, investors should now focus on the company's next quarterly report to get better insights into how margin expansion is tracking. Profit margins in this industry are razor thin, but all U.S. Foods Holding needs is to get to around 1.5 to 2 percent in order to give investors a chance for strong returns over the next decade.
Disclosure: I am/we are long USFD.
I wrote this article myself, and it expresses my own opinions. I am not receiving compensation for it (other than from Seeking Alpha). I have no business relationship with any company whose stock is mentioned in this article.