Piper Jaffray recently issued a report for Ford (NYSE:F) citing a $17 price target, or 32% higher than the current stock price. I concur with the analyst that Ford seems to be a good candidate for value investors given that it has all the right ratios (e.g. low P/E, good yield). However, our opinions diverge in that the analyst believes that Ford is truly a value stock whereas I think that current financial ratios are quite deceiving due to Ford's sensitivity to the macro environment (read Think Twice About Ford). I accept the differing views as we can probably argue about the state of the auto industry until the cows come home.
However, the analyst also stated that "Ford offers a 4.5% dividend yield to protect against downside," a statement that I disagree with completely. While this discussion is about dividends, the topic in fact pertains to total return investors, as the dividend is being described as a form of downside protection for the stock.
Dividend Is Not Protection
Why doesn't the analyst's view hold any water? Considering the following. When would an investor require downside protection? When a stock is at risk of falling of course. Why would a stock decline? When the business itself is doing poorly. If the business is doing poorly, then the dividend is unlikely to be sustainable, hence there is no use in looking at the current dividend payout.
If anything, a regular dividend becomes a liability. While financial theory states that dividends don't influence value, the reality is that changes (typically downward adjustments) to payouts will significantly impact the stock in the short-term. Why does the market react this way? There are two reasons. Firstly, dividend paying stocks attract yield-focused investors (including ETFs and mutual funds) who wouldn't blink an eye and sell when the dividend is lowered. Secondly, the market often views a dividend cut as a sign that the company is in trouble, even if the long-term outlook remains stable (though sometimes the market is right).
Ford Is Vulnerable
Buying into the idea that dividends provide safety is very dangerous, especially when Ford is particularly vulnerable to a dividend cut in the event of a downturn. As with any other cyclical stock (see my warning about ConocoPhillips (NYSE:COP)), Ford will inevitably experience the ups and downs of the business cycle. There is no disputing this fact. Any impact from a slowdown will be exacerbated by the inflexible cost structure that I've talked about in previous articles. Considering that Ford will be more likely to cut the dividend when the company is doing poorly, how does the current dividend provide any safety? If anything, the dividend payout and the company's performance will be correlated. If the company hits a bump on the road, dividends will likely take a hit as well. There is no downside protection to speak of.
Of course, there are precedents. Not only can we observe the impact of dividend cuts in other companies (e.g. ConocoPhillips, Kinder Morgan (NYSE:KMI)), we can also find answers in Ford's past. Ford cut its dividend in 2001 when sales were slowing down. The stock plunged in the following week.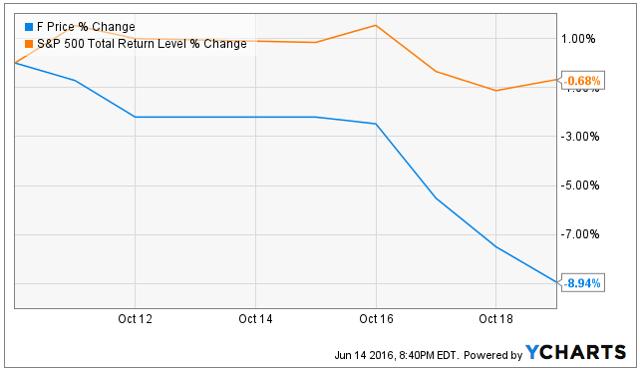 Click to enlarge
This process was repeated just prior to the last recession, when the dividend was cut by half and then eliminated in successive quarters. What followed is history.
Conclusion
Dividends do not provide any form of protection to investors. The company's ability to pay dividends is correlated with its financial performance, hence dividends will likely evaporate when you need them the most. This is especially true for a cyclical stock like Ford, which does not generate consistent earnings from year to year. Should Ford continue to generate profits, downside protection will not be needed; but if the auto sector slows down, don't expect Ford's dividend to be your savior.
Click the "Follow" button beside my name on the top of the page to be updated with my latest insights. To learn more about the V20 Portfolio (+40% in 2015), whose goal is to compound capital at 20% over the long term, I encourage you to read the introduction to my investment process. Premium subscribers get full access to the V20 Portfolio. Track the portfolio through the latest update, here.
Disclosure: I/we have no positions in any stocks mentioned, and no plans to initiate any positions within the next 72 hours.
I wrote this article myself, and it expresses my own opinions. I am not receiving compensation for it (other than from Seeking Alpha). I have no business relationship with any company whose stock is mentioned in this article.