In our first article of the Pink Portfolio series I laid out the purpose and rules of the Pink Portfolio. I summarize here.
My wife and I are the proud parents of a wonderful almost two-year-old girl. When you have children, the ideal moment to start investing is from birth. But, as is the case with many middle-class people, we don't have thousands of dollars to invest for the apple of our eye. We decided to put aside about $150 a month for her that we can use to create a portfolio. Every month I will buy some stocks and I will update the state of the portfolio here on SA. I chose to call it the Pink Portfolio because that is her favorite color.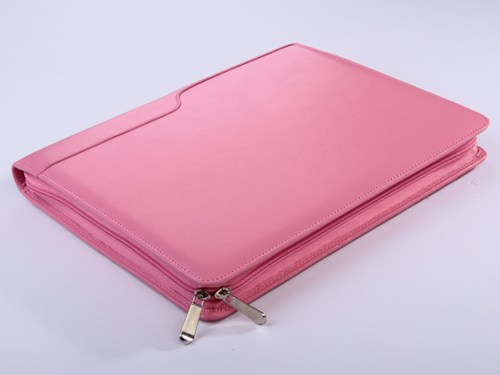 (Source: artfire.com)
For special occasions, she will sometimes get more than $150. And this month is such a special month. Our little sweetheart celebrated her second birthday on June 11th. This means that this month there is a budget of $300, because we also deploy the money she got from her godfather, her godmother and her grandparents. For those who would wonder: of course she did get other presents as well, besides money, from those wonderful people: shoes, a horse stick, a toy wheel barrow and a lot of other toys.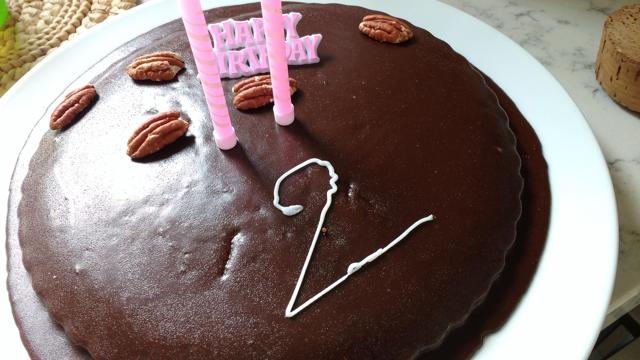 Click to enlarge
(I took a picture while I was making the cake, but I forgot to take one of the final result)
Now, there was one theme that our little girl really really wanted: 'Mickey Touse'. Don't ask me why, but if she sees Mickey Mouse, she keeps repeating 'Mickey Touse'. She learned to know 'Minnie Touse' as well, and she liked Minnie even better because Minnie is always in pink, our daughter's favorite color, as I have just mentioned. So, there were Minnie Mouse paper plates, Minnie Mouse napkins and Minnie Mouse plastic triangles all over the kitchen for her birthday party.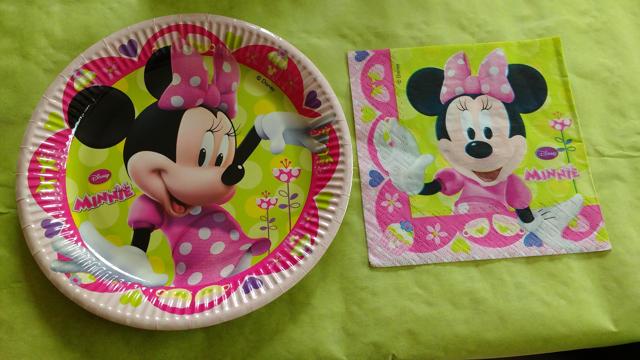 Click to enlarge
She also got a pink (!) sweater with Mickey Mouse on it for her birthday, so what could be a better buy than Disney (NYSE:DIS) as a second stock for her Pink Portfolio? But does it fit the principles we follow to build the Pink Portfolio? Let's check!
1. Less than $150 per share
The first rule is very simple: the stock should be under $150 per share because we want to buy every month. I already mentioned in the comment section of the first article that I use a discount broker, which means that I only have to pay $0.58 for every transaction. With a share price for DIS of a bit under $100, there is no doubt about this criterion: PASS.
2. Safety

The companies I invest in for our girl must be safe. For the credit rating, I want A- or higher (except for some special situations). Disney's S&P's credit rating is A, so this is good enough.
I also think that this debt/equity graph shows clearly that debt is no problem for Disney, especially compared to its competitors.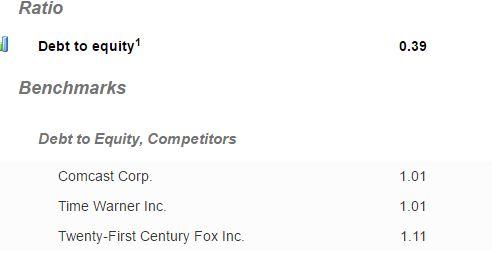 Disney's interest coverage is even more convincing.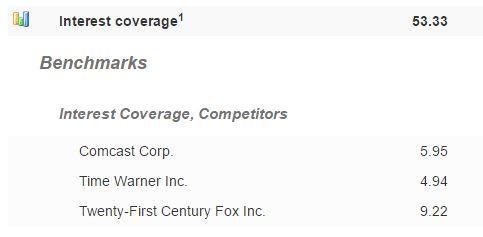 (Source: Stock analysis on net)
As you can see, Disney has a quite comfortable level of debt.
The risk assessment tool of the Nasdaq website shows that Disney is quite safe. I added some stocks:
the much-discussed FANG stocks
Nike, the other holding of the Pink Portfolio.
Disney's competitors: Comcast, Time Warner and Twenty-First Century Fox
Microsoft and Johnson & Johnson, to put things into perspective because these are the only two companies that have an AAA credit rating
For the Pink Portfolio I want a risk number under 200, preferably under 150 and that is not a problem for Disney, which seems to be quite safe at 117. It is between its biggest competitors, but even lower than Nike, our first stock for the Pink Portfolio, which had 127.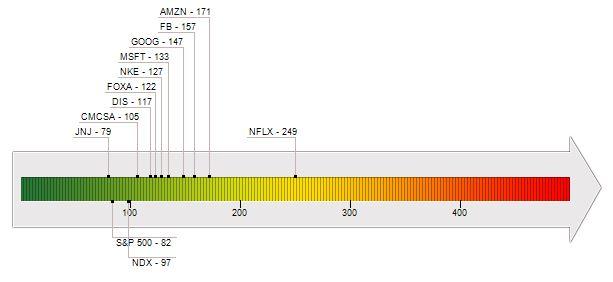 (Source: Nasdaq.com)
The credit rating, the ratios and the Nasdaq risk tool all point in the same direction: Disney is a safe investment.
3. Valuation: fairly or undervalued
I want stocks in the Pink Portfolio that are undervalued or fairly priced, with a maximum premium of 10% for top stocks. Let's see how Disney is holding up here. I will look at different opinions about the stock value.
Simply Wall Street provides an intrinsic value based on future cash flows. The conclusion is that Disney's fair stock price is $90.61, while its current price is $97.57. That is an overvaluation of just 7%, so this already fits in my template, because I consider Disney as a top stock.

Click to enlarge
Of course, this is just one method. As a lot of you know, valuation can differ a lot, depending on the method that is used.
Morningstar has a four stars rating on Disney, which means that it considers the stock quite attractively valued.
According to this F.A.S.T. Graph, DIS has a current P/E of 17.3 and a 10-year average P/E of 16.9, which indicates again that DIS seems to be fairly valued. This is for the first time since the beginning of 2013.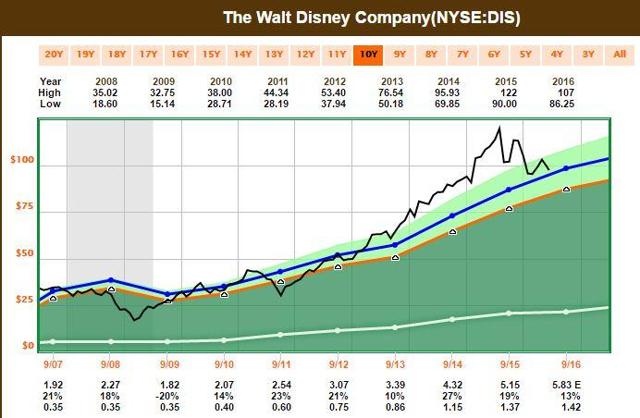 Click to enlarge
You could also look at the competitors in the sector for the valuation. The biggest competitors for Disney are Comcast, Twenty-First Century Fox and Time Warner.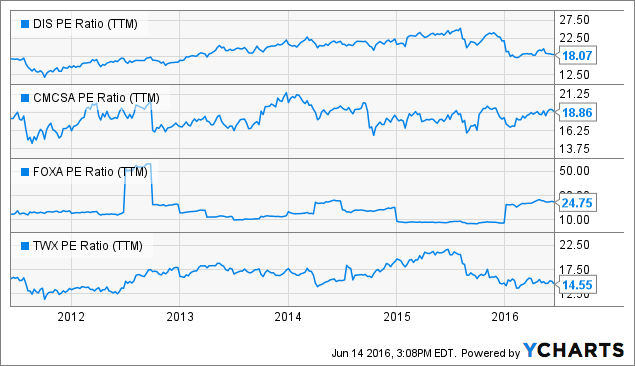 DIS PE Ratio (NYSE:TTM) data by YCharts
As you can see, Disney's P/E ratio is lower than that of FOXA and CMCSA and higher of that of TWX. If you take the average of the P/E of those 4 competitors you get 19.06 and DIS is below that. Again this indicates that DIS is fairly valued.
A dividend discount model (NYSEARCA:DDM) is also an often used valuation tool for dividend stocks. You can do that yourself, but stockanalysis-on.net has done it for us:

Click to enlarge
We see a fair value of $90.69, which means DIS would be overvalued by 7% again, well within our range.
According to finviz.com, the average target price of the analysts is $109.11, which would mean a bonus of a bit more than 10%.
All used models to valuate DIS point in the same direction: DIS is more or less fairly valued now. So: PASS.
4. Future return: value or growth quality
I want either a good dividend or high growth or a mix of both for the Pink Portfolio. Disney's growth prospects are in the low double digits, but a growth stock should have 15% per year or more, so then DIS should be a value stock. The question is then of course: is it a good value stock?
Disney's dividend rate is $1.42, which means a yield of 1.45% with a price of $97.57. For dividend investors this doesn't seem to be very much, but if you look at the dividend growth, you see that the quite low yield is because the stock price goes up together with the dividend.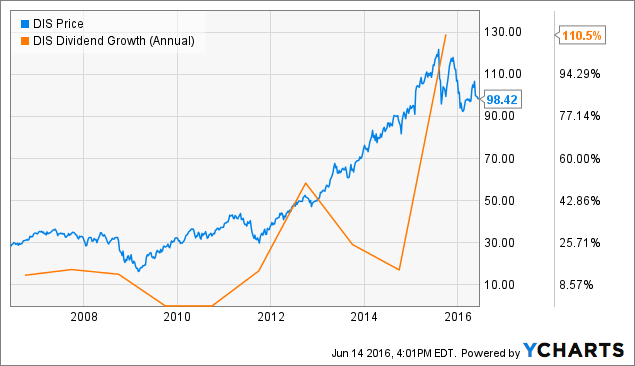 In the afterdays of the 2008 crisis, the dividend was kept equal. But since 2009, the average dividend growth rate is 27% per year. That is quite spectacular. The fact that Disney's yield is still only 1,45% just means that the price of the stock went hand in hand with the dividend.
Disney is a dividend challenger on the list of David Fish, with a 6-year streak of yearly growing dividends. It must be said, though, that Disney is not the average dividend company. For example, they do not pay out quarterly, but semi-annual. And even that is only since last year. Before that, Disney paid its dividend annually.
Disney has room enough to pay out growing dividends. According to finviz.com, Disney has a pay out ratio of only 25% and its expected earnings per share growth for the next five year is 10.59%. This means, in my opinion, that Disney has years of double digits dividend growth to come.
That is also the opinion of this FAST Graph: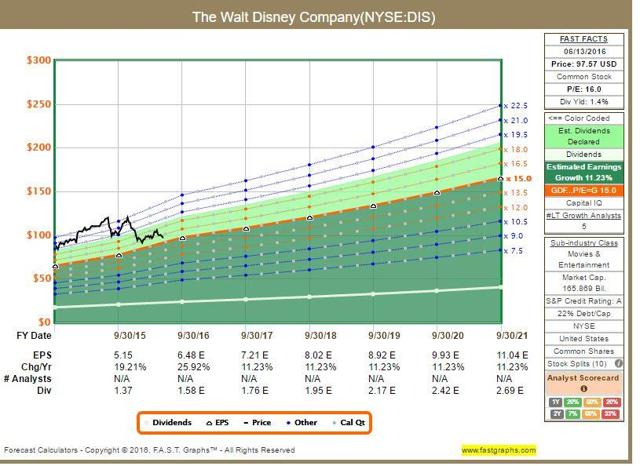 Click to enlarge
I even think that the 11% raise that F.A.S.T Graph assumes for every year is conservative. First because Disney will probably make its pay out ratio higher, and secondly because Disney also buys back its own shares, which means that the company can divide the rising amount of dividends over fewer shares. According to gurufocus.com, Disney has a 3 year share buyback average of 2.1%. Conclusion: I wouldn't be all too surprised if you have a YOC of 3% or higher in 5 years' time.
The Chowder Rule says that if a stock has a dividend yield of less than 3%, its five-year dividend growth rate plus its dividend yield must be 15 or higher. Disney has a Chowdernumber of 32.4, according to David Fish's CCC-list. If I take the average from 2009 onwards, I get 28.45 (27%+1.45% yield), which is a clear PASS.
Disney can be qualified as a good value stock for the Pink Portfolio.
Takeaway
Even with a small amount of money, you can build a portfolio, especially with a long term horizon. For our little girl, I am building the Pink Portfolio. Over time, $150 will keep coming and the Pink Portfolio will keep growing. Time will be its biggest friend.
The first buy was Nike. I have bought 2 shares in May and I have averaged down and bought 2 more with our girl's birthday money. I have also bought two shares of Disney, which I analyzed in this article.
I feel good about those two holdings, not just because these are solid companies with years of growth ahead, but also because of the personal touch. As I told, buying Nike was partly because our little sweetheart likes her pink Nike sweater so much. And as for Disney: she can't stop jabbering about Mickey and Minnie 'Touse'. Long after she will have learned to pronounce the name properly, she will be proud to own a tiny part of the Mouse House.
This is how the Pink Portfolio looks like after the first two months (with the extra cash from her birthday).

Click to enlarge
If you want to see how the Pink Portfolio keeps growing, please push the "Follow" button.
Keep growing!
Disclosure: I am/we are long DIS, NKE.
I wrote this article myself, and it expresses my own opinions. I am not receiving compensation for it (other than from Seeking Alpha). I have no business relationship with any company whose stock is mentioned in this article.