You would think that after the management broke their promise of raising dividends - the very reason why investors poured money into the stock in the first place - investors would have a more critical view of Kinder Morgan (NYSE:KMI) today. However, according to the comments that I've received, it's clear that many investors still believe in this company. Perhaps the sentiment is buoyed by the fact that Berkshire Hathaway (NYSE:BRK.A) (NYSE:BRK.B) (not Buffett's decision) also owns some shares. Whatever the reason, some investors have chosen to overlook the management's poor capital allocation decisions and other problems.
Negatives aside, on some level, bullish investors have a reason to be hopeful. While it's important to recognize Kinder Morgan's problems, it's also important to recognize its strengths. Kinder Morgan is the largest energy infrastructure company in the U.S. and boasts a large network of assets, so the potential for value creation is there. Here are two things that I like about Kinder Morgan and why I believe their benefits are outweighed by the negatives.
Essential To The Economy
Kinder Morgan's assets are literally the lifeblood of our economy. As much as we think renewables are going to take over, the fact is that fossil fuel will still be the major source of energy in the foreseeable future. Natural gas consumption, which contributes the most to Kinder Morgan's bottom line, is expected to increase by 0.5% annually through 2040. To move gas you need pipelines, and to use pipelines you have to pay Kinder Morgan. Because Kinder Morgan's assets are so intertwined with the economy, there is little fear of technological obsolescence in the near term. Unlike a hot tech stock, Kinder Morgan will continue to be relevant.
Stable Cash Flow
Even if Kinder Morgan has great assets, shareholders won't be completely safe if the associated contracts are speculative. Many pipeline companies suffered greatly when percentage of proceeds contracts blew up in their faces as commodities sank lower and lower. Thankfully, most of Kinder Morgan's cash flows are fee-based. For FY 2016, 91% of total cash flow will be fee-based. While Kinder Morgan will still be impacted by volume, if we consider the long-term outlook for energy consumption, there is no need to worry about existing assets' ability to generate cash flow.
Why Negatives Outweigh The Positives
Why aren't good assets and stable cash flows good enough? These are merely the tools that the management can use to create value, which is what really matters to shareholders. While the management has great assets to work with, I do not think that they are being used effectively; or at the very least, they aren't communicating their value properly.
There is very little transparency for large projects. I recently talked about the Elba Liquefaction Project, which will cost $2 billion. But we have no idea how much EBITDA it will generate, or whether Shell (NYSE:RDS.A) (NYSE:RDS.B) can withdraw its 20-year commitment early.
Then there's the question of how the management deploys the cash generated from the assets. If we take management's word that growth capex is optional (referred to as "discretionary capital expenditure), then the management can theoretically immediately hike the yield to 13% without sacrificing safety (distributable cash flow before interest was 3.8x the interest expense in Q1). While the management hasn't commented specifically on growth prospects (future CAGR), I highly doubt that new investments can compound at 13% annually. Below is an often cited graph in Kinder Morgan's presentations: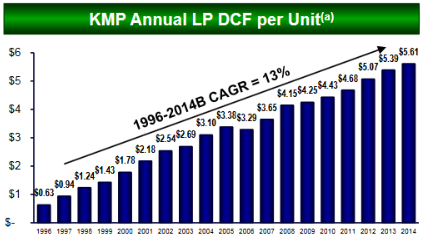 Source: kindermorgan.com
Note that while overall CAGR is 13%, growth has clearly tapered off in later years. From 2010 to 2014, distributable cash flow only grew by 6% per year.
Takeaway
I recognize that Kinder Morgan has great assets and can generate stable cash flow; but given the lack of transparency for large projects and the lack of return from growth initiatives, the stock cannot be valued based on a "best case scenario." Until I see a clear shift in management's capital allocation policy, I will remain skeptical of Kinder Morgan's "value."
Click the "Follow" button beside my name on the top of the page to be updated with my latest insights. To learn more about the V20 Portfolio (+40% in 2015), whose goal is to compound capital at 20% over the long term, I encourage you to read the introduction to my investment process. Premium subscribers get full access to the V20 Portfolio. Track the portfolio through the latest update, here.
Disclosure: I/we have no positions in any stocks mentioned, and no plans to initiate any positions within the next 72 hours.
I wrote this article myself, and it expresses my own opinions. I am not receiving compensation for it (other than from Seeking Alpha). I have no business relationship with any company whose stock is mentioned in this article.