For months the talking heads had been saying that the economy is resilient owing to the "strong" monthly jobs numbers. But Tuesday morning one of Bubblevision's usual suspects pivoted to the reverse. The May jobs barf-bag can be safely ignored, he advised, because a bunch of other stuff is "strong" including industrial production, autos and Tuesday's retail sales report for May.
Let's see. May retail sales were actually up just 2.5% over prior year, and that was down from the prior three month average, which was up by 2.8% from the comparable 2015 period. That looks more like deceleration than rebound, and most definitely not evidence that consumers are fixing to shop until the drop at any time soon.
Besides, with inflation in the 1.5%-2.0% zone--or even higher by our more accurate Flyover CPI--what's so strong about real spending growth of less than 1%?
Likewise, there is nothing which spells a steaming rebound in the industrial production data. The overall index is down nearly 4% from last summer's peak, while mining and oil production are down 12%. Even consumer goods production is flat, and still nearly 10% lower than its pre-crisis level.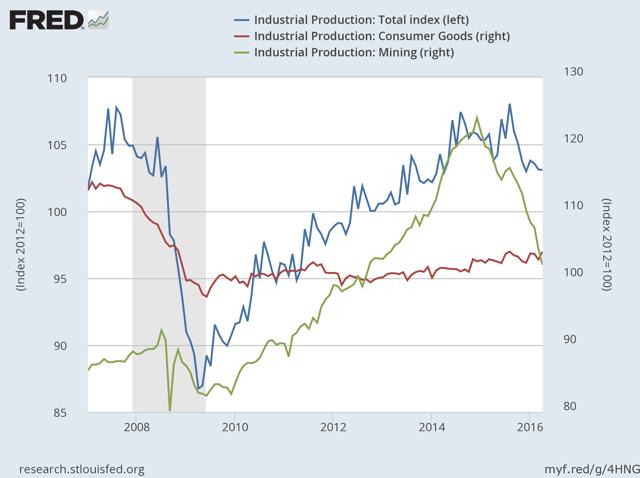 Click to enlarge
In the case of auto sales, where $350 billion of new auto debt outstanding since early 2010 has funded virtually the entirety of a $360 billion gain in retail sales, they have apparently run out of borrowers who can fog a rearview mirror.
For the last 18 months sales have been flat as a pancake. And they are likely to rollover as soon as the flood of 18 million off-lease cars hits the market during the next three years, and thereby sends used car prices and auto buyer borrowing capacities skidding sharply lower.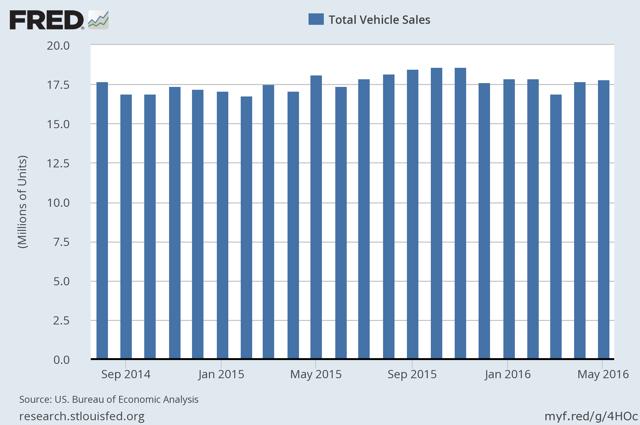 Click to enlarge
The point is that what passes for market commentary is just sell-side jabberwocky. It consists of random selections from the in-coming headlines designed to keep the punters in the casino.
But the casino has become an exceedingly hazardous place. That's because the central banks have completely destroyed honest price discovery. What is left is pure gambling funded by the ocean of artificial liquidity supplied by the Fed, the ECB, the BOJ and the rest of the money printers.
In much of the financial system the price action is no longer just frothy, frisky or even frenetic. It's absurd.
Another marker on that front was passed Monday in the German government bond market. Not only has 5-year debt been in the sub-zero zone for most of the last 18 months, but now the second most important debt security in the world - the 10-year bund - has plunged through the zero bound.
That means the yield has plunged more than 300 basis points during the last four years, and there is only one explanation. It has absolutely nothing to due with the German economy, fiscal policy, global growth, the euro FX rate--or even the trend rate of inflation.
The plunging yield path in the second chart below is the handiwork of the madman, Mario Draghi. This colossal fool unleashed the greatest front-running spree in history when he pledged to do "whatever it takes", and then ash-canned the last vestiges of the old Bundesbank's monetary sobriety, and did just that.
Indeed, the world's punters have energetically scarfed up the soaring debt of the German state because when funded on repo the gains on the tiny slivers of equity capital required have been in three and four digit annual rates. The bund has become so scare, in fact, that the ECB has been forced into the corporate debt market in order to satisfy its lunatic objective of $90 billion per month in QE purchases.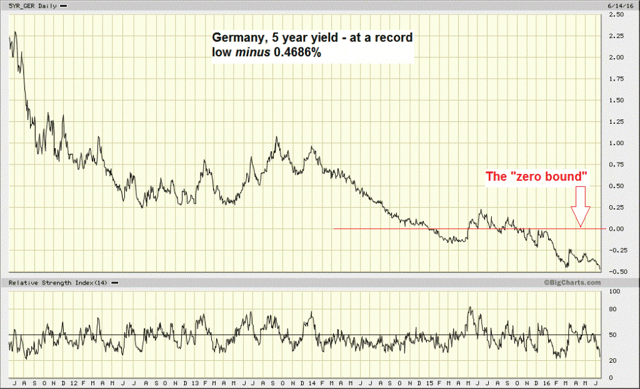 Click to enlarge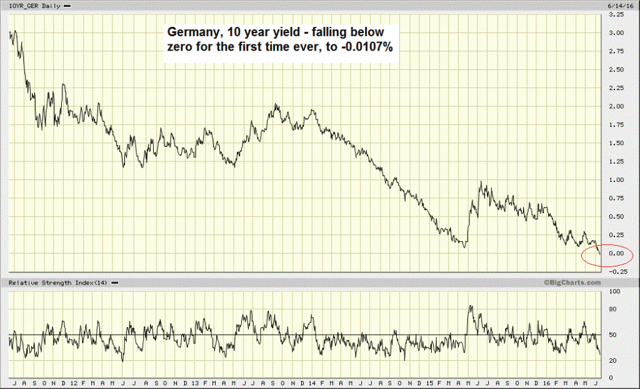 Click to enlarge
Unfortunately for the world's financial health and stability, the dim-witted Draghi and his posse have failed to recognize the giant skunk in their woodpile. To wit, the front-running gamblers, who have made tens of billions buying today that which the ECB has committed to buy tomorrow, have got to sell their positions in order to realize the paper gains.
Wolf Richter neatly explained why the mother of all bond bubbles inflated by the central banks must end in collapsing prices and soaring yields when the punters finally stampede for the exit. Indeed, having been levitated to the nosebleed section of history, trillions of over-valued bonds have nowhere to go except down.
The price of a Bund that matures in July 2040 with a 4.75% coupon rose to 202.6 cents on the euro on June 13, according to the Bundesbank, more than doubling the money for investors that had gotten into the game early enough. They're the real beneficiaries of Draghi's well-engineered scheme.

But to realize that profit, bondholders have to sell the Bund rather than hanging on to it to collect the coupon and take the risk of getting wiped out later by inflation and/or rising rates. The remaining 24 years is a long time for shit to happen. And if they hold it to maturity, so until July 2040, they will only get 100 cents on the euro. So selling the Bund at the right time is the name of the game.

But no problem. The ECB is buying, and other desperate investors are buying too, even if they get their pockets cleaned out down the road - if this scheme ever unwinds.
The bond market is only one precinct of the massive over-valuation generated by the central banks. After its deadcat bounce this spring, the Russell 2000 is trading at an EV/EBITDA ratio of nearly 19X. That's only slightly below its all-time high of 21X set at the start of the year.
Historically, the index has traded at a ratio of about 12X. This means that much of the 300% gain since the 2009 bottom has been due to multiple expansion and to the piling on of balance sheet debt in order to fund stock buybacks and takeovers.
That's right. The bond bubble has migrated into every nook and cranny of the market under the auspices of financial engineering and the incessant demands of the casino gamblers for what are alleged to be shareholder friendly actions from the C-suite.
They are no such thing. They amount to strip-mining corporate balance sheets in order to enrich fast money traders and stock-option holding top executives.
So the Russell 2000, which is comprised of mostly main street companies, is lodged in the nosebleed section, too. That's what inevitably happens when the price of debt and the cost of carry is deliberately, chronically and permanently falsified by unhinged central bankers.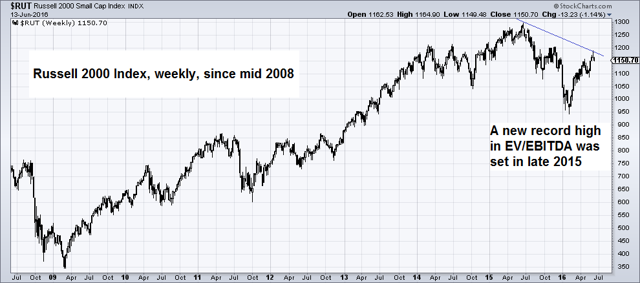 Click to enlarge
Self-evidently, the corollary of negative yield bunds and $10 trillion of sovereign debt currently relegated to the sub-zero zone is a relentless, reckless and insatiable stampede for yield among fixed income money managers. The Bloomberg chart published Tuesday morning, in fact, provides a stunning case of exactly that.
During the last five years, the amount of Canadian junk bonds outstanding more than doubled. Yet the evidence that this reflected a desperate, eyes-wide-shut scramble for yield without regard to risk is starkly evident in the issuers.
To wit, the overwhelming share of the $40 billion uptake since 2010 is attributable to Canadian energy and mining companies and Canada's latest entrant in the Ponzi derby called Valeant (NYSE:VRX).
Once upon a time, the financial engineering pioneers at Drexel made at least a plausible case for junk bonds issued by stable corporate cash cows. The theory was that it would otherwise be wasted by self-aggrandizing executives and boards.
But Valeant never, ever had any free cash flow. Likewise, tar sands producers and the other energy and mining borrowers were the very opposite of cash cows; they were voracious, capital-intensive consumers of cash whose EBITDA depended entirely on the violently cyclical price of crude oil and commodities.
That violence is now coming home to roost in the Canadian junk yard--a place where fixed income PMs never would have ventured save for the drastic falsification of bond prices by the world's central banks.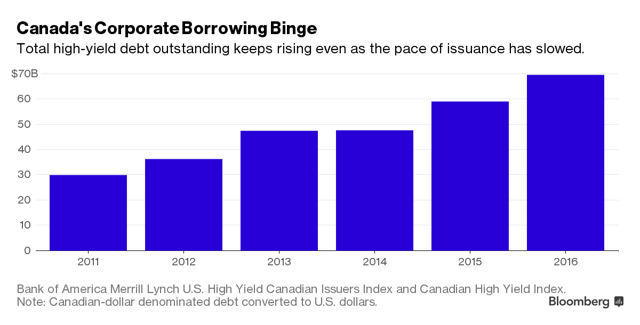 Click to enlarge
In this context, one of the enduring myths of Bubble Finance is that bond yields have plunged to the zero bound and below because of "lowflation" and slumping global growth. Supposedly, the market is "pricing-in" the specter of deflation.
No it isn't. Their insuperable arrogance to the contrary notwithstanding, the central banks have not abolished the law of supply and demand.
What they have done, instead, is jam their big fat thumbs on the market's pricing equation, thereby adding massive girth to the demand side of the ledger by sheer dint of running their printing pressers white hot.
Indeed, what got priced in to the great global bond bubble is $19 trillion worth of bond purchases since the mid-1990s that were funded with cash conjured from thin air.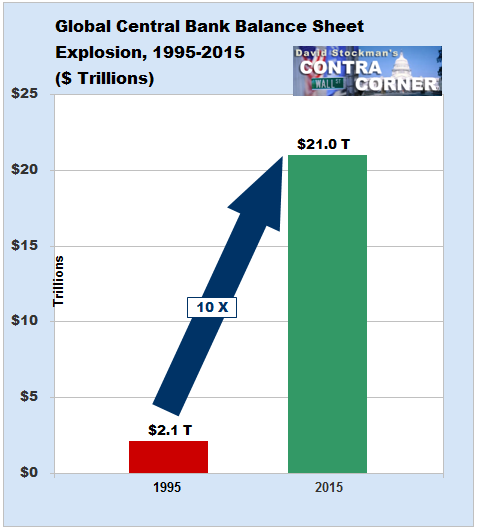 As we indicated, this ocean of central bank liquidity has flowed into every nook and cranny of the financial system, and most especially the stock market. With earnings down by 18% from the September 2014 LTM peak, the S&P 500 too is in the nosebleed section of valuation, trading at 24X PE multiple.
But what lies underneath the broad averages is where the real lunacy is to be found, and we had a signature case Monday.
To wit, Microsoft's (NASDAQ:MSFT) $26 billion cash purchase of LinkedIn (LKND) is surely evidence that the casino has become totally unhinged. While that takeover price amounted to 100X is meager LTM free cash flow of $263 million, that's not the half of it.
During the 29 quarters it has filed financial with the SEC it has consumed $2.85 billion of cash in CapEx and serial M&A deals. But during the same period it has only generated $2.53 billion of operating cash flow, meaning that it is still another social media cash burning machine.
Except it is not even that. It's actually a digital jobs bulletin board that double dips from both sides of the market, and ranks applicants by how much they pay to be listed. Even its profitless revenue growth is slowing down, and that's before this current 84 month long so-called business expansion rolls-over into the next, inexorable recession.
You might wonder what they were thinking in Redmond, but not to bother.
Can you say Nokia (NYSE:NOK)? That was a $10 billion write-off of an $8 billion purchase, but at least it had a tangible product, even if it was obsolescing.
Stated differently, MSFT is itself a faltering dinosaur which is drastically over-valued at 38X its LTM reported earnings. Now it proposes to hock one-quarter of its $100 billion cash hoard on what amounts to top of the bubble bottled air. Surely such folly is indicative of how thoroughly the casino has been corrupted and deranged by the central bankers.
In the passages below, short-seller Dave Kranzler has captured the folly of this deal about as cogently as is possible:
MSFT's valuation is in and of itself insane given its debt-addled balance sheet and deteriorating business model. Microsoft Windows 8 was a total abortion and Windows 10 is not much better. Anyone with two brain cells to rub together uses the bare bones Windows 7 and the freeware Linux-based Microsoft surrogate software, which can be downloaded for free (or a gratis donation) and is superior to MSFT's crap (see OpenOffice.org, for instance).

Now Microsoft has decided to layer nuclear waste on top of its own toxicity by acquiring Linked-In for over $26 billion. This is a tragic, if not catastrophic, use of shareholder cash……

Microsoft's acquisition of LNKD is about as idiotic as it would be to try and convince someone that the sun rises in the west and sets in east. If anything, this deal is emblematic of an American systemic Ponzi scheme that has gone "off the rails."

Linked-In is nothing more than a glorified jobs networking bulletin board. Sure, as the system continues to unravel and more "business services" people lose their jobs, there might be a big jump in "clicks and eyeballs" on Linked-In. But this will be out of desperation trying to find anyone on the Linked-In board who might offer a ray of hope for employment. But no one will spend their unemployment check on LNKD's idiotic premium services. That will be money much better spent on whiskey and weed, which is exactly what MSFT's upper management and board of directors must be ingesting to have come up with this idea. MSFT is my lowest risk short-sell idea of the year….
Oh, yes, Jim Cramer has been pounding the table hard in favor of the deal. The Bear Stearns moment must be close at hand.
Editor's Note: This article covers one or more stocks trading at less than $1 per share and/or with less than a $100 million market cap. Please be aware of the risks associated with these stocks.