I wrote an article a few weeks back which discussed the merits of investing in Valeant (NYSE:VRX) stock from a risk/reward basis. Well recent first quarter earnings were not pretty. The reported loss of $373.7 million against a profit of $97.7 million in the quarter of 12 months prior, plus reduced guidance, tanked the stock by almost $5 a share. The company's dermatology business continues to struggle (down 43%) as the recent Walgreens Boots (NASDAQ:WBA) partnership still hasn't gained traction due to lower sales prices meaningfully affecting growth. The company lowered guidance from around an EPS of $9 to $6.80, a huge cut, and the market responded in kind.
However to blindly state that the company is heading towards bankruptcy would be a mistake in my opinion. The company has strong competitive advantages which we still got a taste of last quarter despite the reported loss. Sales for the company's most popular product "Xifaxan" for example rose last quarter despite the Salix Pharmaceuticals integration taking place at a snail's pace. This brand has the potential to sell in spades (as it seems to be the only go-to product in this space) but Valeant needs to get its act together with the promotion of the product. More reps, promotional material and a new educational program are all expected to increase sales in the latter part of this year. Investors will be watching with keen interest.
One thing is for sure. If the company (with a renewed sales force) can't spike revenues shortly in its valuable gastrointestinal and ophthalmology divisions, investors should get worried. Why? Because this is where Valeant can really make inroads. These two divisions make up almost half of the company's top line and in its gastrointestinal division for example, its main competitor is Allergan (NYSE:AGN) which is another company in this space with a big risk reward setup. The company has strengths, no doubt, but can it capitalise on them?
The biotech sector topped out last July but just look how Valeant outperformed the sector's ETF (NASDAQ:IBB) since March 2009 up to the top we reached last summer. This is why this company receives so much coverage. Investors know that if it can get its act together, it would result in a sharp bounce back in the stock - no doubt.

Click to enlarge
Value investors will automatically stay clear of this stock due to its negative earnings history and its debt load (debt to equity ratio spiked to 5.54 in its most recent quarter) but its price to book ratio (1.4) is lower to what it was in 2009. Furthermore I have stated in recent articles that the biotech sector looks really oversold and is set up to deliver a multi-year rally in my opinion. Why? There is just too much M&A activity for biotech to enter a bear market in my opinion. Therefore for investors who missed the bottom we printed in the biotech sector in February, I believe a second chance is swiftly approaching to go long this sector.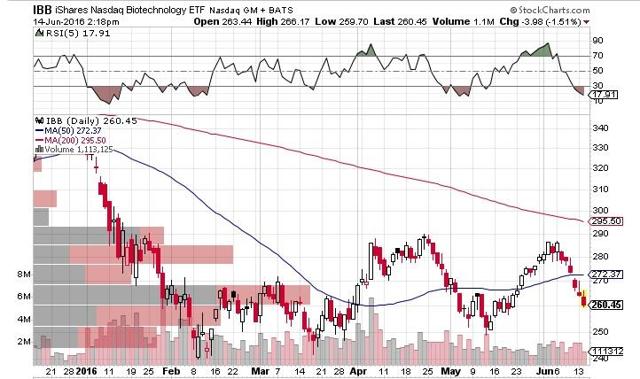 Click to enlarge
As we can see from the chart above, the sector is in the process of forming a solid round based bottom, the 5 day RSI indicator is getting oversold and the Brexit vote in my opinion will probably be the catalyst for this market to turn around. When the bottom is in (which we will confirm through the index printing a daily cycle low), the question then remains to go long a stock like Valeant or go long an index. Do we take on company type risk or go with a safer index? We will see how things pan out in the weeks to come. One thing is for sure, if biotech rallies, so will Valeant. The question will be how much...
To sum up, I'm going to be adding a few good dividend and growth stocks to the elevation portfolio over the next several weeks when I see value. It's imperative that they are not correlated and all don't have similar valuations to ensure that income is brought in every month, which, over time, will increase our share count. Follow along by pressing the "Follow" button above.
Disclosure: I/we have no positions in any stocks mentioned, and no plans to initiate any positions within the next 72 hours.
I wrote this article myself, and it expresses my own opinions. I am not receiving compensation for it (other than from Seeking Alpha). I have no business relationship with any company whose stock is mentioned in this article.