Whole Foods Market (NASDAQ:WFM) is a certified organic grocery store. Founded in 1980 in Austin Texas, WFM has grown to be a world leader in natural and organic foods. They now employ over 86,000 people across 450 stores, with the bulk in the US, 11 in Canada and 9 in the UK (source).
On paper, the promise of a high quality organic grocer sounds appealing. I think this trend is only likely to keep growing. But unfortunately, the economics of the grocery business aren't great. And to make matters worse, WFM stock has underperformed, trading at prices previously seen in 2012.
Is there any end in sight? Or is WFM a value trap destined to languish? Here's a chart going back to 2011 so you can see the recent action for yourself: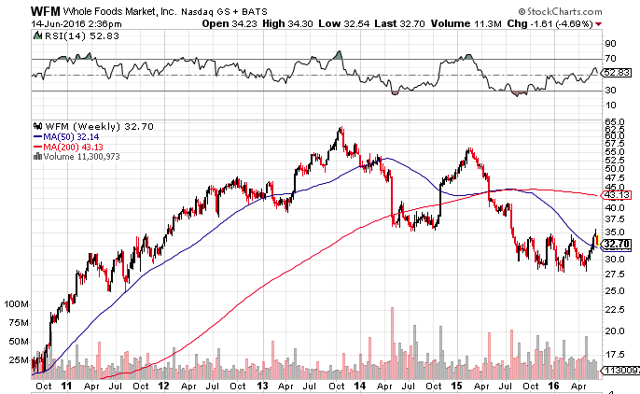 Whenever I see well-known brands with a stock price trading near 52 week lows, I almost always take interest. I get curious when you visit a company and have a nice experience, but see the stock failing to perform. That's why I wanted to take a deeper look at the financials of WFM.
Whole Foods Fundamentals: 10 Years in Review
I always like to look at trends in the financial statements of companies. And I often like to start with revenue to get an unfiltered view of customer demand. So one of the reasons I first found WFM stock to be appealing was the impressive trend in revenue-growth (source).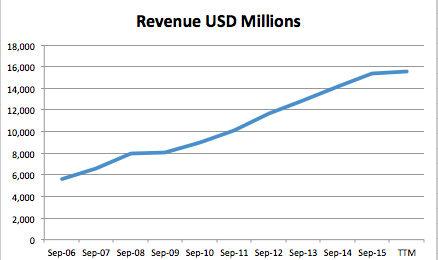 As you can obviously see, the top line looks strong. In fact, the most recent quarter was the best ever, with $3.7B in sales (source). Additionally, I imagine WFM may have some pricing power due to the high quality nature of their product offering. They cater to a premium audience that is relatively price insensitive.
But given all this growth, why aren't shareholders seeing any rewards? Naturally, the next place to look is the bottom line. Here's a graph of EPS over the last 10 years and trailing twelve months: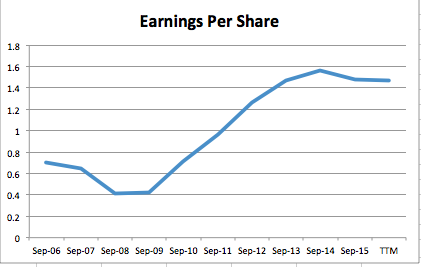 Unfortunately, it looks like EPS hasn't grown the same way that sales have. There could be a variety of contributing factors, but at the end of the day, it probably manifests in the form of margin compression. I want to look into that in a second. But first I want to see how shareholder equity has been impacted.
And regrettably for bulls, the damage doesn't stop at net income. Take a look at book value per share. It had been trending nicely, but took a hit with the recent debt offering and is now almost back to 2012 levels.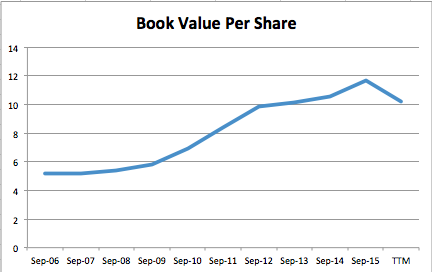 Personally, I'm always a little discouraged when companies aren't consistently growing book value. As an equity owner, you want to see your stake being increased. While the dividend helps, in this case and in my opinion, it's not enough.
And just to confirm the prior point, let's take a look at margins for WFM. Margins seem to have peaked around 2013. Since then, they've been experiencing some pressure. Here's the graph: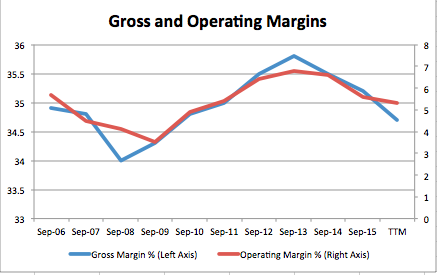 Now although this picture looks a little dire, GAAP accounting might be making it appear worse than reality. As depicted below, on an operating cash flow basis, results at WFM look a little better than they did through an earnings lens. I'll also be curious to see how the trailing-twelve month figure looks on an annualized basis.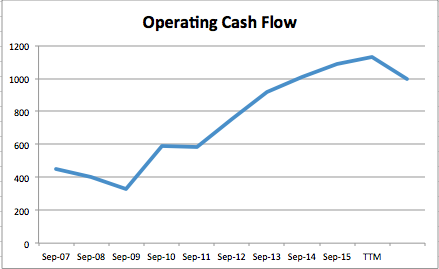 Another bright spot for the WFM bull case is that the stock looks cheap relative to historical valuations. This could be an opportunity to buy a high quality brand on sale.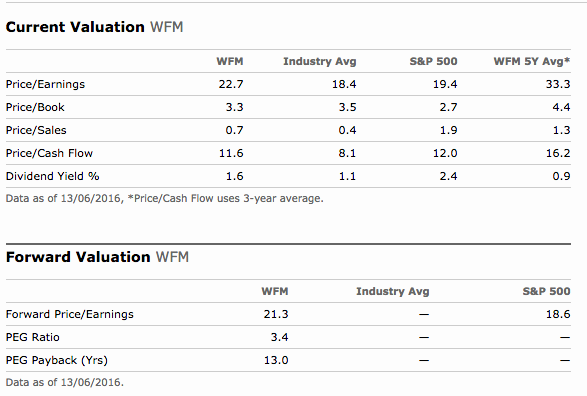 Overall, I'm getting a bit of a mixed picture for WFM. While there does seem to be demand for their products, the company still needs to execute on that growth effectively. And there are some signs the top line could come under pressure.
Management recently guided down future sales expectations to represent -2% same store sales growth (source). If this comes to fruition I'd expect more pain for shareholders before a reprieve. Can growth be driven by new store openings alone?
Conclusion: Leaving WFM on the Shelf, For Now
While I think WFM is an interesting business with a great brand, I'm not going to invest just yet. With same store sales growth slowing and margins contracting, I'm skeptical of how earnings and cash flow can be grown.
Although WFM shares aren't expensive, they aren't cheap either given the threats to profitable growth. So I'll continue to monitor WFM on a regular basis to see how the trends in financial statements evolve. But that's just my opinion. Do you think WFM is the right investment for you?
Disclosure: I/we have no positions in any stocks mentioned, and no plans to initiate any positions within the next 72 hours.
I wrote this article myself, and it expresses my own opinions. I am not receiving compensation for it (other than from Seeking Alpha). I have no business relationship with any company whose stock is mentioned in this article.