FireEye (NASDAQ:FEYE) has been mentioned in M&A rumors the last couple of days in the wake of Symantec's (NASDAQ:SYMC) acquisition of pre-IPO cybersecurity firm Blue Coat for $4.65 billion. This is not the first time FireEye has been brought up as a possible takeover target, but those who think it a probable outcome would seem to have more evidence on their side than in the past. In this article I will attempt to break down how Symantec's acquisition of Blue Coat relates to FireEye, and why FireEye is a ripe target for acquisition at its current stock price.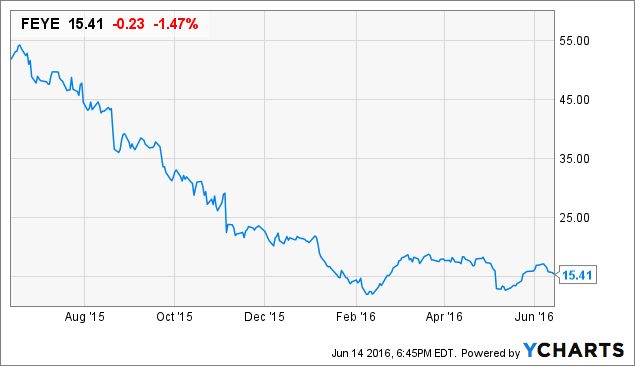 So let's tackle that first topic: how does the acquisition of Blue Coat affect FireEye? On a general level, when the market sees any sort of consolidation in an industry, the result is usually a "rising tide lifts all boats" kind of thing. In our specific scenario, investors saw the takeover of Blue Coat and speculated that maybe FireEye was next, which boosted demand for the stock. That speculation tapered off rather quickly and FEYE hasn't moved significantly since Symantec announced the acquisition, but the deal does bring to light some facts about how the cybersecurity industry is viewed and how that applies to individual companies.
For example, Blue Coat was acquired for $4.65 billion and had sales of $755 million in the 12 month period ending in April 2016. The company was taken private in 2011 and the only revenue figure made public over the last few years, aside from the last 12 months ended April 2016, was full-year revenue of $496 million in 2010. From these figures, we get that Symantec is paying 6.2 times trailing sales for Blue Coat, which is pretty hefty premium. In addition, using the revenue figures from the 12 months ended April 2016 and the full-year 2010 revenue figures, we can get a rough top line growth rate of 52% total over about 5 years or a compound annual growth rate ("CAGR") of 8.7%.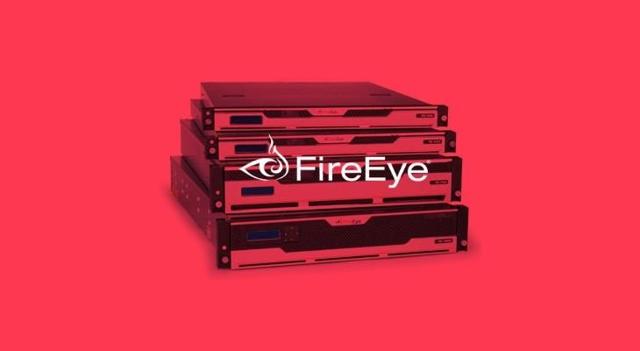 Click to enlarge
Comparing these numbers to where FireEye is currently can yield some observations about its valuation. If we assume Blue Coat grows its revenue by 8.7% over the next 12 months, which is in line with the company's overall trend over the past 5 years, that would lead to forward sales of $820 million and a forward price-to-sales ratio of 5.6. If we generate these metrics for FireEye we get a CAGR for the top line of around 40% since 2014 and a forward price-to-sales ratio of around 3.2, which I got using the company's current market cap of $2.57 billion and dividing by management's full-year 2016 revenue guidance of $795 million.
Using my estimates, we see that FireEye will likely record lower revenue than Blue Coat over the coming 12 month period, but with a much higher CAGR demonstrated to this point, it appears FireEye will surpass Blue Coat in the revenue department soon. Couple that with Blue Coat selling at an 80% premium to FEYE's current valuation and the latter's upside becomes apparent. And, as I have made the case before, FEYE's valuation pales in comparison to industry-leader Palo Alto Networks (NYSE:PANW), which I currently estimate will record $1.2 billion in full-year 2016 revenue and therefore a 2016 price-to-sales ratio of 11. Remember, FEYE's 2016 price-to-sales ratio is about 3.2.
From the Blue Coat and Palo Alto comparisons it is evident that something is holding back FEYE's valuation from catching up to the cybersecurity industry standard. The growth is there, but the stock has not followed suit since cratering in 2015. The question is why. I will return to this a bit later in the article. First, let's discuss the probability of another entity acquiring FireEye.
Some names that have been floated as potential suitors for FireEye have been IBM (NYSE:IBM) and Cisco Systems (NASDAQ:CSCO). Before rendering my opinion, let's look at the reasons why FireEye would make a good takeover target.
First off, FireEye has shown that it can consistently grow its revenue and customer base from quarter-to-quarter and year-to-year to which financial statements can attest. For smaller companies, demonstrating the ability to grow is a prerequisite for demanding a premium upon the arrival of an acquisition deal.
Secondly, the company expects to become cash flow positive in 2016, which means any entity that was looking to acquire FireEye would not have to worry about buying a cash drain. Becoming a cash flow-positive company is a recent development for FireEye and represents an important milestone in its climb towards profitability and viability.
Thirdly, the company is well undervalued relative to its peers in the cybersecurity industry, as I have evidenced in the article to this point. Any company looking for a promising cybersecurity pickup would likely get a steal purchasing FireEye.
However, despite these three points, which solidify the case for FireEye's status as a takeover target, the company likely won't find a suitor or put itself up for sale this year or next year. Back in 2015 when rumors were swirling that Cisco would acquire FireEye, sources familiar with FireEye management reportedly stated that the company would not look to sell itself until it reached at least $1 billion in revenue. That won't happen in 2016 and likely not in 2017 either. That being said, a year is a long time and objectives can change. Plus, management has been significantly overhauled since 2015 so again, $1 billion in annual revenue before an acquisition is not set in stone.
Ultimately, I think waiting until $1 billion in annual revenue to consider a sale is in the best interest of shareholders because it allows management to get a more clear view of the company's future and how different strategies will benefit investors in the company. Whether current management agrees is another story, but I think an acquisition will likely be plan B behind growing the company organically and returning value to shareholders that way.
In my opinion, from all the information I analyzed for this article, an acquisition for FireEye is unlikely to materialize in the next couple of years unless management is offered a deal too sweet to turn down. As a shareholder, I would be disappointed if FireEye decides to sell itself for anything less than $5 billion, but fortunately for long-term investors in FEYE I don't think an acquisition will happen for years to come. I also believe FEYE to be undervalued right now relative to its peers by a substantial margin, with little downside risk in the equation. At current price levels, the stock looks like a long-term play with multi-bagger potential.
If you want to stay up to date on my articles, you can Follow me by going to my author page or by clicking "Follow" at the top of this page.
Thanks for reading!
Disclosure: I am/we are long FEYE.
I wrote this article myself, and it expresses my own opinions. I am not receiving compensation for it (other than from Seeking Alpha). I have no business relationship with any company whose stock is mentioned in this article.