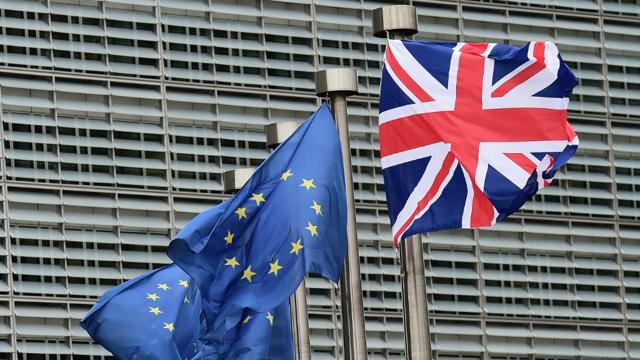 Click to enlarge
As we mentioned a few days ago, the referendum on Britain's European Union membership is rapidly approaching. Over the weekend the "leave" camp took a resounding 19-point lead according to a poll by The Opinium Poll. This has been backed up today with news that another poll, this time by YouGov and British newspaper The Times, still places the "leave" camp ahead by seven points. The closer the June 23 vote gets, the more inevitable it is looking that Britain will vote to exit the European Union. When we spoke last we of course pinpointed the British pound (NYSEARCA:FXB) as being likely to suffer a huge drop as a result of a Brexit, but it turns out that it might not be the only currency to suffer in the event of an exit.
The Australian dollar could drop by at least 2.5 percent.
According to Australia's biggest bank, the Commonwealth Bank of Australia (CBAUF), a Brexit is likely to cause the Australian dollar to drop by at least 2.5 percent against the U.S. dollar (NYSEARCA:UUP). The bank's chief currency strategist and head of international economics, Richard Grace, has warned that: "markets are not appropriately pricing in the downside risk to AUD/USD, given we anticipate global equity and commodity markets declines will lead to a reassessment of the global economic growth outlook, and the fact the referendum results will be released in the less-liquid Asian time zone."
We agree with Grace on this view. We cannot help but feel that most economists still believe that Britain will vote to remain in the European Union. This could lead to many being caught out should an exit vote occur. We felt for a long time that the remain vote would win, but recent events have convinced us we were wrong and that the Brexit is very much on. The influential Rupert Murdoch-owned newspaper, The Sun, which is the second-most widely read newspaper in the United Kingdom, yesterday declared its support for the Brexit. Its front page urged its readers to "BeLeave in Britain. We must set ourselves free from dictatorial Brussels [..] It is our last chance. Because, be in no doubt, our future looks far bleaker if we stay in." It joins Britain's most read newspaper the Daily Mail in supporting the Brexit.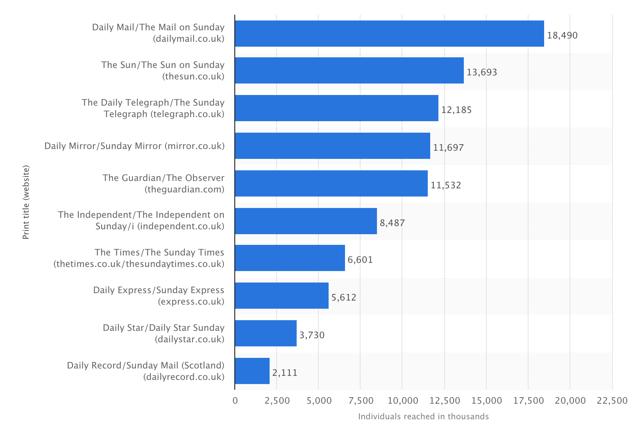 Click to enlarge
Sourced from Statista
This statement from The Sun has been the one that everybody has been watching out for. As Politico states:
"Politicians have long coveted the endorsement of Rupert Murdoch's tabloid because it reaches so many people who don't normally pay much attention to politics. Its influence has slipped in recent years but it's still the biggest-selling newspaper in the country, with a circulation of 1.7 million. A strong declaration for a vote to leave could give the Brexiteers a boost in the final stretch of the campaign."
This is exactly what they have got, and whilst we would not go so far as to say it is a certainty, it really is beginning to look like the "remain" camp are fighting a lost battle now.
So why will the Australian dollar drop?
Getting back to the Australian dollar again. It has a long history of being sold off during negative global economic events. It suffered steep declines during the Lehman collapse, the Greek debt crisis, and when Standard & Poor's said U.S. Treasury debt no longer deserved to be considered among the safest investments in the world. In our opinion the Brexit would definitely fall into this category and a drop below 72 U.S. cents could be on the cards.
Which is exactly what we want to hear. As well as shorting the British pound, we are also shorting the Australian dollar. Even without a Brexit we see the Australian dollar being driven down to 65 U.S. cents thanks to interest rate rises in the United States and cuts in Australia.
The Federal Reserve will make its interest rate decision today, but we don't believe there is much chance of a rise. However, a dovish sounding Federal Reserve could give the market reason to believe a hike will come in July. This would almost certainly cause the U.S. dollar to strengthen and the Australian dollar to weaken.
In addition to this, the chance of a rate cut at the Reserve Bank of Australia's next meeting just increased. As the table below shows, there is currently a 24 percent chance of a rate cut at its meeting on July 7.

Click to enlarge
Sourced from ASX.com.au
Here's what we are doing.
We continue to short the Australian dollar down to 65 U.S. cents through the CurrencyShares Australian Dollar Trust ETF (NYSEARCA:FXA), providing an expected return of 11.7 percent from today's price. As we have said many times before, there is a reasonable chance that the Australian dollar could strengthen before it weakens. A hawkish Federal Reserve at its meeting today could create some buying pressure pushing it back up toward 75 U.S. cents, but ultimately we believe there is a lot of long-term downside to come for the currency.
Best of luck with your trades!
Disclosure: I/we have no positions in any stocks mentioned, and no plans to initiate any positions within the next 72 hours.
I wrote this article myself, and it expresses my own opinions. I am not receiving compensation for it (other than from Seeking Alpha). I have no business relationship with any company whose stock is mentioned in this article.
Additional disclosure: Short FXA, FXB, Long UUP