Cloud computing has been evolving since the 1990s when the internet was first commercialized. Since then individuals and businesses have become increasingly reliant upon it for everyday personal and work activities. It's a capability that allows stored data to be accessed virtually anywhere through the internet. As a result of its convenience and lower cost, more and more companies in today's business environment are evolving their technological infrastructures from servers to the cloud.
This shifting landscape has been enabled by technology providers with vast capabilities for providing cloud solutions through the internet. Among the leaders in the industry are Microsoft (NASDAQ:MSFT) and IBM (NYSE:IBM), both of which are taking advantage of cloud opportunities in many new and different ways.
Microsoft and the Cloud
On Monday, June 13, Microsoft announced its acquisition of LinkedIn. With the acquisition, Microsoft will provide one of the most innovative technology integrations for cloud computing in the industry. Already a huge portion of the firm's business, the acquisition of LinkedIn is expected to significantly expand its cloud market share and revenue along with its cloud capabilities.
In the first quarter of 2016, Microsoft changed its reporting structure to reflect the dominance of the firm's cloud focus and a cloud focus within the industry overall. This change resulted in the following reporting segments with cloud revenue from productivity and business processes and intelligent cloud accounting for 62% of sales in the third quarter of 2016:

Click to enlarge
Microsoft's new acquisition of LinkedIn will be integrated within the firm's Office 365 and Dynamics offerings, both of which are included in the firm's productivity and business processes business segment which accounted for 32% of revenue in the third quarter of 2016.
With the acquisition of LinkedIn, Microsoft will use the social networking platform to integrate content feeds and user connectivity within its Office 365 and Dynamics products. The integration will increase sharing of all types of content within Office 365 which the firm expects will add new users and greater activity for both Office 365 and Dynamics. Microsoft will pay $26.2 billion for LinkedIn and it is unclear what the conversion rate of shares will be for LinkedIn shareholders. The deal is expected to close by December 2016.
IBM and the Cloud
While the acquisition of LinkedIn features a major social network, growth overall in cloud applications has been increasing across the industry through various other products as well. In cloud networks and capabilities, IBM still continues to be a market leader.
In the first quarter of 2016 it reported the majority of its revenue generated from cloud services.

Click to enlarge
On Tuesday, June 14, IBM also released a report on the expansion of its growing cloud applications through an enhanced partnership with VMware, which has been its leading strategic partner for desktop applications. Through IBM's cloud services, customers will now have greater connectivity to applications through VMware Horizon Air.
VMware Horizon Air is a desktop cloud solution delivering desktop and published applications to its users. VMware provides endless application development capabilities for its users all conveniently accessed through their desktop from any internet connected device. Most of the cloud-hosted desktops and applications will be available through a monthly subscription.
In desktop cloud services, IBM and VMware are industry leaders. IBM's strategic partnership with VMware has allowed it to broadly explore desktop services in the cloud. VMware is a leader in this segment, specializing in a new type of service, Desktop as a Service (DaaS). In 2014, VMware released a white paper on the advantages of DaaS and in recent months it has been actively deploying new desktop workspace delivery solutions that have been steadily growing the capabilities for integrated communications in the cloud.
The Cloud Market
Overall, in the cloud, investors can expect to see more integrated applications working through their desktops on all types of operating systems as companies spend more on cloud services. Microsoft's LinkedIn application and IBM's VMware Air Horizon will be the leading features driving growth in the desktop cloud segment. In the broader market, expectations for public cloud spending are expected to grow from $56.6 billion in 2014 to $127.5 billion in 2018.
Cloud Computing Investments
As cloud growth rates continue to increase significantly, investors have a number of investment opportunities available in the current market. The creation of the ISE Cloud Computing Index by the International Securities Exchange presents one investment opportunity for which the First Trust ISE Cloud Computing Index Fund (NASDAQ:SKYY) tracks. This fund includes over 30 holdings in the cloud computing sector with leading cloud computing companies Microsoft holding a 2.2% weighting in the portfolio and IBM holding a 2.7% weight. Year-to-date the Fund has a return of 2.23%. A list of the Fund's holdings as reported by First Trust are included below: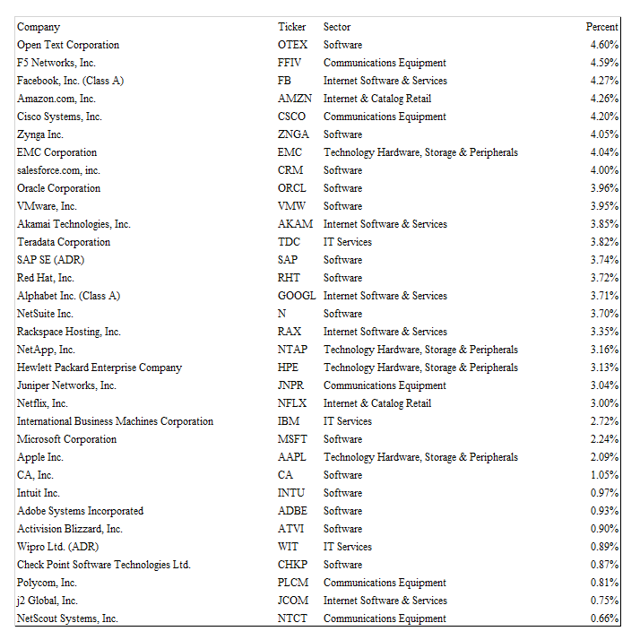 Click to enlarge
Disclosure: I/we have no positions in any stocks mentioned, and no plans to initiate any positions within the next 72 hours.
I wrote this article myself, and it expresses my own opinions. I am not receiving compensation for it (other than from Seeking Alpha). I have no business relationship with any company whose stock is mentioned in this article.