Amazon.com, Inc. (NASDAQ: AMZN) has shown rapid growth in the North American market in the past. In this market it has shown sales of over $63 billion with a growth of 25% year-over-year in fiscal 2015. More importantly, the penetration of its prime membership has increased at a rapid pace which stood at 54 million at the end of Q4 2015, showing a growth of 35% in 2015. The membership currently stands at over 50% for all households, varying from over 40% penetration in households with income from $21,000-$41,000 to 70% for households with income over $112,000.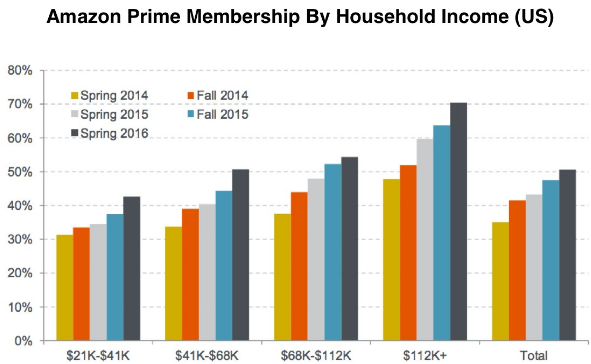 Fig: Percentage penetration of prime membership according to household income in US. Source: Piper Jaffray
A higher prime membership usage puts greater pressure on traditional retailers as more customers find it cheaper to use Amazon's platform instead of going to the stores.
However, there are still retail segments which will not only survive but grow in this new retail environment. Investors can focus on these segments to achieve above market returns and to reduce the risk associated with the retail sector.
These retail segments are:
1. Off-Price retailers: Companies like TJX (NYSE:TJX) and Ross Stores (NASDAQ:ROST) offer heavy discounts on national brands. They have a "treasure hunt" theme where customers look for the best offers. Both TJX and ROST have shown good comp sales figure in the recent past and have a global world-class purchasing organization which should allow them to offer better value to customers than Amazon.
Amazon is one of the main reasons traditional apparel retailers like Macy's (NYSE:M) and Kohl's (NYSE:KSS) showed poor quarterly results in the recent quarter. But a good deal of their business also shifted to off-price retailers like TJX showing the strength of their business model in the current economic environment.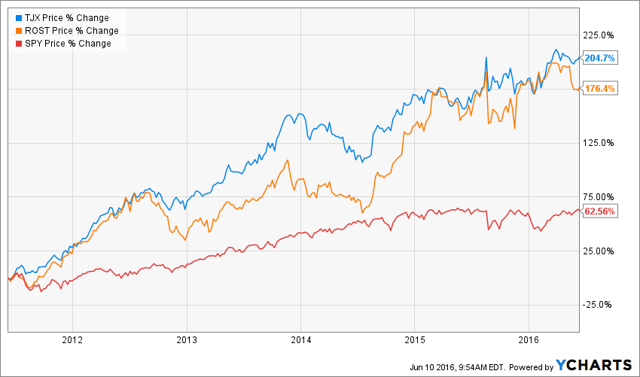 Click to enlarge
Between TJX and Ross stores, TJX has overseas stores whereas Ross operates domestically only. Hence, short term Ross stores might be a beneficiary of a stronger US economy compared to TJX which can face currency headwinds. Also Ross has a greater opportunity to reduce inventories and increase margins.
2. Warehouse stores: This concept has shown strong growth in the past few years. Costco Wholesale Corporation (NASDAQ:COST) is the biggest warehouse retailer and has shown above average comp growth. More importantly, it has seen its membership grow at a good pace providing an additional revenue stream of over $2 billion in the latest fiscal.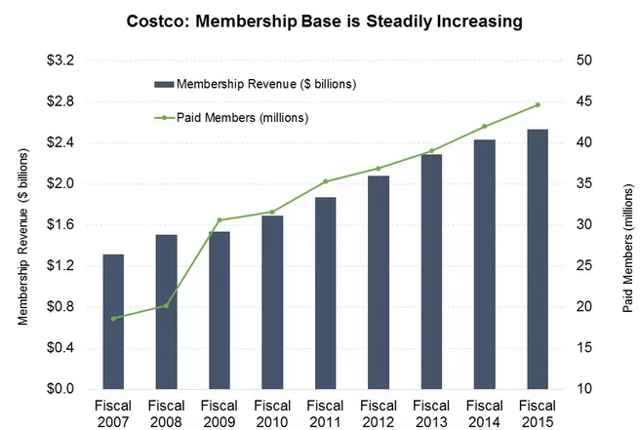 Click to enlarge
Fig: membership revenue and number growth in the last few years.
This has allowed the stock to give better returns. Due to bulk purchases and limited variety, it is able to provide customers a much better value than it would be possible for Amazon.
Costco has only about 4,000 to 5,000 Stock Keeping Units (SKUs) in an average store which help in increasing the efficiency of the business model and also leads to much higher sales per employee. On the other hand, Amazon sells millions of products which require good coordination between different fulfillment centers and also increases the shipping costs for the company.
Costco also boasts of high customer membership renewal rate which is 91% in America. Unless there are some meteoric changes in the way shipping is handled by Amazon (Think seamless robots/drone delivery, etc.), Amazon will never take away the bulk purchases from Costco which should allow Costco to be a significant retail player into the next decade.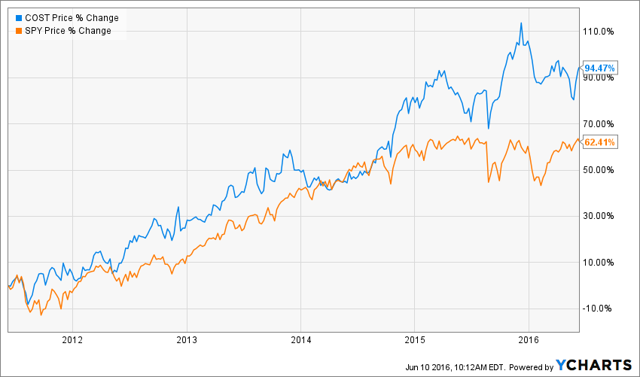 Click to enlarge
3. Dollar Stores: Dollar stores like Dollar General (NYSE:DG) and Dollar Tree (NASDAQ:DLTR) have shown the strength of their business model by giving consecutive comp sales growth for the past several quarters. Their main advantage over Amazon is the proximity to customers and the lower average transaction size in the store.
The stores are much smaller than the average big box retailer which allows placing them near to customers. It also helps in rapid expansion as the smaller retail space is readily available. For example, DG which has 12,500 stores is planning on opening 900 stores in fiscal 2016 and another 1,000 stores in fiscal 2017.
The comp sales growth, square footage growth and margin expansion should help deliver EPS growth in teens for the next few years. As these stores get a better footprint across the urban centers they will be in a much better position to meet the challenges of Amazon and give better returns to long-term investors than their bigger counterparts like WMT and TGT.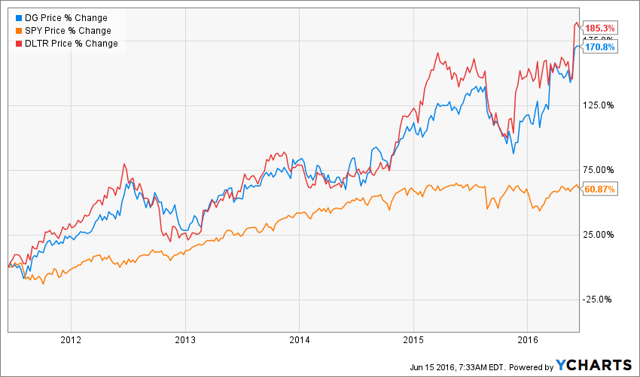 Click to enlarge
4. Beauty and Jewelry retailers: Due to the very nature of these products, customers prefer a more personal service which cannot be duplicated by an online platform. Beauty retailers like Sally Beauty Holdings (NYSE:SBH) and Ulta Salon, Cosmetics & Fragrance (NASDAQ:ULTA) should perform at a better rate as the disposable income increases in the hands of the customers.
The products sold by these retailers are not dependent on highly efficient supply chain but require a specific knowledge about products, and the ability to suggest ideal products according to customer needs. Again Amazon will not be able to provide personal selling services which companies like ULTA are famous for.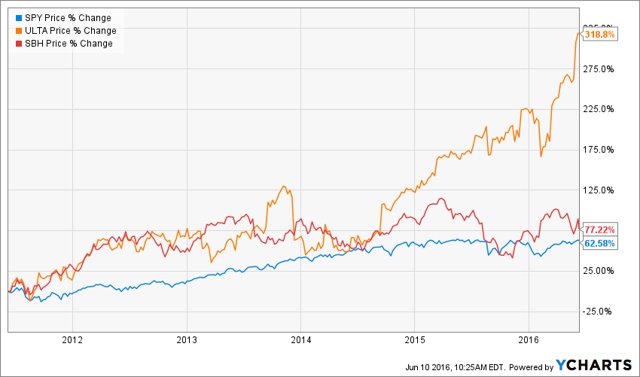 Click to enlarge
5. Luxury brands: Retailers selling luxury products should also be insulated by any market share loss to Amazon. Few customers making a purchase of hundreds or thousands of dollars would shift to Amazon from retailers like Kate Spade (NYSE:KATE) and Michael Kors (NYSE:KORS). These retailers provide the requisite environment which cannot be simulated on online platform. Although Amazon is taking its initial steps into luxury fashion it still has a lot of catching up to do.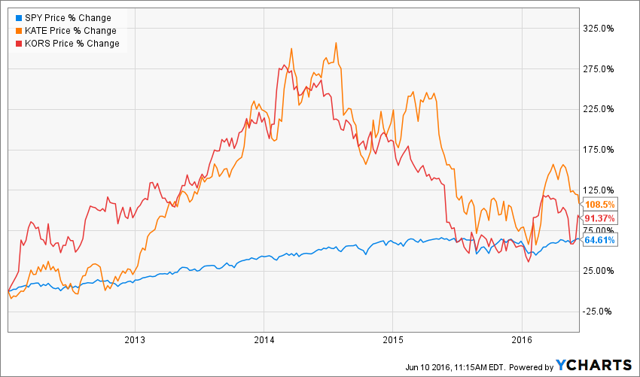 Click to enlarge
6. Specialty products: Companies operating specialty retail business also have a wide moat against Amazon as the brand and sales are focused on special products instead of Amazon which sells a wide variety of products. An ideal stock in this category is L Brands (NYSE:LB) which focuses on women's intimate, personal care and beauty products.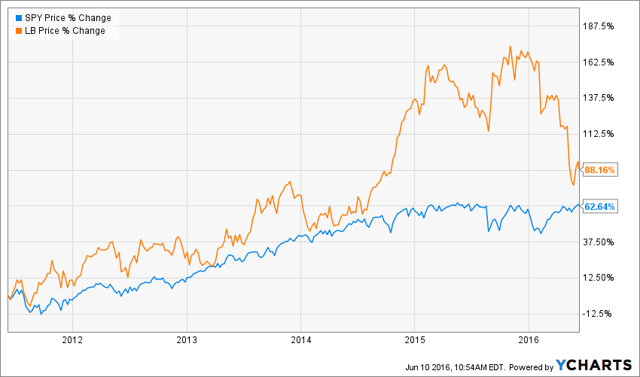 Click to enlarge
At the same time, department stores like Wal-Mart and Target are facing the biggest threat from Amazon and would need heavy investments in technology and infrastructure which should negatively affect their earnings and price for the next few quarters.
Both the companies are trying to differentiate themselves on the basis of personal customer service. They started curbside pickup to reduce the time customers spent in shopping. However, the negative effect of this includes higher expense on labor which is going to get more expensive due to minimum wage hike in certain states. Target is already in the process of stopping this service by 15th of this month. Wal-Mart is also looking for home delivery by partnership with Uber (Private:UBER) and Lyft (Private:LYFT), but again these initiatives will not work due to unit economics and higher cost involved in providing these services.
Amazon with its 25% sales growth in America will keep on pushing the envelope in terms of convenience, delivery time and membership benefits which should end up eating the market share of these big store companies. Even at low P/E of 12.5 [TGT] and 15.7 [WMT], these companies do not have long-term growth prospects which should keep investors away.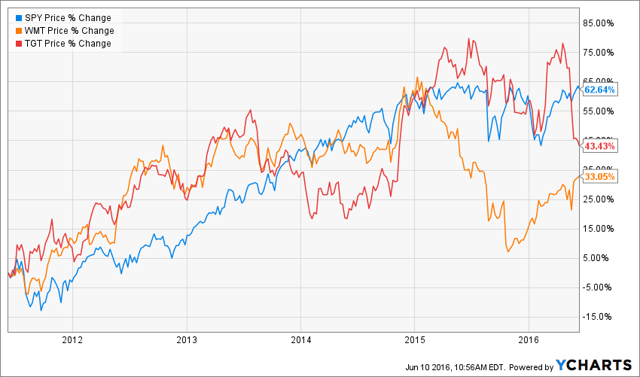 Click to enlarge
Conclusion
Amazon has given many retailers sleepless nights; however, it will not be able to take away market share from incumbents in all retail categories. Certain brick-and-mortar retail segments will always exist as they have a particular unique selling point which is not possible to duplicate on the online platform. The main retail categories which investors can focus for future growth are: off-price, warehouse, beauty, luxury products and specialty products retailers. Departmental retailers like Wal-Mart and Target will continue to face increasing pressure from Amazon as it increases its depth in logistics and invests in last-mile delivery options.
Disclosure: I/we have no positions in any stocks mentioned, and no plans to initiate any positions within the next 72 hours.
I wrote this article myself, and it expresses my own opinions. I am not receiving compensation for it (other than from Seeking Alpha). I have no business relationship with any company whose stock is mentioned in this article.