In April 2015, CEO Jeff Immelt announced that General Electric (NYSE:GE) would begin shrinking its finance operations to refocus the company towards its industrial origins. Since the announcement, GE has easily outperformed three of its peers and the broader S&P 500 Index.

Click to enlarge
With its strong performance the past 14 months, can General Electric continue to delight investors?
Expanding Margins
General Electric without GE Capital will be composed of seven business segments following the recently announced Appliance divestment. Excluding the still in process Altsom acquisition, five of the seven segments have improved operating margins versus year ago.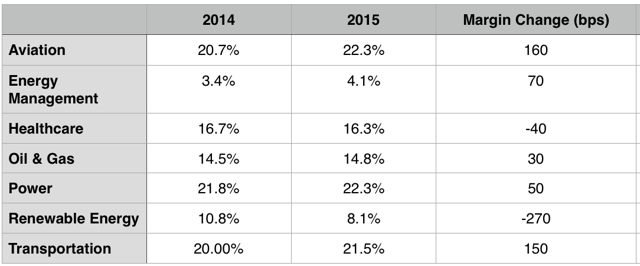 Click to enlarge
(source: GE Annual Report)
The improvement in operating margin is more relevant when viewed with the change in back log orders.

Click to enlarge
(source: GE Annual Report)
GE Aviation had the highest increase in operating margin versus year ago and also had the largest increase in backlog orders. GE Aviation is also tied for being the company's high margin segment.
GE Power has the second largest backlog and is tied with GE Aviation as the highest margin segment.
GE Renewable Energy and Healthcare, two segments with declining margins, had the second and third smallest increases in backlog orders.
GE is increasing its operating margin the fastest in the businesses with the largest order backlog. GE also has the largest backlogs in its highest margin businesses. GE is focusing on its winners.
Declining SG&A Expenses
The data points above examined current and previous year operating margins for each business segment. How likely is the company to continue increasing margins in the future?
In the past year, GE's improvements in operating margin have been partly driven by declining Sales, General & Administrative cost. GE Industrial's SG&A margin has continuously declined from 19% in 2011 down to under 14% in 2015.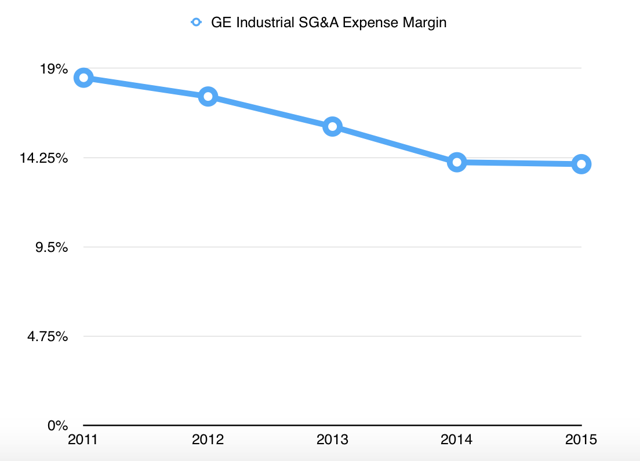 Click to enlarge
(source: GE Annual Report)
Can GE Industrial's SG&A expense continue to decline?
GE Industrial's declining SG&A margin is partly driven by the company's Shared Services function. Led by Shane Fitzsimons, this function tries to deliver better services at a lower cost than individual business segments can on their own.
According to the company's latest annual report, Shared Services has reduced Industrial operating costs by $1 billion since 2013 and now touches 43% of Industrial functions.
As Shared Services scales to the remaining 57% of Industrial functions, GE's SG&A will continue to decline leading to higher operating margins for all business segments. As stated in the annual report, the company is ultimately targeting an SG&A margin on 12.1% versus the current 14%.
The exiting of GE Capital and its associated regulatory burdens (being a systemitically important financial institution) will also reduce corporate overhead expenses.
Increasing Ownership Stake
The paragraphs above described two strengths of GE's Industrial business (increasing operating margins and lower SG&A expense). How shareholder friendly will General Electric be in the next few years?
After cutting the dividend during the financial crisis, GE has resumed increasing it annually since 2010.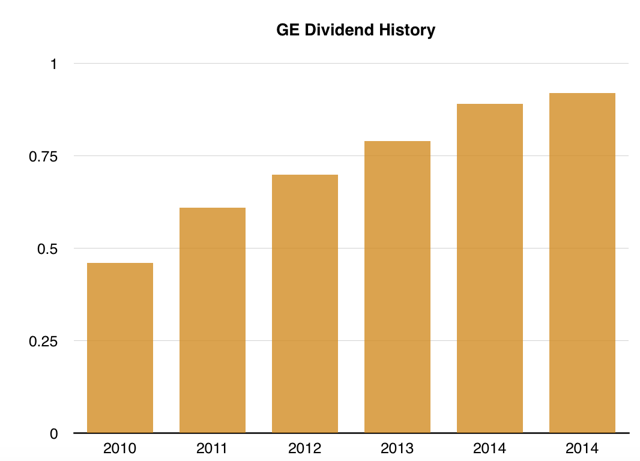 (source: GE Dividend History)
GE's real shareholder friendly moves will be with share repurchases.
GE today has 9.2 billion shares outstanding. The previously completed stock swap with Synchrony Financial reduced GE's float by 6.6% (671 million shares). What type of share consolidation should investors expect in the future?
According to the most recent annual report, the remaining GE Capital exit plan will reduce shares outstanding to be between 8 - 8.5 billion. This translates into a share reduction range between 7.6 - 13%. Investors will ultimately own a larger portion of GE Industrial.
Shareholders in GE should expect an increased ownership stake (via GE Capital Exit Plan) and increasing annual dividends. The sale of GE Appliances to Haier was a $5 Billion cash deal.
Conclusion
In conclusion, even with GE's stellar performance the past 14 months, the company may still delight investors. Operating margin is increasing in the business segments with the largest order backlogs. Operating margin may continue to increase as Shared Services reduces SG&A expense to 12.1%. The continuing exit of GE Capital will lead to increased ownership in the remaining Industrial business for shareholders.
Contrarian View
GE's large backlog is partly driven by historically low interest rates. Businesses, governments and other institutions can borrow cheaply to finance large capital projects. When rates start to rise, GE's backlog may not continue to grow as quick.
GE is domiciled in the United States. A strong US Dollar will continue to be a headwind for the company.
Disclosure: I/we have no positions in any stocks mentioned, and no plans to initiate any positions within the next 72 hours.
I wrote this article myself, and it expresses my own opinions. I am not receiving compensation for it (other than from Seeking Alpha). I have no business relationship with any company whose stock is mentioned in this article.