Investors have been feasting in the post-crisis period on a banquet of free-flowing liquidity and low-cost debt. But as the monetary spigots are being gradually shut off, some of the higher-risk areas of capital markets have started to show some worrisome cracks. While it certainly has been a jubilant time for risk taking in capital markets during the post-crisis period, now may be the time to meaningfully dial down exposures to some of the higher-risk areas of the market while the opportunity still presents itself.
Risk Assets Under Fire
Riskier areas of capital markets such as more volatile low-quality stocks (NYSEARCA:SPHB) and high-yield "junk" corporate bonds (NYSEARCA:HYG) have performed terrifically well during the post-crisis period. These same segments, of course, were also among the most beaten down during the financial crisis. Once the post-crisis recovery got underway, it was not surprising to see these areas of the market outperform, as low-quality assets traditionally lead the market during the early stages of a recovery. But what has been remarkable during the central bank liquidity fueled rally over the past many years is how long this investment market junk has been able to maintain its leadership.
High-Yield Bonds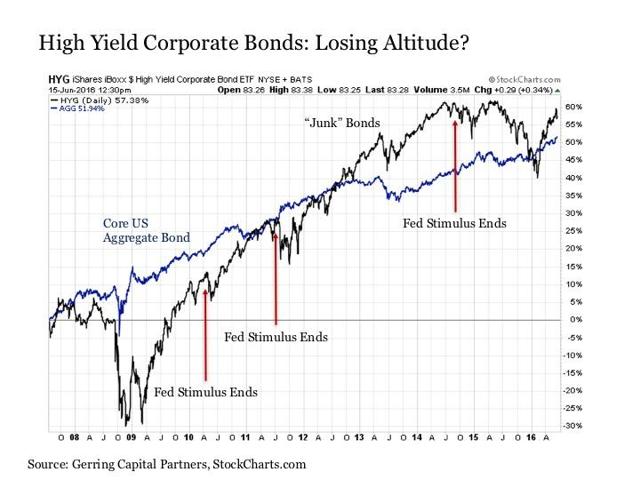 Click to enlarge
Consider high-yield corporate bonds (NYSEARCA:JNK). While they were beaten down badly during the financial crisis, their recovery in the years since has been nothing short of remarkable, as they have soared well beyond to record new highs in recent years. But what has been notable all along the way is the dependence on accommodative monetary policy. For every time a Fed stimulus program ended, high-yield bonds quickly tumbled back lower. And it required a new Fed asset purchase program to get them moving to the upside again. As a result, it is no surprise that the high-yield bond market has struggled ever since the Fed brought to an end its QE3 stimulus program in late 2014. For since that time, it has moved sharply lower. That is, of course, until the recent rally higher since mid-February.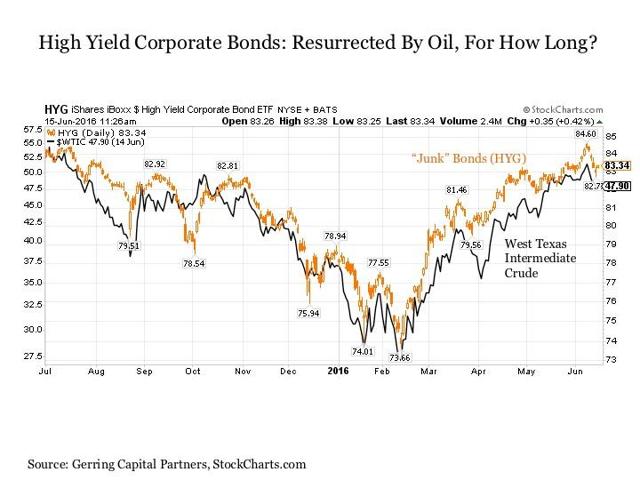 Click to enlarge
What has been notable is the fact that the recovery of oil prices (NYSEARCA:OIL) has been a primary driver of the latest junk bond rally. Not improved credit quality, mind you, which has instead deteriorated since early this year, including a notable rise in corporate defaults. Instead, it has been the bounce in oil prices (NYSEARCA:USO), which has fed through to a very strong recovery in the bond prices of energy and commodities related companies that make up roughly one-sixth of the entire high-yield bond universe. While this has certainly been a welcome development for high-yield bond investors, particularly those yield starved investors that have effectively been forced into the asset class, thanks to persistently low interest rates from the U.S. Federal Reserve.
Unfortunately, such a rally is not one based on sound fundamentals, but instead is one that is built on sand. Most investors, particularly those that are more conservative and risk averse, likely do not want their fortunes tied to a highly volatile commodity like oil (NYSEARCA:DBO), particularly when the underlying supply and demand situation in the oil market is tenuous at best and potentially facing chronic oversupply issues that may persist well into the future.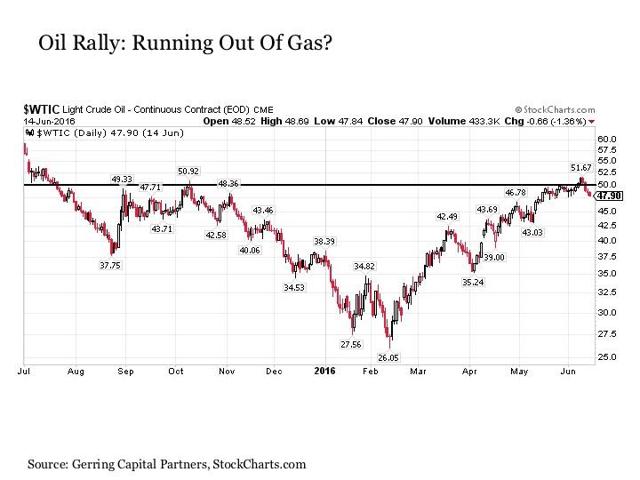 Click to enlarge
At present, the impressive rally in oil prices appears to be running out of steam. It bounced aggressively from its lows at $26 per barrel in mid-February to the $50 level by mid-May. But over the last month, oil prices have struggled to break out above the $50 per barrel level, just as they did from September to October of last year before finally rolling back over to the downside. Perhaps oil prices will succeed in breaking out to the upside this time around, much to the chagrin of the average consumer that needs to fill up at the gas pump, but does not own shares of ConocoPhillips (NYSE:COP). But then again, if it is a situation where an oil price at $50 per barrel is enough to encourage enough suppliers at the margin back into production, then this clear technical resistance may be simply visualizing a real fundamental upper bound in oil prices. Only time will tell, but if oil is indeed in a sideways trading range, any return trip back lower will likely put high-yield bonds back under heavy pressure.
High Beta Stocks
High beta stocks have traveled a similar path to junk bonds in the post-crisis period. Investors loved the idea of risk and chasing ownership in lower-quality companies for many years in the post-crisis period, thanks to the confidence that the financial system supported by a torrent of liquidity from the U.S. Federal Reserve would provide these companies with whatever solvency support needed to keep them running hot. But just as with junk bonds, the explosive upside in these higher-risk stocks quickly came to an end not long after the Fed ended its asset purchases. In fact, from April 2015 to February 2016, high beta stocks entered into a full-blown bear market in losing -35% of their value as measured by the PowerShares S&P 500 High Beta Portfolio ETF.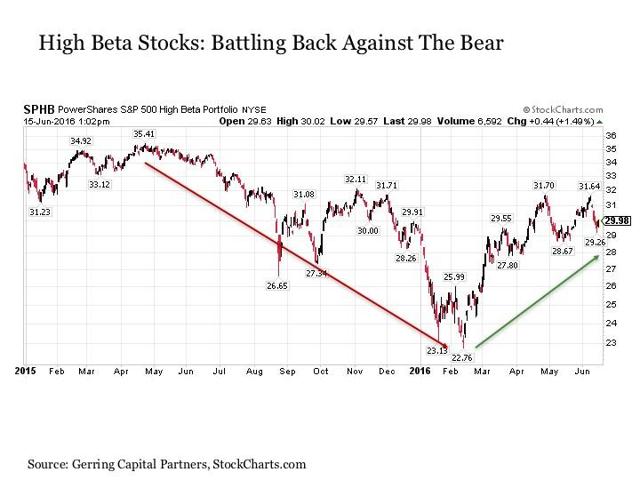 Click to enlarge
Over the last few months, however, this lower-quality area of the market has received a reprieve. Prices have recovered impressively and have made up much of their recent lost ground. So after giving up all of their gains and more in recent years relative to the S&P 500 Index (NYSEARCA:SPY), they have bounced back to be running at least in line with the broader market.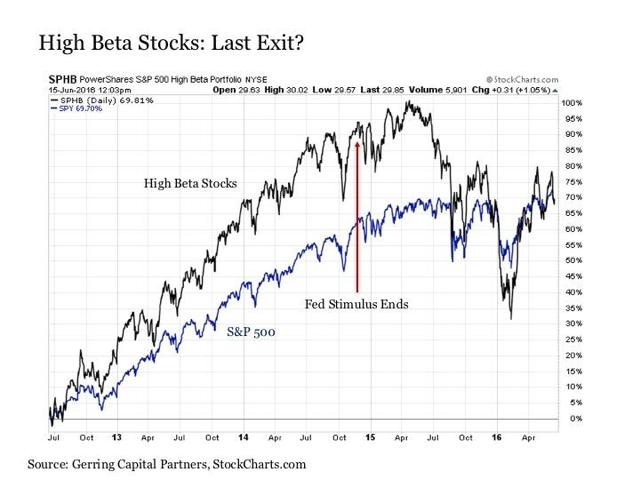 Click to enlarge
But the question going forward is whether this recent price recovery is sustainable. In short, is this a time to stay long lower-quality stocks, or is this recent rally providing a last exit opportunity for investors to shift out of the trade? In many ways, the same question can be asked of high-yield bonds?
Time To Let Go Of Your Junk
If underlying fundamental market data is any indication, the time is now to get out of your lower-quality stock and high-yield corporate bond positions while the getting out is still reasonably good.
In order to keep things simple, consider the following. Investors today are trading with a record high level of margin debt totaling more than $450 billion. At the same time, corporate balance sheets are as levered up as they have been in recent history, with a debt-to-capital ratio increasing from the low 20% range in the early 2000s to just above 30% in the post-crisis period to over 40% in the last few years.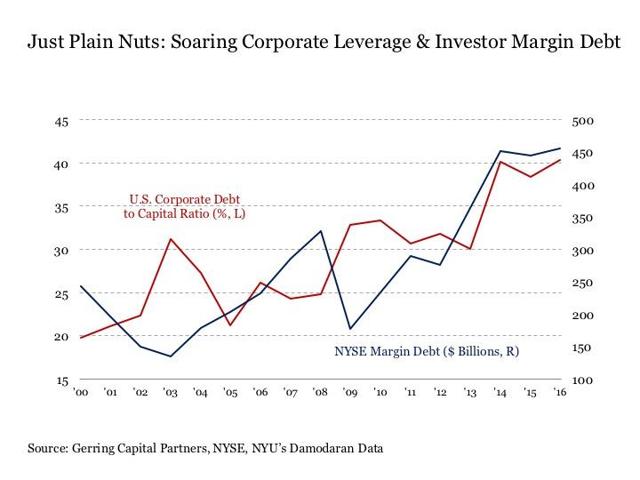 Click to enlarge
Put simply, investors are borrowing as much as ever to buy stocks and other securities at a time when corporations are also as leveraged as they ever have been in recent memory. This is a highly toxic mix. And it is taking place at a time when annual corporate earnings, which are certainly helpful in managing this debt, have been in decline for the past six quarters and counting at a double-digit rate as of late. It is also taking place at a time when stock valuations are running at historical highs and corporate bond spreads are near historical lows.
In short, corporations are making less money to make interest and principal payments on more debt for investors that are borrowing more to buy the increasingly expensive stocks and bonds of these same companies. These are alarming trends in isolation, much less all in conjunction with one another. And it is a set up that has the potential to lead to the unhappiest of endings for many investors.
Bottom Line
It has been a great ride higher during the post financial crisis period for speculative investors in the low-quality stock and junk bond segments. But all great parties must come to an end, and mounting evidence suggests that the path forward for more speculative stocks and high-yield bonds may become increasingly difficult. Both of these categories have rallied back impressively in recent months after what had been a most difficult stretch in the months prior. But these rallies may not prove sustainable and instead may be final exit opportunities before the lights completely go out on these categories. While the gains to this point have been rewarding, the time may be now to finally part ways with the junkier assets in your portfolio.
Disclosure: This article is for information purposes only. There are risks involved with investing including loss of principal. Gerring Capital Partners makes no explicit or implicit guarantee with respect to performance or the outcome of any investment or projections made. There is no guarantee that the goals of the strategies discussed by Gerring Capital Partners will be met.
Disclosure: I/we have no positions in any stocks mentioned, and no plans to initiate any positions within the next 72 hours.
I wrote this article myself, and it expresses my own opinions. I am not receiving compensation for it (other than from Seeking Alpha). I have no business relationship with any company whose stock is mentioned in this article.