It's no secret that we have a penchant for undervalued stocks, and one stock, which we consider undervalued at present is The Gap, Inc. (NYSE:GPS). We believe The Gap is starting to show signs of a recovery at long last, and trading at just over 10 times forward earnings could provide shareholders with significant gains if the recovery is real. The stock also yields a very appealing dividend of just under 5%, making it a very tempting investment today.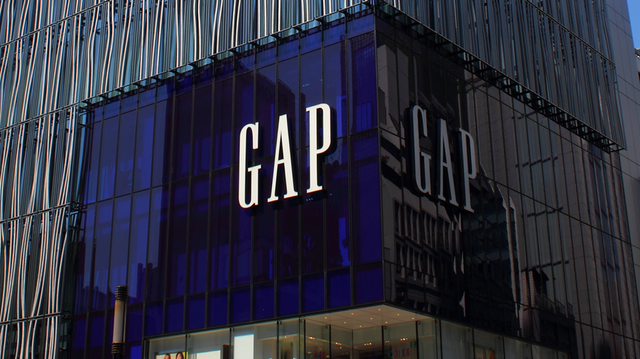 There's no getting away from the fact that The Gap's performance in recent quarters has been nothing short of dismal. But perhaps the biggest disappointment was that its normally reliable Old Navy brand suddenly saw comparable sales plummet. This brand had been the one shining light in the company for some time, and without it, things were getting very, very dark.
Earlier this month, The Gap reported that company-wide comps were down 6% in May, a slight improvement from the 7% decline in comps in April. This clearly is not great, but management provided a glimmer of hope by revealing its performance showed an improvement leading into the Memorial Day holiday weekend. This year, the Sunday and Monday of the Memorial Day holiday will fall in the fiscal month of June as opposed to May last year, which has negatively impacted May sales results, but will provide a welcome benefit to June's sales.
Yesterday's US Retail Sales release was very positive, pointing to strong domestic demand despite lower job creation. The Commerce Department revealed that retail sales increased 0.5% in May, following on from a 1.3% surge in April. These gains now mean that retail sales are up 2.5% from the same period last year. It is worth considering also that if you exclude autos, gas, building materials, and food services, retails sales were still up by 0.4% in May and 1% in April. So in our opinion, spending is likely to have been directed into retail.
A good portion of this spending may have come from the Memorial Day holiday weekend, which may mean The Gap is about to see an improvement in its comps in June. If this is the case, then we believe that the share price will start to climb higher as a result.
As we mentioned before, Old Navy is where it matters for us. If Old Navy starts firing again, then the whole company gets a lift. As you can see below, the brand is currently the company's biggest contributor to overall sales and its brightest hope for long-term growth in our opinion.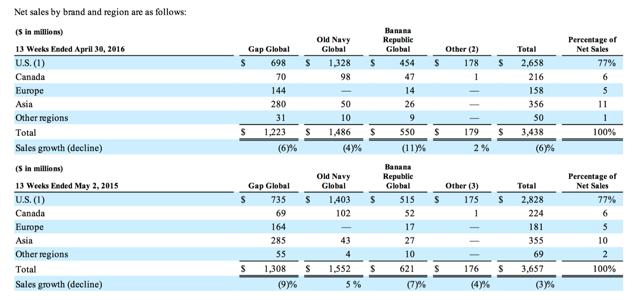 Click to enlarge
Source: Company 10-Q
Like many investors, we like to use Google Trends to help gauge consumer interest in a brand. After a period of declines, it does appear that Old Navy has been gaining more traction once again and is heading in the right direction. This gives us a lot of optimism for a near-term turnaround, helped in part by strong retail sales.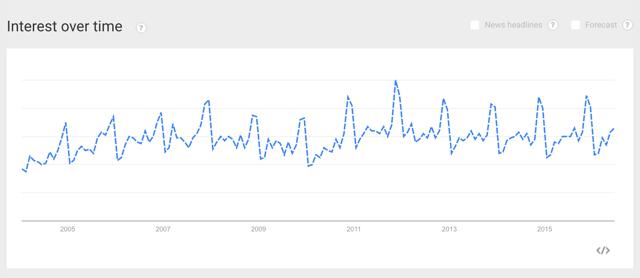 Click to enlarge
Source: Google Trends
We are also pleased to see the company looking at optimizing its pricing. At the recent Cloud Foundry Summit 2016, management explained how the company plans to use a cloud-based optimization system for its localized promotional pricing strategy. Essentially, this means that rather than discount a particular item at every store across its network, the sophisticated system will only discount the item where it is necessary. The system takes numerous other factors into the equation as well, including weather. It believes that being more efficient with its inventory, the company will benefit on both the top and bottom lines.
The Gap may be going through a transition at the moment and there could still be further drops along the way. But we have little doubt that this time next year the share price will be far higher than it is today. An added bonus is the fact the shares yield a 4.87% dividend. With a strong balance sheet and ample cash reserves of $1.3 billion, we feel there is no threat to its dividend being cut in the medium term.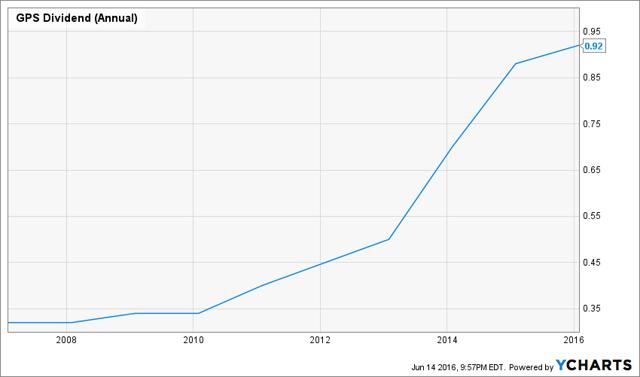 Click to enlarge
Over the last five years, the shares have traded at around 14 times earnings, which is about the average amongst many of its peers. But during this difficult period, we don't expect investors to be willing to pay that multiple. At this point in time, we feel 11 times earnings is conservatively fair. Based on this and our earnings per share forecast of $1.87, we have a price target of $20.57, equating to upside of approximately 8.2% today. When you factor in the dividend, this pushes the total return beyond 13%, which we believe offers a compelling risk/reward ratio.
All in all, there is no hiding the fact that The Gap is struggling. We believe that there are signs that a turnaround is coming. When it does, we have little doubt the share price will shoot higher.
Disclosure: I am/we are long GPS.
I wrote this article myself, and it expresses my own opinions. I am not receiving compensation for it (other than from Seeking Alpha). I have no business relationship with any company whose stock is mentioned in this article.