Here we go again. It has been a while since I wrote an article about a company that seemingly has a stock price that is undervalued, but Cal-Maine Foods (NASDAQ:CALM) seems to live up to that billing. CALM seems to be one of those companies that gets no respect. For those of you unfamiliar with Cal-Maine, their primary business is the production, grading, packaging marketing and distribution of shell eggs. The company estimates that they sold 23% of all domestic eggs consumed in the United States in 2015.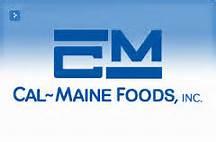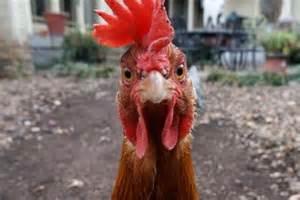 Ok, I understand that the business is not glamorous, but it has been a solid growth vehicle for CALM. The main growth channel for Cal-Maine has been via acquisitions. From the company's Annual Report:
"For many years, we have pursued a growth strategy focused on the acquisition of existing shell egg production and processing facilities, as well as the construction of new and more efficient facilities. Since the beginning of fiscal 1989, we have completed eighteen acquisitions. "
It has been this growth strategy coupled with record egg prices that has produced record earnings year after year for Cal-Maine. With that being said, the stock price is down significantly and short interest is up near all time highs. Cal-Maine's short interest is among the highest of all companies as reported by Nasdaq.
Short Interest
The most recent short interest data shows 50% of the float is short in Cal-Maine. While the actual number of shares short has fallen slightly, it is still twice as high as it was last year according to Nasdaq.com's short interest report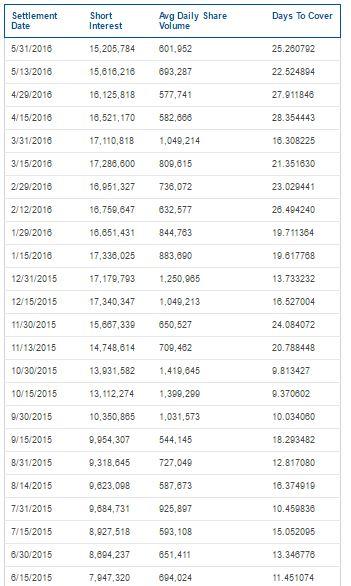 So why do the short sellers love CALM so much? That is a great question, and one that I find hard to explain.
It is not just the short sellers that seem to hate the company. Others give Cal-Maine the shaft as well. The overall ratings given to the company raise doubts about how subjective they are. The following data taken from InvestorPlace.com's stock analysis is just one example. How does CALM earn a rating of "D" with these being the grades assigned to the company?

A grade of "D" defies all logic, especially given the strong cash flow and overall strength of the company's finances. So lets take a look at the company from a few investment angles.
Revenues Earnings and Dividend Trends
Looking for a few flaws in CALM's history to justify a short position or deteriorating company fundamentals? You will be hard pressed to find them using the five year data provided by the company in their 2015 SEC Annual report filing:

Click to enlarge
From 2011 thru 2015 Revenues grew at an annualized rate of over 13.7%. Net Income increased at an annualized rate of over 27.5%, and dividends have increased 3 of 4 years with an annualized increase averaging 27%. Those are numbers that any public company would kill for. Yet the shorts have dug their heels in for the long haul.
Operating Margins
This is another area where there has been constant improvement. Also extracted from Cal-Maine's 2015 SEC filed Annual Report: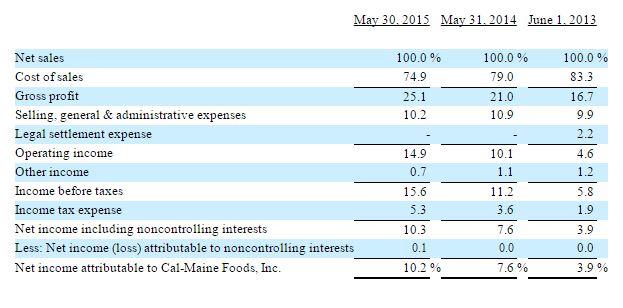 Debt

Taking it one step further, only $10 million of long term debt is due in 2017 according to the afore mentioned Annual Report. So that too can not be the reason for the short sellers love (hate) affair with Cal-Maine.

Click to enlarge
Trends during 2016
As mentioned earlier, the trends during the past few years have been impressive. Those trends have continued in 2016. In fact, thanks to the previously mentioned record egg prices, the rises have almost been parabolic for both sales and earnings. Per the most recent quarterly SEC filing (Q3 2016):

Click to enlarge
Insider Stock Ownership
I love this data. The Adams and Baker families own over 54% of the stock. If there was ever a company that has ownership that will act in the best interest of their shareholders, Cal-Maine would be the poster child. The company's latest Proxy filing shows the impressive numbers:

Stock Performance & Analyst Expectations
So how has Wall Street treated CALM's stock given all the revenue, earnings and dividend growth? TERRIBLY. Since reaching $63.25 in October 2015 Cal-Maine's stock has fallen over 35% to close at $40.26 yesterday (June 14, 2016). Analysts have not been shy about downgrading the stock. Of the last ten analyst opinions, seven are downgrades, one was an upgrade and two were coverage being initiated according to Yahoo Finance:

Click to enlarge
The reason for the downgrades? Reduced earnings expectations. With egg prices at record prices it is logical to expect them to decline, thus reducing profits in the future. Realistically though, given the strong balance sheet and conservative dividend paid out by CALM, there is no real chance for any liquidity problems. The following chart shows the change of heart in expectations:

Clearly the reduced earnings expectations have analysts questioning the safety of the dividend. In the past however, CALM has adjusted to reduced earnings by scaling back on their dividends so the concerns seem justified. As recently as FY 2013 the dividend was reduced from FY 2012's $0.63 to $0.38 a share. In 2014 however, the dividend was quickly raised as a strong rebound in earnings allowed the company to pay out $0.73 a share. In fact, the company has a policy related to their dividend payouts that makes predicting future dividends quite easy. From the company's annual report:
"Cal-Maine pays a dividend to shareholders of its Common Stock and Class A Common Stock on a quarterly basis for each quarter for which the Company reports net income computed in accordance with generally accepted accounting principles in an amount equal to one-third (1/3) of such quarterly income." Using that formula for 2017 and the analyst's average earnings estimate of $2.33 a share that computes to a dividend of $0.78 a share, or 1.9%.
Conclusion
Given the large drop in the stock price in the past year, it is logical to expect price appreciation that would outperform the overall market indices. That appreciation coupled with the dividend income to be received makes Cal-Maine a compelling purchase at the current price.
If you enjoyed this article and would like to follow me to read future articles, go to the top of the page and click the "Follow" button under the title and next to my name or click here.
Disclaimer: Investing in stocks such as Cal-Maine can be risky. There is no guarantee that your investment will be safe. There is also a possibility that you may lose some or all of your investment. Please do your own due diligence before investing in Cal-Maine or any other investment. Information provided in this article is informational and should not be the sole guide to determine if investing in the company is appropriate for you. The above are my opinions and should not be the sole purpose for initiating a trade. Always do your own due diligence prior to investing. Also remember to only initiate trades that are within your pre-defined risk parameters.
Disclosure: I/we have no positions in any stocks mentioned, and no plans to initiate any positions within the next 72 hours.
I wrote this article myself, and it expresses my own opinions. I am not receiving compensation for it (other than from Seeking Alpha). I have no business relationship with any company whose stock is mentioned in this article.