The CM Advisors Fund (MUTF:CMAFX) has risen to the top of Morningstar's mid-cap value mountain. The CM Advisors Fund has an YTD return of 19.93%. The YTD returns of the S&P 500 and Mid-Cap Value category are 3.59% and 5.8%, respectively. This is a stunning turnaround for a fund that has been outperformed by both benchmarks consistently over the past few years.
As you can see in the following chart, the fund's last annual outperformance of any benchmark was an outperformance of just 0.43 in 2011. Here is the brief history of the fund's annual performance over the past few years.

Click to enlarge
When one looks at the market capitalization weightings, one can see that this fund is a hybrid to say the least. The fund has differentiated itself from its benchmarks and category average due to its tremendous portfolio weight advantages in the micro-cap sector. Additionally, one can also see that the fund has a solid advantage in terms of giant-cap holdings and a sizable deficit in terms of mid-cap holdings. The graph can be seen below:
| | | | |
| --- | --- | --- | --- |
| Size | % of Portfolio | Benchmark | Category Avg. |
| Giant | 11.98 | 0.00 | 2.28 |
| Large | 16.53 | 22.58 | 22.23 |
| Medium | 16.47 | 67.49 | 56.35 |
| Small | 18.72 | 9.68 | 18.01 |
| Micro | 36.30 | 0.25 | 1.13 |
A look at the sector weightings of the CM Advisors Fund reveals a significant portfolio weight advantage in the basic materials sector and industrials sector. The basic materials sector is the third best performing sector among both U.S Sector and U.S Small-Cap Sector ETFs. The Materials Select Sector SPDR ETF (NYSEARCA:XLB) has a 10.3% YTD return. On the other hand, the Powershares S&P SmallCap Materials Portfolio ETF (NASDAQ:PSCM) has a 14.2% YTD return.
Meanwhile, the industrials sector is in the middle of the pack in terms of U.S Sector and Small-Cap Sector performance. The Industrial Select Sector SPDR ETF (NYSEARCA:XLI) and the PowerShares S&P SmallCap Industrials Portfolio ETF (NASDAQ:PSCI) have performances of 7.1% and 7.7%, respectively.
Here are the fund's portfolio weight advantages in the industrial and basic materials sectors:
| | | | |
| --- | --- | --- | --- |
| Sector | CMAFX | Benchmark | Category Average |
| Basic Materials | 15.34 | 6.16 | 6.26 |
| Industrials | 25.40 | 9.68 | 13.32 |
Furthermore, the fund has been boosted significantly by the performance of basic materials and industrial holdings within this fund. Other than Alliance Data Systems Corporation (NYSE:ADS) and Era Group Inc. (NYSE:ERA), the industrial holdings in this fund have generated solid results. They can be seen below:
| | |
| --- | --- |
| Industrial Holdings | YTD Return |
| Allegheny Technologies Incorporated (NYSE:ATI) | 20.89% |
| Colfax Corporation (NYSE:CFX) | 19.36% |
| Era Group Inc. | -1.79% |
| Layne Christensen Company (NASDAQ:LAYN) | 51.90% |
| Orion Marine Group, Inc. (NYSE:ORN) | 18.71% |
| Emerson Electric Co. (NYSE:EMR) | 12.23% |
| Dynamic Materials Corporation (NASDAQ:BOOM) | 42.92% |
| Powell Industries, Inc. (NASDAQ:POWL) | 45.45% |
| Alliance Data Systems Corporation | -22.05% |
In the following chart, you can see that the industrial holdings have benefited the fund for the most part.
| | |
| --- | --- |
| Basic Materials Holdings | YTD Return |
| Seabridge Gold Inc. (NYSEMKT:SA) | 65.14% |
| Comstock Mining Inc. (NYSEMKT:LODE) | -13.63% |
| Yamana Gold Inc. (NYSE:AUY) | 147.73% |
| Agnico Eagle Mines Limited (NYSE:AEM) | 77.70% |
| Goldcorp Inc. (NYSE:GG) | 44.48% |
| Cloud Peak Energy Inc. (NYSE:CLD) | -2.88% |
| Banro Corp. (NYSEMKT:BAA) | 39.29% |
BUT…
The fund has an expense ratio that outpaces the category and benchmark average. This has been the case for the last few years. This can be seen in the graph below: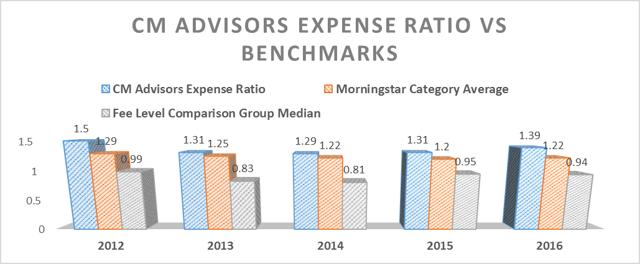 Click to enlarge
In spite of the outperformance of this fund within the mid-cap growth category, investors will have to pay a premium price. It is worth noting that the fund's significant outperformance is mainly concerned within the past three months. The fund is second in the Mid-Cap Value category according to its 3-month ratio.
However, the fund is 26th in its 1-month ratio. Thus, the fund's outperformance of the Mid-Cap Value Category has diminished within the past couple of months.
Investors would have to weigh whether the tremendous outperformance of this fund will continue over the next several months. After all, the fund has not had a great history of extended outperformance in recent years. Will investors be comfortable with paying a premium price for a fund with a limited history of outperformance in recent years? It's a good question to ponder.
CONCLUSION:
Given the fund's limited history of outperformance by the CM Advisors Fund, I think it is best for investors to maintain a wait and see approach before deciding to invest. This fund has great potential to maintain its outperformance due to the success of its basic materials and industrial holdings. This justifies the significant portfolio weight advantage that the fund has in these two areas.
However, the fund has the majority of its portfolio weightings in the volatile micro-cap sector. According to the 3-year risk and return statistics, the fund has low return and high risk. The fund's high expense ratio gives further room for pause. An investor would be paying a premium price for a fund with increased risk and an unproven track record of performance. Let's see if the fund maintains this outperformance for the next six months.
Disclosure: I/we have no positions in any stocks mentioned, and no plans to initiate any positions within the next 72 hours.
I wrote this article myself, and it expresses my own opinions. I am not receiving compensation for it (other than from Seeking Alpha). I have no business relationship with any company whose stock is mentioned in this article.