This REIT Review is on W.P. Carey Inc. ("WPC"), a publicly traded REIT that is engaged in the sale-leaseback and build to suit of triple net lease properties to companies worldwide. WPC has two business segments, Owned Real Estate Operations (ownership of net lease assets) and Investment Management (structuring, negotiating and debt placement of its affiliated REITs under the Corporate Property Associates brand).
Property Information
As of Q1-16, WPC owned directly and through co-investments and joint ventures, 866 net lease properties containing 89.3 million sq. ft. and with 220 tenants. The Investment Management segment had assets under management of $11.6 billion as of Q1-16. WPC's properties are located in the U.S. (63% of total sq. ft.), Germany (9% of total sq. ft.), United Kingdom (6% of total sq. ft.), France (6% of total sq. ft.) and Other Countries (16% of total sq. ft.). As of Q1-16, portfolio occupancy was 98.5%, the weighted average lease term was 9 years and the same store yoy annual base rent growth was .9%.
Major Events
In April 2016, WPC completed the sale-leaseback of a 49 property industrial portfolio with four million sq. ft. for $218.4 million and acquired a school campus for $48.1 million under a 25-year lease, including an agreement to acquire two other campuses and provide $128 million of build-to-suit financing over the next four years to expand existing facilities.
Corporate Data
WPC is traded on the NYSE, is incorporated in Maryland and is located in New York, NY. WPC's debt is rated Baa2 by Moody's and BBB by Standard and Poor's. WPC has a market capitalization of approximately $7 billion.
Management
Mark J. DeCesaris, 57, CEO
Mr. DeCesaris was appointed Chief Executive Officer in February 2016 and served as a member of the WPC's Board of Directors and Chairman of its Technology Committee since July 2012. Prior to his current position, Mr. DeCesaris was Chief Financial Officer from 2010 to 2013 and served as Acting Chief Financial Officer from 2005 to 2010. Before joining the firm, from March 2003 to December 2004, Mr. DeCesaris was Executive Vice President for Southern Union Company, a natural gas energy company publicly traded on the NYSE, where he oversaw the integration of acquisitions and developed and implemented a shared service organization to reduce annual operating costs. From August 1999 to March 2003, he was Senior Vice President for Penn Millers Insurance Company, a property and casualty insurance company where he served as President and Chief Operating Officer of Penn Software, a subsidiary of Penn Millers Insurance. From 1994 to August 1999, he was President and Chief Executive Officer of System One Solutions, a business consulting firm that he founded. Mr. DeCesaris started his career with Coopers & Lybrand in Philadelphia, earning his CPA license in 1983. Mr. DeCesaris graduated from Kings College with a B.S. in Accounting and a B.S. in Information Technology and serves on the Boards of Kings College, the Denver Mile High Youth Corps, Petroleum Service Co. and Mountain Productions, Inc.
Jason E. Fox, 43, President
Mr. Fox is Head of Global Investments and President of WPC. Mr. Fox is responsible for sourcing, negotiating and structuring acquisitions on behalf of WPC and its CPA® series of non-traded REITs. In this role Mr. Fox oversees the pricing, due diligence, approval and documentation processes as well as securing debt financing for properties acquired. Asset acquisitions include sale-leaseback, build-to-suit, net lease and related asset-backed structures. Since joining WPC, Mr. Fox has closed $2.2 billion in deals, including the $225 million acquisition of the New York Times headquarters in Manhattan and the $312 million acquisition of 78 retail self-storage and truck rental facilities operated under the U-Haul brand name. Prior to joining WPC, Mr. Fox worked at the Spectrem Group, a consulting and M&A advisory firm in San Francisco. Prior to that, Mr. Fox spent two years teaching mathematics and physics at The Hotchkiss School in Connecticut. Mr. Fox is a magna cum laude graduate of the University of Notre Dame, where he earned a B.S. in Civil Engineering and Environmental Science and received his M.B.A. from Harvard Business School.
Hisham Kader, 47, CFO
Mr. Kader is Chief Financial Officer of WPC and also serves as Chief Financial Officer of CPA®:17 - Global Incorporated and CPA®:18 - Global Incorporated, Carey Watermark Investors Incorporated and Carey Watermark Investors 2 Incorporated (together, the Managed REITs). Prior to his appointment as Chief Financial Officer, Mr. Kader was the Chief Accounting Officer and Executive Director of WPC and the Managed REITs. Prior to joining WPC in 2011, Mr. Kader worked for 14 years at PricewaterhouseCoopers in New York including six years at their offices in Sydney, Australia and Brussels, Belgium where he primarily advised public and private Asian and European companies, respectively. At PwC, Mr. Kader was a Director in their Transaction Services practice and advised companies on capital markets transactions, SEC reporting and compliance, accounting standards implementation and finance effectiveness. Mr. Kader holds a Bachelor's degree in Electronics and Communication Engineering from the Manipal Institute of Technology in India, an M.B.A. in Finance from the University of Illinois at Urbana-Champaign and an M.S. in Accounting from Pace University and is a Certified Public Accountant licensed in the state of New York.
Ownership
| | | |
| --- | --- | --- |
| Top Institutional Holders: | Shares | % |
| The Vanguard Group, Inc. | 14,202,423 | 13.54 |
| Vanguard Specialized REIT Index Fund | 7,216,151 | 6.88 |
| FMR, LLC. | 5,321,194 | 5.07 |
| Blackrock Institutional Trust Company, NA | 3,223,332 | 3.07 |
| UBS Group AG | 1,705,392 | 1.63 |
Ownership Breakdown

% of Shares Held by All Insider and 5% Owners

7

% of Shares Held by Institutional & Mutual Fund Owners

46

Number of Institutions Holding Shares

357
All amounts above per Yahoo Finance
Financial Analysis and Valuation
Select financial data for WPC as of the Q1-16 10Q and supplemental information
(in millions where applicable):
| | |
| --- | --- |
| Financial Data | Amounts |
| Real Estate Assets, Gross | $6,188 |
| Total Assets | $8,703 |
| Property Debt (at a weighted average interest rate of approximately 4%) | $4,561 |
| Common Stockholders' Equity | $3,398 |
| Revenue | $270 |
| Net Income | $57 |
| Net Income Per Share | $.54 |
| Cash Flow from Operations | $113 |
| Senior Unsecured Credit Facility ($2.25 billion with $1.315 billion used) | $935 |
| Market Capitalization | $7,000 |
| Property Debt to: | |
| Gross Real Estate Assets | 73% |
| Market Capitalization | 65% |
| Enterprise Value | 39% |
| Dividend and Yield ($3.90/sh.) | 5.90% |
| | |
| --- | --- |
| Valuation Methodology | |
| Q1-16 Owned Real Estate Revenue | $220 |
| Less: Q1-16 Real Estate Operating Expenses (excluding depreciation, amortization, interest expense, restructuring charge and plus G&A expenses) | 56 |
| Q1-16 Net Operating Income | $164 |
| Projected Inflation Rate at 3.5% | x1.035 |
| Projected Q1-16 NOI | $170 |
| Projected Forward Annualized NOI | $680 |
| Projected Average Cap Rate | 6.5% |
| Projected Value of Real Estate Assets | $10,461 |
| Add: Net Operating Working Capital (excluding Goodwill and at book value) | 1,364 |
| Investments in Managed Programs (at book value) | 281 |
| Value of Investment Management Segment (average quarterly EBITDA from Q1-15 to Q1-16, annualized of $63.5M at an average multiple of 14 times per NYU Stern Bus. School Industry Multiple Analysis) | 889 |
| Total Projected Asset Value of Company | $12,995 |
| Less: Total Debt Per Above | (4,561) |
| Noncontrolling Interests in Equity Investments | (134) |
| Projected Net Asset Value of the Company | $8,300 |
| Common Shares Outstanding-104.8M Shares (104.8M common shares) | |
| Projected NAV Per Share | $79 |
| Market Price Per Share on 6/15/16 | $67 |
| Premium (Discount) to NAV | (15%) |
Financial Metrics
The gross real estate assets, property debt, revenues, net income, funds from operations, return on invested capital and dividends per share for the years 2011 through Q1-16 are shown in the table below:
(millions except per share amounts) amounts)

2011

2012

2013

2014

2015

Q1-16

Q3 2015 2015

Gross Real Estate Assets

$1,352

$3,377

$2,971

$5,914

$6,207

$6,188

Property Debt

$589

$1,968

$2,067

$3,589

$4,492

$4,561

Revenues

$327

$373

$489

$906

$938

$270

Net Income

$139

$62

$98

$239

$172

$57

Funds from Operations (FFO)

$182

$66

$118

$193

$455

$463

$138

Return on Invested Capital (1)

8.1%

3.4%

8%

7.6%

8.6%

NA

Dividends Paid Per Share

$2.18

$2.44

$3.50

$3.68

$3.82

$.97(2)
(1) This is the ratio of cash provided by operations plus interest expense divided by stockholder's equity plus property debt, less cash and measures the return the REIT is earning on its invested capital.
(2) Dividend is currently $.9742 per quarter.
The total return of WPC year to date and through five years is show in the chart below per NAREIT:
| | | | | |
| --- | --- | --- | --- | --- |
| WPC Total Return | YTD (4/16) | 1-Yr | 3-yr | 5-Yr |
| | 5.17% | 2.61% | 1.08% | 17.63% |
As shown above, our net asset value per share for WPC is $79/sh., compared to a market price of $67/sh. Current average cap rates for net lease properties per our industry
experience and CBRE's Cap Rate Survey are in the 5% to 8% range, depending on the location, lease term and credit of the tenant. We have used an average cap rate of 6.5% due to WPC's portfolio being a well-diversified portfolio of corporate net lease assets.
Valuation Analysis
WPC's strengths, concerns and recommendation are as follows:
Strengths:
Solid portfolio of net lease properties diversified by property type, geography and industry.
Investment grade credit rating.
High occupancy of 98.5%.
Low leverage at 39% of enterprise value.
Very attractive dividend yield of 5.9%.
Well experienced management team.
Increased dividend by 78% since 2011.
High return on invested capital.
Stock value at 15% discount to NAV.
Concerns:
37% of portfolio is in Europe and other non-U.S. countries which may generate increased portfolio volatility.
Combination of net lease ownership business and investment management business may undervalue the company.
Recommendations:
WPC is one of the best managed net lease REITs with a well-diversified portfolio of net lease assets and our recommendations are as follows:
We like WPC due to its excellent management team, large and diversified portfolio, attractive yield, high discount to NAV and international investment exposure. We are highly recommending the purchase of the stock at the current price.
Many Wall Street analysts are concerned about WPC's Investment Management Business, however, we like the revenue and cash flow it generates and believe it should be expanded. WPC should consider acquiring VeReit's, Cole Capital investment unit and then once its integrated and depending on market conditions, spin-off the entire investment management unit to shareholders into a separate public company.
A five-year price chart of WPC is shown below.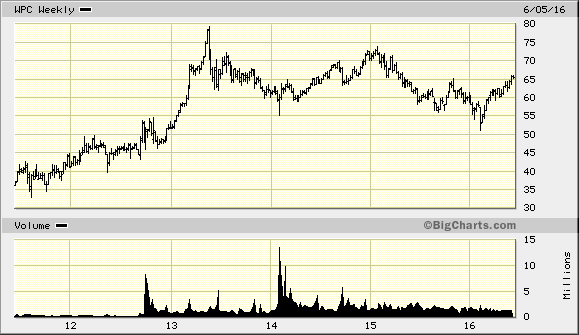 Disclosure: I am/we are long VARIOUS REITS IN AN ETF.
I wrote this article myself, and it expresses my own opinions. I am not receiving compensation for it (other than from Seeking Alpha). I have no business relationship with any company whose stock is mentioned in this article.